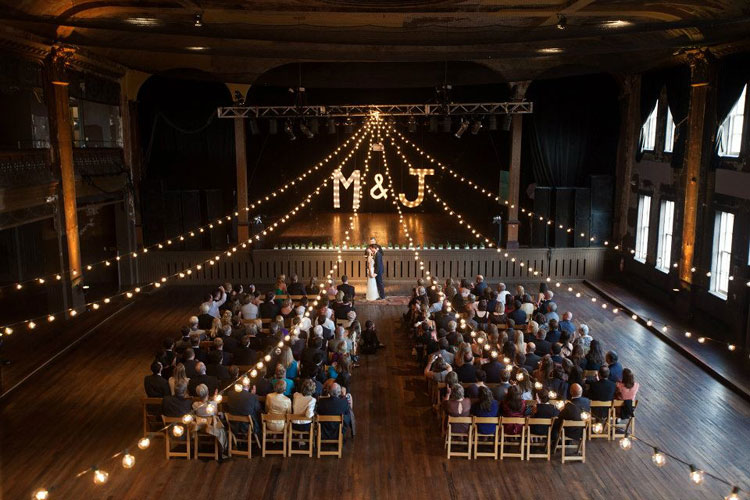 Everyone remembers the wedding that looks and feels as if it was completely made for the special loved ones getting married. The truth is, however, that there is a lot that goes into planning a personalized wedding. The couple's style, life experiences and unique preferences should all be taken into consideration but also fit into the timeline and budget they have determined for themselves. 
At Zilli Hospitality Group, we've been helping couples create personalized weddings in Milwaukee for over 50 years. If you're looking for inspiration for your custom wedding, here are a few fun ideas for you.
And if you're still in need of a theme, be sure to check out our latest post of 50 amazing wedding styles and themes!
Choose a venue that fits you
Are you and your hunny waterbugs? Then a lakeside wedding venue like Coast or Oconomowoc Community Center, which has access to some of Milwaukee's best water views and breezes, is perfect for you. 
Or maybe you two are beer connoisseurs who enjoy trying different breweries and beer gardens throughout Milwaukee. If so, consider a backdrop like Best Place at the Historic Pabst Brewery. 
Maybe you both have a mutual love of history and envision yourselves in a place full of timeless wonder, where your guests can experience fun exhibits and explore. If that's you, then the Milwaukee Public Museum is your stage!
We understand just how daunting it can be to choose a wedding venue that feels like you. Our wedding venue finder allows you to select filters like capacity, price and outdoor/indoor spaces, then compare up to four venues side by side.
Add a face or name to your invites
Photos aren't just for Save the Dates anymore! Minted allows you to take your invites to the next level and design a card featuring you and your partner or your initials in a pretty font. You can even add a custom touch to your postage stamps or wax seals!
Design your own cocktail napkins
Add a little personal flair to your guest tables with cocktail napkins that capture a theme, fun fact, hashtag or phrase. Here are a few fun examples for you.

Create a custom menu 
Create a menu that pays tribute to your heritage, captures a special time in your life or is full of your favorite foods and flavors. Want a Wisconsin-made menu that features cheese in a fun way or is a delicious cultural fusion? From inventive desserts that get your guests to experience a moment in your childhood to inventive stations from around the world, our experienced catering team would love to help you make it happen.
Personalize your ceremony programs
Give your wedding guests a good love story to read. Ceremony programs are a great way to venture outside the standard timeline of events and share a little more about yourselves. Your program can include facts about your engagement or interesting stats about your wedding. This post offers tons of examples.
Light up your stage with a custom gobo
Want your own Batman symbol at your wedding? A custom gobo, or a template that light shines through to project an image onto a surface, is a fun way to personalize your wedding space. Imagine swirling around the dance floor with your partner with your initials all lit up on the wall behind you.
Share photos of loved ones
Add a personal touch to your guestbook table by displaying photos of your loved ones on their wedding day. Having photos of your parents and grandparents is a thoughtful way to make them feel a part of your special day as well as give your guests a moment of nostalgia. Check out this board for visual inspiration.
Get creative with your table numbers
Play with your table numbers! If you and your partner love games, consider using Scrabble or game pieces. If you're world travelers, each table number could feature a destination you have visited together. Here are more table number ideas for you!

Tell a story through a slideshow
Create a slideshow that captures your lives together as well as those who know and love you and were a part of your dating experience. Here's how you can create a slideshow for your wedding in a few easy steps.
Select a signature drink
Create a slideshow that captures your lives together as well as those who know and love you and were a part of your dating experience. Here's how you can create a slideshow for your wedding in a few easy steps.
Bring your pet
Pets are family! If you have a dog, there's no reason why you can't slap a cute bow tie onto their collar and make them a part of the wedding too! 
We love helping couples create the customized wedding of their dreams. If you're looking to create a day that matches your dreams, we can help! Contact us online or give us a call at 262-547-9447.