A person walking along Wells Street is probably unaware that sixty feet or so above, a garden on the Milwaukee Public Museum roof is in full bloom.   That rooftop garden benefits and beautifies the city even if few people ever get the chance to see it.
The Museum is one of the growing number of buildings downtown that are sporting new <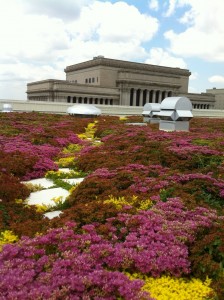 "green roofs" – an ancient solution that is proving to be remarkably effective in solving modern urban problems. Green roofs – made up of soil and low-maintenance plants— are a cutting-edge approach being used to combat  such urban challenges as elevated temperatures and overburdened sewer systems.  When it came time to replace the Museum's roof, the Museum investigated the possibility of becoming one of the other green roofs that are sprouting around the city.  Among those is Rockwell Automation, which has the largest green roof in Wisconsin, with a 50,000 square foot green roof.
"It is the museum's policy to look at sustainable alternatives whenever we do a renovation or repair," said Ellen Censky, senior vice president and academic dean at the Museum.
When a new roof was needed on the museum's sixth floor, she and Larry Bannister, the Museum's director of facilities and operations, submitted a proposal to MMSD to cover the cost of the green roof itself and were awarded the funds.
The MPM roof is an "extensive roof" with thinner soil, planted with types of plants, especially sedums, that do well in this environment. The advantage of this roof is that it is lightweight and suitable for large areas. It also requires little maintenance. More elaborate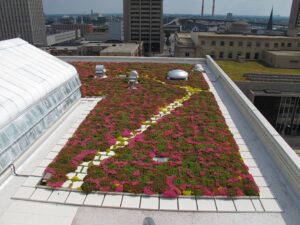 "intensive roofs" can have anywhere from 8 inches to 4 feet of soil, which also means that they can support a larger variety of plants.  But even the low-maintenance roof can have a dramatic impact on the building, by greatly cutting energy costs, and on the neighborhood, by absorbing storm water and reducing sewer overflows.
Museum employees and ZHG staff have had the opportunity to see the colorful garden.  "Zilli Hospitality Group is proud to partner with the Museum and proud of its innovative and forward-thinking approach," said Jim Zilli, CEO. "It is really cool that the Museum took the initiative to do this.  Even though the roof is out of sight , it is yet another way MPM contributes to the city."
Quick facts about the Museum's green roof
Roof size:  4,100 square feet
Amount of storm water the roof diverts in a typical year: 90,000 gallons
Amount by which it reduces summer energy demand: up to 75 percent
Difference in temperature between a green roof and a traditional roof: 90 degrees or more
Total area of green roofs in Milwaukee: 7 acres