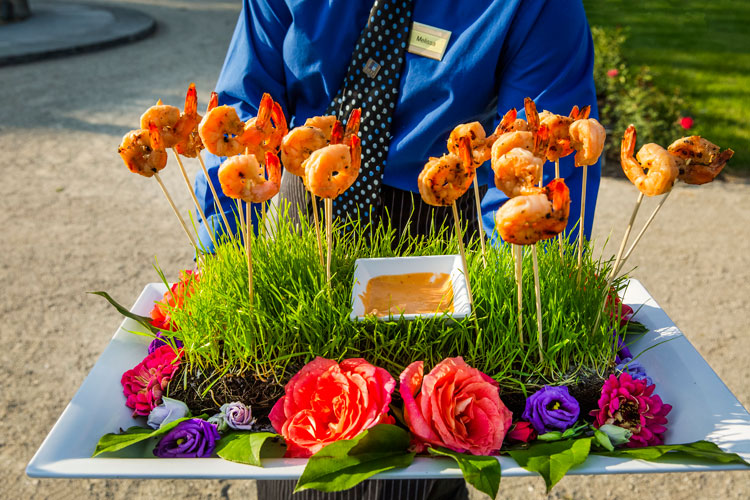 It was a crisp June day for the Friends of Boerner Botanical Gardens' In the Gardens fundraiser this year! The talented members of this local, self-funded nonprofit work diligently to sustain and grow the incredible Boerner Botanical Gardens through special events like this and by also managing nature-driven educational programming for youth and adults alike.
Each year, the fundraiser has a different goal in mind. This year, 200 people joined the Friends in support of children's education initiatives at the gardens.
Setting the Garden Stage
We wanted the Friends to walk into a setting that was absolutely flawless and ready to be dressed in their important details. A day prior to the event, our team arranged tables with gorgeous linens and chairs so that FBBG event volunteers would easily be able to add any special touches to the tables the day of the fundraiser.
A Flowery Entrance
The night began with a stunning walk through the newly lit gardens. It was a glorious sight to see—and of course capture in pictures! Attendees made their way to the Garden Room, where they got their first look at the stunning setup and watched an inspiring slideshow highlighting some of the organization's top moments and shining accomplishments together.
 Greetings & Delectable Small Bites
As guests started to arrive, they were greeted with delightful hot and cold passed appetizers. All the selections were very carefully made to highlight farm-to-table-style dishes and fresh finds that complemented the organization's mission. Guests especially appreciated the presentation—the shrimp skewers served on a grass and floral platter inspired by the gardens. The full display of delicious appetizers included:
Chilled Cucumber Dill Shooter
Grapes with a Twist: Sweet, crisp red grapes rolled in cream cheese with a hint of vanilla and coated with finely crushed toasted almonds.
Lemongrass Shrimp Skewers: Cocktail shrimp with lemongrass glaze and dipped in a Thai chili aioli
Roasted Pear and Smoked Gouda Tartlet: Roasted brunoise pear seasoned with warming spices and served with melted smoked gouda cheese in a phyllo shell and drizzled with honey
Butternut Squash Risotto Pops: Roasted butternut squash blended with risotto, breaded and topped with crème fraiche
Fun Interactive Stations
Dinner was composed of fun stations that compelled guests to really mingle, explore and enjoy all the evening had to offer. Many people appreciated interactive features like the Mashtini bar where they could make their own mashed potato creation with toppings galore in a cute martini glass. Stations included:
The Farmer's Market
Fresh Market: Fresh seasonal fruits, Wisconsin cheeses, assorted crackers and grilled vegetables with cilantro dip
Bakery Corner: Fresh artisan loaves and rolls accompanied with infused oils, flavored butters and bacon jam
Charcuterie Board Station
The Mashtini Bar
Potatoes a la Martini: Smashed potatoes with choice of toppings: bacon, chives, sour cream, shredded cheese, broccoli, cheese sauce and vegetable sauté
BBG Street Tacos
Street Tacos: Seasoned ground beef or/and chicken served on mini warm corn tortilla with diced tomato, lettuce, shredded cheese, sour cream and picante sauce
Surf & Turf
Carved sous-vide sirloin flap and shrimp alfredo orzo
During dinner, we provided cash bar service with wine, beer and a fun specialty cocktail called the Rose Sampler Cocktail. We also had cucumber mint and lemon infused water for all to enjoy throughout the evening.
Sweet Treats During the Live Auction
Then, for one of the most exciting moments of the night: the live auction! Guests participated in the auction while nibbling on bite-sized chef-selected desserts. It was a lovely way to wind down a triumphant evening while listening to smooth jazz by Terry Smirl Jazz Trio.
Are you a local organization that needs help planning a successful evening like this one? We would love to help! Contact us online or call (262) 547-9447.
 More articles you might enjoy: