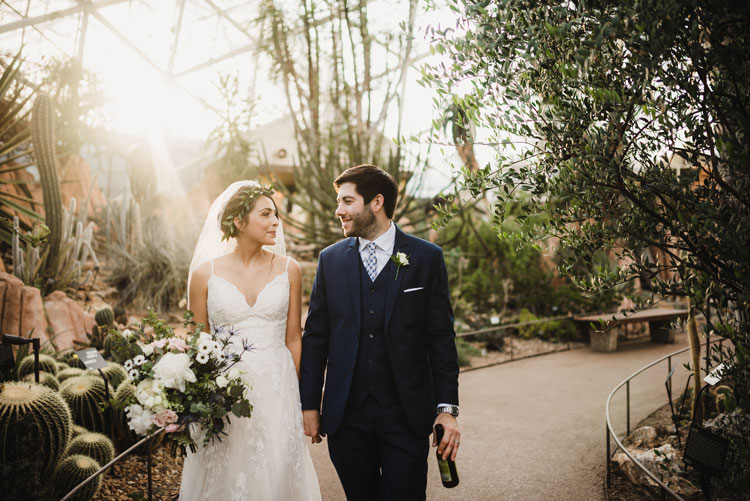 Guests arrived by trolley for Ana & John's springtime wedding at the Mitchell Park Horticultural Conservatory, affectionately known as "The Domes." The natural beauty, diverse plant displays and light-filled setting of the wedding venue made for an exquisite stage for the couple's special day.
A Lovely Ceremony in the Show Dome
Ana and John's ceremony in the Show Dome was nothing short of dreamy. Bridesmaids looked absolutely stunning in their blush gowns, while the groomsmen looked sharp with light blue ties. Ana certainly stole the show with her simple yet striking crown—a single vine. The beautiful floral arrangements were provided by our team at Adorn.
Guests settled into their seats, which had been arranged along the walkways leading to the stage and in the gazebo. The lovebirds said "I do" in front of a gorgeous trail of paper cranes that had been arranged along the Show Dome's stone wall.
Delectable Bites and Mingling During Cocktail Hour
Cocktail hour also took place in the Show Dome, which had plenty of good conversation, refreshing drinks and delectable bites to go around. The Show Dome's spectacular white lights twinkled like stars. Guests enjoyed the delicious appetizers we provided, which included:
Tomato Bocconcini Pipette: Cherry tomato, bocconcini and fresh basil laced with a balsamic glaze served on a skewer
Seared Ahi Tuna on Wonton Crisp: Sesame seed encrusted tuna lightly seared and served over fresh pea shoots, wonton crisp and wasabi aioli
Prosciutto-Wrapped Peppadew: Prosciutto-wrapped peppadew pepper stuffed with goat cheese, fresh thyme and lemon zest
Artichoke, Asiago and Sun-Dried Tomato Purse: Artichoke hearts, asiago cheese, sun-dried tomato blended with cream cheese baked in a puff pastry
Shrimp Alfredo Demi Cup: Diced shrimp with a rich, creamy alfredo sauce in a demi cup topped with seasoned bread crumbs
A Reception to Remember
The reception area was dressed exactly the way Ana and John imagined it to be. Tables were arranged with menus, wooden centerpieces and candles.
Guests made their way to their seats. They enjoyed their first course, which featured:
Shaved Fennel Salad: Mixed greens, shaved fennel, toasted almonds, mandarin oranges and blood orange vinaigrette
The buffet the couple decided on for everyone had so many mouth-watering options:
Braised Beef Short Ribs: Boneless ribs braised in red wine, carrots, celery, veal jus and herbs; served in a cabernet and wild mushroom demi.
Herb Seared Chicken: A boneless, skinless chicken breast, dredged, sautéed and finished with a choice of sauce: stone mill cream sauce or garlic and white truffle potato puree
Sides included:
Grilled Vegetables: Zucchini, yellow squash, carrots, red and green peppers
Rustic Green Beans: Whole green beans with fresh minced garlic and grated parmesan
Seasonal Fruit: Fresh cut watermelon, cantaloupe, honeydew and pineapple garnished with grapes and strawberries.
The plated vegetarian option provided for the night was also delicious:
Blood Orange Tofu Fry: Tofu marinated in a blood orange sauce with green tea soba noodles, stir fried vegetables and crispy cellophane noodles
There were so many beautiful moments that were shared over the course of the night. The speeches and cake-cutting were touching experiences for everyone. And who could forget the light show that played along with the DJ's musical stylings? No one will ever experience Queen's Bohemian Rhapsody quite the same way again.
Guests left full of great food and happiness from celebrating Ana and John's wedding. Congratulations to the lovely couple! If you want help planning and executing your dream wedding like Ana and John's green-thumbed bash, contact us online or give us a call at 262.547.9447.
Thank you to Monica Lynn Photo for the beautiful images!