For our expert wedding planners, nothing is more exciting than planning and executing a unique wedding theme. Themes bring so much life and energy to our events (especially for weddings), and they're always a reason to celebrate. So when newlyweds Ramon & Carlos came to us with the idea for a "Dia de los Muertos" (Day of the Dead) theme for their wedding, our team's creative engines kicked into high gear.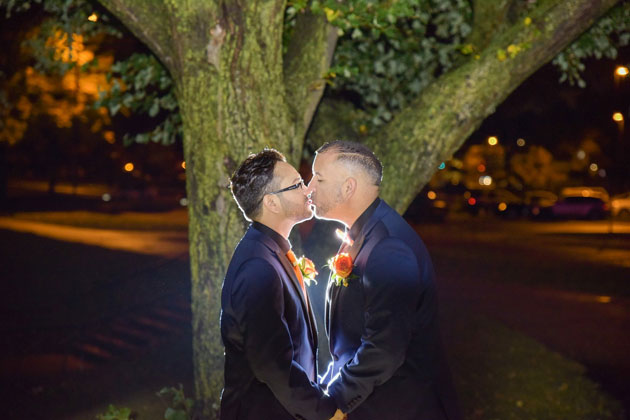 For their venue, this beautiful couple picked one of Milwaukee's most noteworthy event spaces—The Domes at Mitchell Park Conservatory. The domes are Milwaukee's horticultural hallmark and regularly host some of the most distinguished and magnificent weddings (among many other types of events) in the entire community. Inside the domes, lush florals line the sides of winding pathways while the soaring glass terrarium ceiling creates a stunning visual backdrop. While the "Day of the Dead" is a Mexican holiday rich in traditions, the couple wanted to contrast that with the modernity of the dome space. This helped make their theme unique and memorable for all 135 of their wedding guests.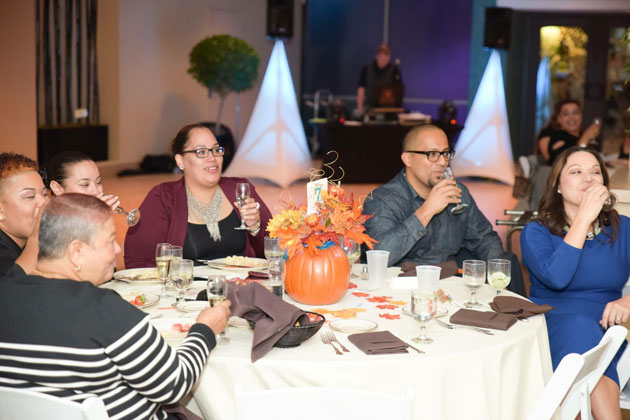 A Well Organized Timeline
Planning the wedding on Halloween contributed to the character of the "Dia de los Muertos (Day of the Dead)" theme. Guests began arriving around 5PM, not long before sundown on this Midwestern fall evening. The couple held an intimate and elegant ceremony on-site at 5:30, and after exchanging their heartfelt vows under the terrarium lights, the entire space transitioned into a lively cocktail hour and reception area. Guests were seated at 7PM for the cake cutting ceremony and a family prayer that was conducted in both English and Spanish.
A Menu Built from Taste and Tradition
The wedding menu was deliciously diverse and satisfying. Guests were treated to tray-passed greeting sippers of electric lemonade and peach cosmo early on, followed by several different thoughtfully prepared salads and main courses. Guests were ushered to a vibrant buffet that included:
Panzanella: diced roma tomatoes with cucumbers, peaches, basil and shaved parmesan in a vinaigrette marinade
Braised beef short ribs
Pan seared chicken breasts
Eggplant napoleon (vegetarian)
Fresh fruit
Side dishes included:
Garlic herb mashed potatoes
Smoked gouda macaroni and cheese
Brandy caramelized baby carrots
For late-night reception guests, a microburger station of beef and grilled chicken burgers satisfied their midnight snack cravings.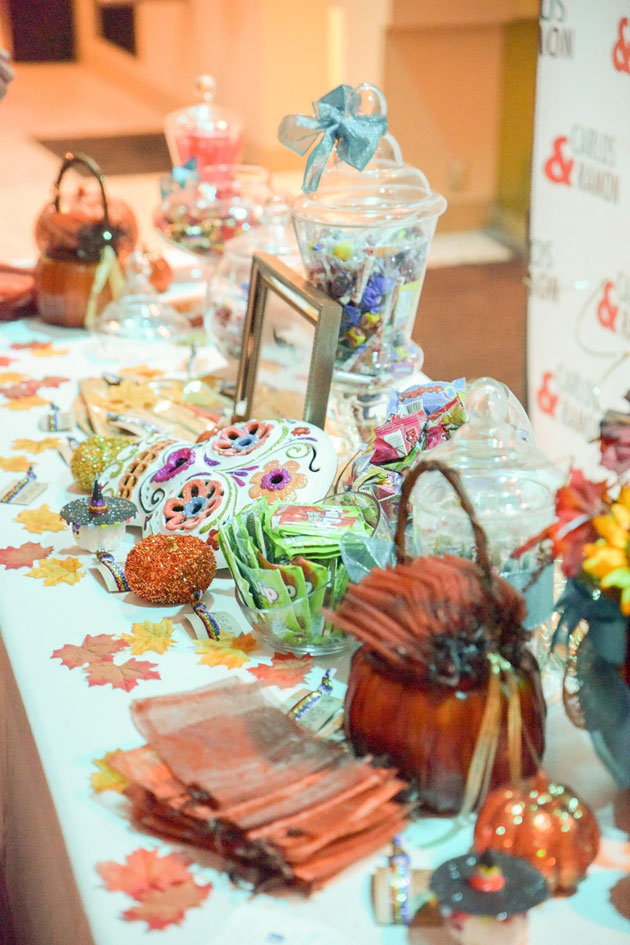 Vibrant, Eye-Popping Décor
What really made this wedding shine was the astonishing décor and design scheme put together by our team. The "Day of the Dead" is widely considered to be a holiday of communal celebration. To reflect this ethic in the theme, the reception area did not have a designated head table. Giving each table equal importance helped to bring guests closer together in the spirit of celebration. Our team decorated the venue in fall colors of orange (to match the couples' matching orange ties) and yellows with pops of décor that further reflected the Mexican holiday.
Our group packaged and assembled thematic "Dia de los Muertos" (Day of the Dead) centerpieces that were positioned and lit in the middle of each table. The colors and imagery utilized throughout the entire event were hugely evocative of the holiday theme, and the couple seemed to embrace the love and thoughtfulness they were shown by our staff and all their wedding guests.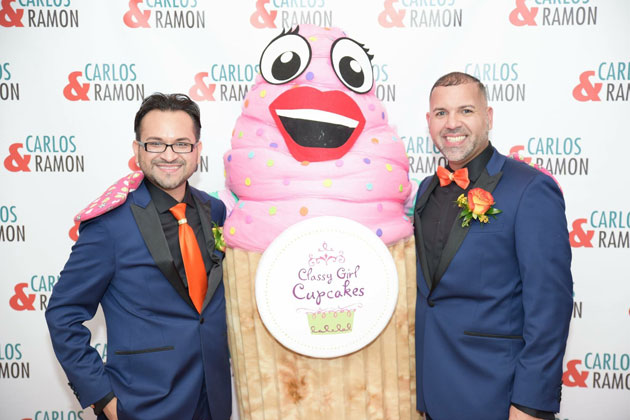 For this special wedding event, the spirit of love came together with the spirit (or spirits!) of the holiday to create an unbelievably memorable experience. Our entire team was privileged to be a part of it and share in the love between this beautiful couple and their families.
You can contact one of our experts online or give us a call at 262.547.9447 to start planning your one-of-a-kind wedding event today!
More Articles You Might Like: