When we heard that one of Milwaukee's premier companies wanted to treat 485 of its dedicated employees to a fun holiday party, we couldn't have been more excited. Just like the staff of this big company, our Milwaukee catering team is committed to superior service. So this corporate event was our opportunity to give these hard-working employees a taste of their own value.
Knowing the employees of this reputable company put their heart into service every day, we were excited to bring exceptional food and our creative holiday party ideas to the first floor of the Zilli Collection venue. We wanted to reward them in a big way—and how better to do that than with the most delicious food at a casino-themed party?
How to Make Sure Employees Enjoy Their Holiday Party
Create a Fun Holiday Party Atmosphere
The first step to ensuring guests have a great time at your company holiday party is to make sure everything is ready to go when they arrive at a top Milwaukee venue. That's why we coordinated with the professionals from Vegas on Wheels and Exciting Events to transform the Zilli Collection venue into a casino atmosphere. Long before guests arrived, the gaming tables, lighting, special effects and décor needs were fine-tuned to perfection.
At 6 pm, after visiting the registration table and coat check, guests were directed to the floor. In front were DJs from Exciting Events, churning out upbeat music and filling the first floor with good vibes. Guests felt like they stepped into another world where they had no worries, stress or obligations—just time to play!
Get Started with Amazing Drinks and Appetizers
As guest mixed and mingled, they soon took advantage of the exceptional bar service and offerings. Each guest was provided two tickets for Miller products and house wines. Mixed drinks were also available from the cash bar, as were additional alcoholic beverages. And, of course, the bar staff was always happy to hand out soft beverages, juices and bottled water for guests' enjoyment.
Being among the most experienced Milwaukee catering companies, we know the importance of facilitating a good event flow. We wanted to encourage guests to move about the large space freely. That's why we also set up a third bar in the an expanded section. Here guests could grab beer, wine and soft beverages to enjoy with these fine tray-passed hors d'oeuvres that circulated:
Ahi tuna wonton: Ahi tuna, crispy wonton and wasabi cream
Cucumber hummus cup: English cucumber, kalamata olive hummus, tomato powder and candied lemon zest
Bacon wrapped chicken with strawberry merlot glaze: Seared chicken breast seasoned with garlic, thyme and pepper wrapped in bacon, served with a strawberry and merlot reduction
Blue cheese tater tots: With truffle oil
Lobster macaroni and cheese: Topped with browned breadcrumbs and served in a demi cup
Engage Guests with Interactive Food Stations
At 7:15 pm, four interactive food stations were ready for action! While many guests got straight to dinner, others (who may have had a few too many appetizers) went straight for the casino tables that opened just 15 minutes later. With the main stations remaining open until 8:45 pm, guests could eat and play at their leisure. And with our friendly staff and professional dealers ready to serve, everyone was engaged in the casino holiday party experience, whether at a poker table, food station or somewhere in between.
To make sure guests had the most time for play, we designed a custom menu with four different food stations—each meticulously attended to and with a variety of options. We wanted each guest to find whatever they craved, customize it to their exact liking and move on to the fun and games! With hundreds of employees in attendance, our experienced event planners even made sure gluten-free options were available and noted this on the menu signage so every guest found what they need without any hassle.
Station #1: The Carvery Station
Meat-lovers united for chef-carved tenderloin accompanied by onion butter, horseradish cream sauce, rolls and a Jack Daniels au poivre sauce. Knowing that they might also stop by the fresh salad bar, we offered chef select vegetables here so they could get their side of veggies however they preferred.
Station #2: Pasta Station
Rich and creamy or fresh and flavorful—guests could fill fun plates with pasta any way they liked! A buffet of grilled zucchini, yellow squash, carrots and red and green peppers completed favorite Italian dishes like:
Cheese tortellini: With sun-dried tomato cream sauce
Cavatappi: With marinara sauce
Penne pasta: Paired with alfredo sauce
Station #3: Cosmo Taco Station
Cosmo glass and an endless array of traditional Mexican ingredients let guests craft outrageously delicious tacos. Alongside grilled chicken or pulled pork was this collection of taco fillings:
Tri-colored tortilla strips
Spanish rice
Refried beans
Pico de gallo
Black bean and rice salad
Sour cream
Cheddar cheese
Diced tomato
Onion and taco sauce
Station #4: Chilled Salad Bar
Nothing about this Milwaukee company holiday party was ordinary, especially the salads! We knew most guests would try at least one of the fresh salads offered, but the vegetarians would most certainly go straight to this station. So we made sure all the dishes were satisfying on their own as well as a perfect pair to the other main courses that guests may have picked up.
Quinoa savory salad: Red and white quinoa with red cabbage, peppers, green onion, carrot, cilantro and almonds in a balsamic vinaigrette
Pan Asian crunch salad buffet: A bed of mixed greens, Napa cabbage, bok choy and colorful julienne vegetables topped with sesame ginger vinaigrette, crisp wonton strips and a sprinkle of wasabi peas.
Big apple salad: Mixed greens, apple slices, dried fruit, apple walnut vinaigrette
Allow Plenty of Time to Play
Efficient catering service leaves guests with extra time to relax, socialize and play! And that was especially important at this company holiday party, because casino games with professional dealers were waiting. Friendly competition ensued as guests sat down for games of blackjack, craps, roulette and poker. Some guests got so into the scene that you really would have thought they were at a casino. A total escape—mission accomplished!
Keep the Desserts and Coffee Coming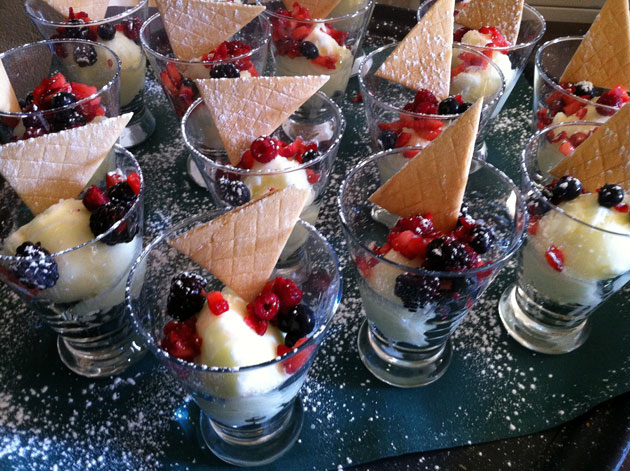 While some guests were going back for seconds from the main stations, others were ready for dessert as soon as it rolled out. With the desserts and hot beverages available from 8:00 to 10:00 pm, guests could enjoy a sweet treat and warm drink late into the evening. Actually, by the time the dessert station closed, many were working on their second or third helping. We can't blame them—it's hard to choose just one of these scrumptious sweets:
Crème brûlée cup: A rich egg and vanilla bean custard baked in mini cups and torched to caramelize the tops with sugar
Cheesecake shooters: Raspberry and grasshopper flavored
Chocolate-covered strawberries: Dipped in dark chocolate and drizzled with imported white chocolate
Dessert bars: Bite-sized dessert bars such as caramel pecan, blondie brownie, apple cinnamon or lemon
Even the coffee bar provided guests with many options for customization. First, guests chose between Colombian supreme, decaffeinated Colombian supreme, and vanilla almond coffee. And then they finished it off with garnishments of cream, sugar, chocolate reception sticks and whipped cream. Or, for a really decadent drink, guests enjoyed a rich hot chocolate with mini marshmallows.
It was truly our pleasure to reward the employees of this prized Milwaukee company with an extraordinary holiday party. For once, they got to enjoy being catered to. Or, better yet, they got to treat themselves by customizing everything from their dinner plate to hot coffee.
Our talented and experienced Milwaukee catering team would love to bring the same exceptional service to your company holiday party. Find our creative and meticulous event planners online or give us a call at 262-547-9447.
More Articles You Might Like:
Event Designer

Charmaine Gunther
Event Designer
Charmaine began her career in the catering department in 1991. Charmaine has an extensive base of corporate clients and excels at creating valuable client relationships