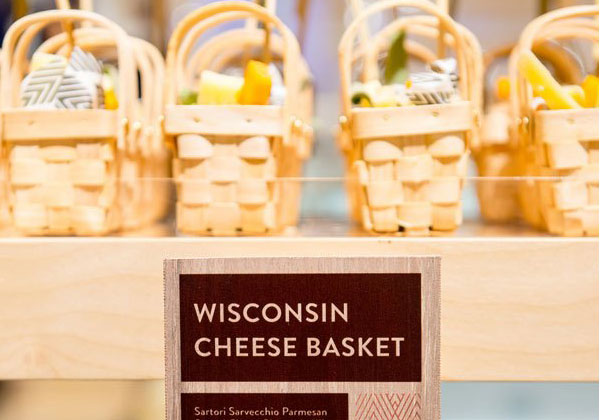 Wisconsinites have a tangible sense of pride in our state. That pride is informed by the things that make us unique. It's a long list that includes great beer and brats, beautiful natural surroundings, world-class educational institutions and Packers football, to name a few. But the top of that list is occupied by one thing and one thing only: cheese. We are America's dairy land. You can see it from the fields outside of Eau Claire to the bleachers or concession stands at Lambeau. Cheese culture makes us who we are.
We also know how to throw a party. Halloween in Madison aside, the most notable parties here are our weddings. Our state is full of large, passionate families that stretch across several communities. We love to celebrate when those families come together in the spirit of love.
So if you're interested in planning a genuinely cheesy Wisconsin wedding, here are a few nifty ideas that can fit the theme and make it feel like home.
1. A cheesy wedding cake—literally!
This is a trend that has picked up steam lately as tradition has collided with modern concepts of creativity and cake design. Wedding cakes made of actual large cheese wheels have been increasingly in demand from couples for their celebrations. Not only do these cakes capture the spirit of Wisconsin and showcase several different hallmark cheeses, but they also provide a unique visual and culinary element to a wedding that captivates guests' imaginations.
But if you're looking for something perhaps a little sweeter, a cheesecake wedding cake with fresh fruits and lovely accents adheres to the cheesy theme and adds some rich flavor.
2. Cheesy décor (custom linens & more)!
For any "cheesy" Wisconsin-themed wedding, atmosphere is going to be important. You want the colors and visuals to be both welcoming and meaningful. Custom linen designs are an increasing trend throughout the wedding industry as a differentiator. What used to be often dismissed as an afterthought for wedding celebrations is no longer taken lightly. Linens especially are being used to inject a uniquely thoughtful element to any reception space. A cheesy pattern on your table cloths would speak well to a cheesy Wisconsin theme, especially in a room full of passionate Green Bay Packer fans.
3. A very dairy menu
Naturally, you need a fantastically cheesy menu. The versatility of Wisconsin cheese is recognized widely throughout the culinary world. Some unique dishes you might include would be:
Lobster mac and cheese demitasse
Bacon-wrapped figs filled with cheese and a maple glaze
Mini cheesecake bites
Tomato & mozzarella crostinis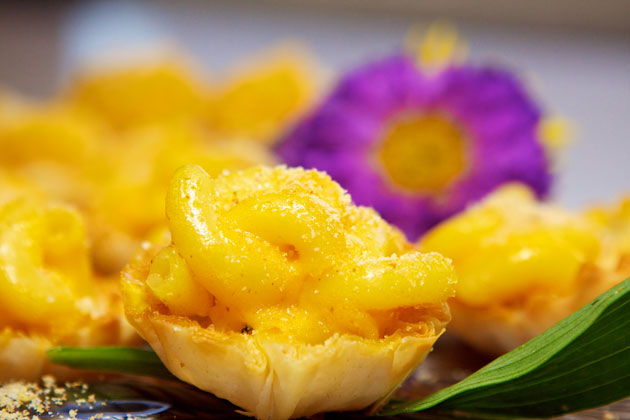 A cheese café-style service bar might also provide your guests the chance to sample different cheeses with different pieces of bread. Add in some wine sampling to create a sophisticated wine and cheese station.
4. Some cheesy (read: geeky) entertainment (let's polk)!
Wisconsin is full of large families with rich German and Polish ancestry. Polka is one of the most well-known musical traditions from the region and has become a fixture for Wisconsin weddings and other celebrations. All you need is an open dance floor and the proper instrumentation, typically composed of brass and an accordion.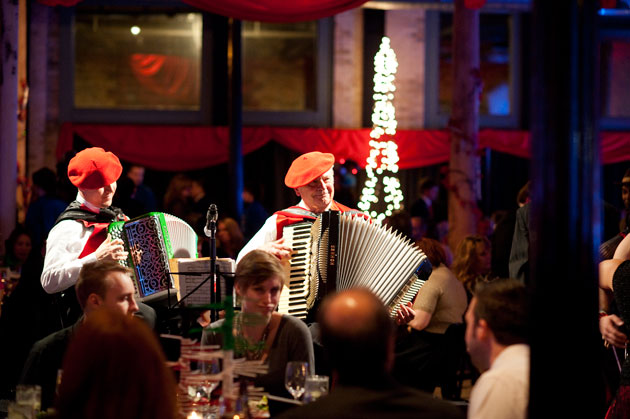 A cheesy Wisconsin-themed wedding should capture the pride and spirit of both our industry and our people. We also know that our creativity goes well beyond the typical cheese head hat. We relish the opportunity to use our imagination and pay homage to our state and community in new and inventive ways.
If you're interested in planning the cheesiest of Wisconsin weddings—or if you're planning another imaginative wedding theme—contact one of our expert planners online or give us a call at 262.533.0045.
More articles you might enjoy: