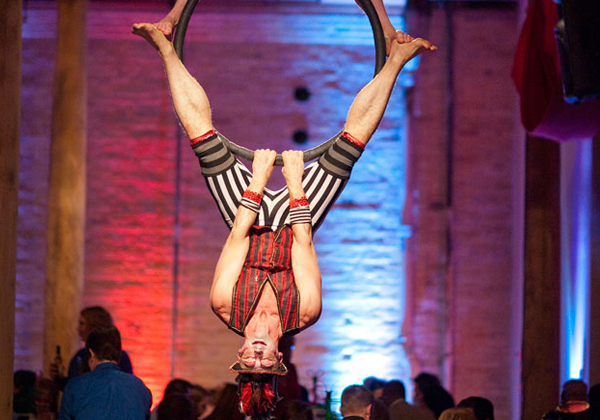 Dancing, comedians and stilt walkers—these are just a few of the entertainment choices for your next corporate party. Yes, that's right. Companies are going all-out for their big events, making sure they budget for memorable nights full of surprise. And there is a reason for it. Research has found that corporate events are the ticket to increased office morale and company success.
Time spent enjoying customized Milwaukee catering and professional entertainment is an opportunity for employees to get to know each other better. It's also a way for guests who attend, whether they are clients, partners, vendors or the public, to learn more about the company. Hopefully, the event inspires them to be life-long customers.
Top Entertainment for Your Milwaukee Corporate Event
Enjoy a Cooking Demo
The most unexpected entertainment at your party may include flames and smoke! Our trained in-house chefs love to charm guests with a spectacle of exquisite foods at our action stations. These items make perfect additions to your customized corporate menu.
Nitro cooking: This technique uses liquid nitrogen to freeze food instantly. Nitro cooking always draws a crowd with the plumes of smoke that form during each freeze. It is safe and never alters the flavor, texture or nutritional value of the food.
Printed food: Insert your company logo onto the food you serve. This unique touch is a good conversation starter and may serve as a great feature for social media pictures.
Flaming donuts: Dazzle guests with a live food show where the main feature is a flaming donut! With careful technique, our chefs sauté warm donuts with glaze that catches fire when exposed to the high heat, creating a bold flame.
Get Down on the Dance Floor
Once everyone has a chance to drink a cocktail and enjoy some interactive appetizers, they can gather a group of friends and hit the dance floor. Our corporate lighting partners will make the dance floor a visual delight while the DJ or live band plays songs that inspire some spirited dance moves.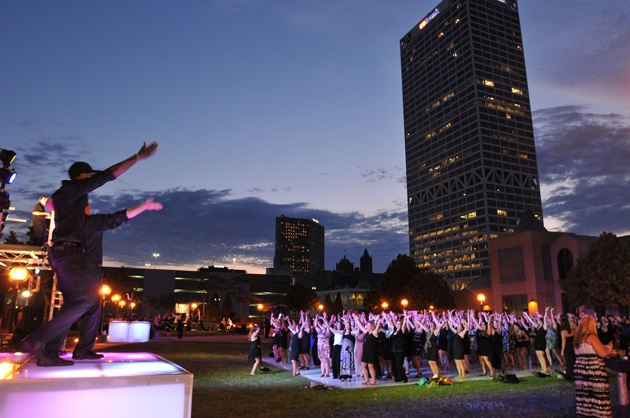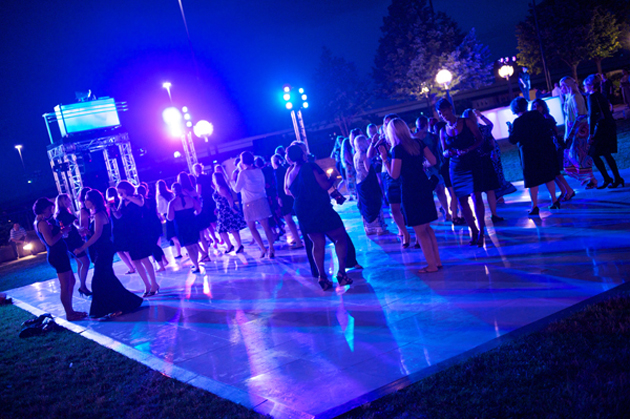 Recently, we hosted the Lia Sophia's Gala Noir at Zilli Lake and Gardens in Milwaukee. This large-scale garden party spread across the entire Zilli Lake and Gardens property, but we think most of the guests gathered on the dance floor! That's a success in our book.
Watch Stage Performances
From escape artists to comedians, stage performers are the perfect addition to a superb corporate event. Create memories with magicians, dancers, actors, singers or a real Hollywood celebrity—you name it and it can be done!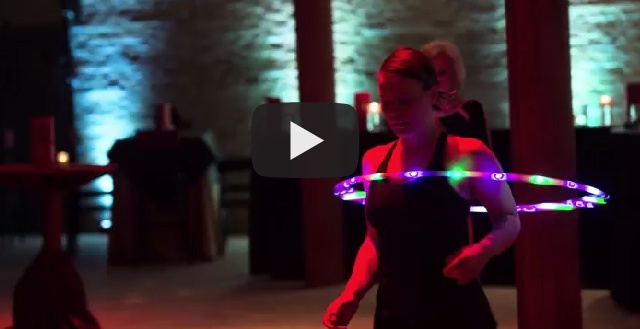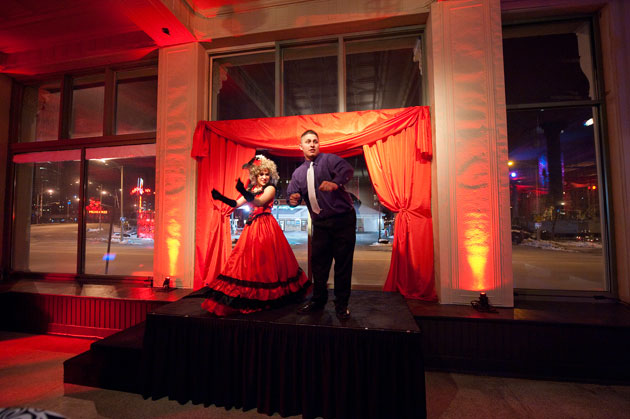 Get Social
In 2016, everyone is aware of the powerful effects of social media. Out-of-state friends can see what you're doing in real time. So when your corporate event is beyond all of your employees' expectations, chances are they'll be sharing their special moments with friends all over the U.S. and the globe!
We love the idea of setting up a step and repeat celeb wall that makes everyone feel like a superstar. Another idea is the ever-popular photo booth, where three or four people with goofy accessories cram into a small space for a hilarious photograph. Don't forget to create a hashtag to organize the photos on Instagram and Twitter.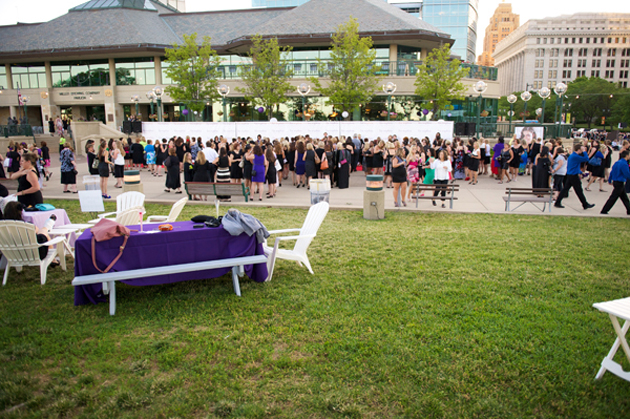 Go to the Circus
Well, not really, but your corporate event will feel like the big ring when we bring in circus entertainment. In fact, at our latest party, we transformed the Historic Pritzlaff Building into a modern space full of acrobats, stilt walkers, fire eaters and mimes.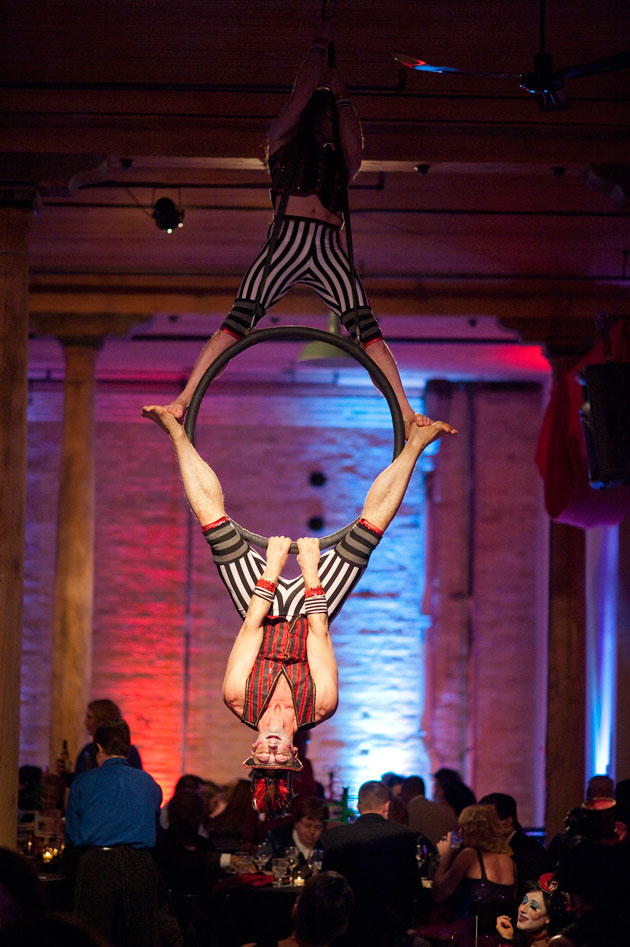 Energetic employees even took part in some of the activities. And that moment when one of the guests joined the entertainer on stage surely made for a good story on Monday back in the office!
Other Unique Corporate Entertainment Ideas
Whether it's a small or large venue, indoor or outdoor, there is always a type of entertainment to match your corporate culture. For a holiday event, we can bring in carolers or dueling pianos playing a variety of Christmas songs. If you have a daytime event that many employees with families will attend, consider a petting zoo, ice skating rink, face-painting station or caricature artist! The kids will be having so much fun that they will never want to go home.
These are just some of the hundreds of customized entertainment options we can provide to meet the goals of your corporate event. Every one of our partnering venues holds different possibilities; we can't wait to explore them with you!
Our talented Milwaukee catering team would love to make your next event exceptional. Find our creative and meticulous event planners online or give us a call at 262-547-9447.
MORE ARTICLES YOU MIGHT LIKE: