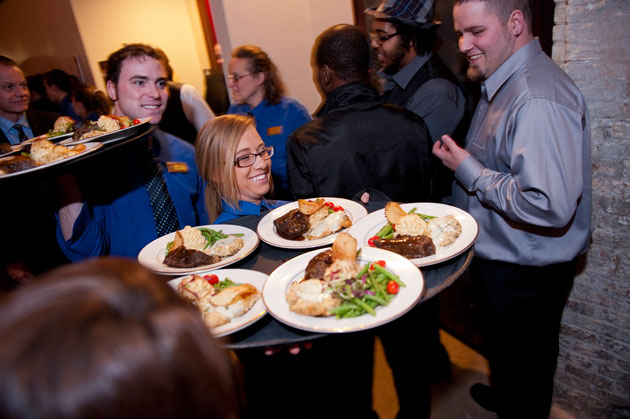 Successful business projects start with a vision and end with excited employees. And your corporate event is no exception. So before you think about the finer details of planning your event in Milwaukee, make sure you have goals in mind and the right people to get them done.
The variety of Milwaukee catering prices, venues and types of corporate events means you can find the perfect match for your company's style and objectives. To figure out what is right for you, take a look at the different corporate events and what each has to offer.
Plan a Successful Corporate Event in Milwaukee
Grand Openings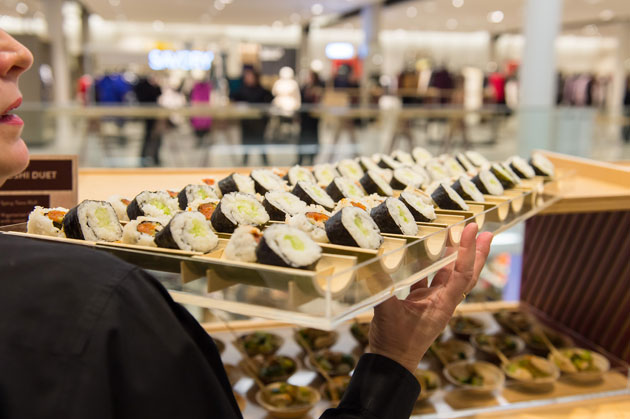 Grand openings are opportunities to make a great first impression on your new community. Nordstrom's Mayfair Mall grand opening is a prime example of how a company can welcome the public with a large event that offers guests a modern twist on catered food and beverages. Grand openings are fun events that bustle with energy. The longer guests stay, the better! So entice them with tantalizing passed hors d'oeuvres and drinks.
Carefully arranged food stations are another great way to facilitate event flow and put on a show. Some of our favorite corporate event food stations are:
Chef-carved tenderloin of beef: With caramelized onion and red wine sauce and accompanied by grilled vegetables and cilantro dip
Salad bar: Guests' choice of salads and dressings hand-shaken in martini shakers
Island barbecue: Tropical shredded pork sandwiches, pineapple salsa and stir-fried vegetables
Product Launches
How you introduce a new line, product or idea can drastically change how people view it. So make your product launch an exciting and informative one that delivers lots of value. A great way to spread the word and create a buzz around your launch is by hosting a networking function. As people mix and mingle over delicious cocktails and appetizers, they will make valuable connections. And by circulating passed hors d'oeuvres like bacon-wrapped chicken with a cranberry glaze or a pesto shrimp tartlet, guests won't need to step away from conversation. In fact, they are likely to stay longer to learn and socialize!
Make sure you read Milwaukee catering reviews to find a team that knows how to blend in flawlessly while keeping guests excited and energized. A Milwaukee catering company with decades of experience will have ideas for innovative menu items and displays that do not distract from the main attraction.
Plated Dinners & Celebrations
From a formal awards ceremony to a company anniversary, there are plenty of reasons and ways to celebrate success. When you want to mark a milestone or simply give hard-working employees a nice reward, a sophisticated dinner is the perfect choice.
Of course, it all starts with a fantastic location. An experienced event planner and venue finder tool can help you find exactly what you're looking for, but you can't go wrong with Coast. Lakefront views, impeccable service and sophisticated décor invite up to 400 guests to relax and enjoy seaside dining at its best.
Consider hiring a professional pianist whose music will inspire your guests to relax and enjoy fine entrees like:
Pan-seared Napa Valley chicken: White wine sauce, green grapes and cranberries
Cosmopolitan chicken: Vodka cream sauce, cranberries and mandarin oranges
Filet of beef tenderloin: Jack Daniels au poivre
Holiday Parties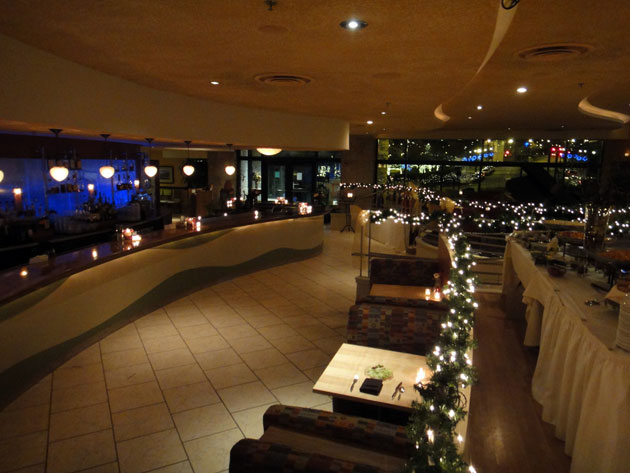 The holidays are a perfect time to thank employees and show them how much they are valued. A talented event design team can help you choose a theme and design custom florals and decorations that reflect your company's style.
When choosing a venue, look for a flexible space that lets you bring your holiday party theme to life. A full bar and dance floor are a must, but the ability to customize is key. It would be a shame if your venue did not allow you to choose among all the top entertainment ideas for corporate events. There is an endless array of incredible Milwaukee holiday party venues.
Educational and Organizational Events
When training, educating and planning are on the agenda, we hope a skilled and experienced catering company is too. Seminars, conferences and meetings typically run on a tight schedule, so make sure your catering service will be on task. These are interactive events, so you will want to fuel guests with nutritious food that will help them think critically and expand their knowledge.
Your event space can help inspire creativity! For big corporate events, the expansive Boerner Botanical Gardens have everything you need. From projection screens to free parking for up to 300 guests, this venue lets you focus on the tasks at hand. If you have a smaller guest count and are looking for a unique event venue, check out the Milwaukee Community Sailing Center's impressive views and multimedia capabilities.
Employee Appreciation Events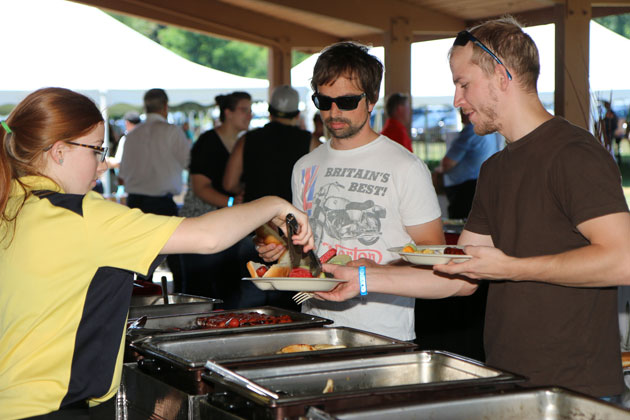 What better way to thank employees than with fresh grilled picnic food, sweet treats and fun picnic activities? Company picnics are the perfect way to give hard-working employees a day to play. Fun picnic activities and delicious food is a recipe for happy employees.
You can't go wrong with a picnic menu that includes any of our top 10 picnic items, but fan favorites include:
USDA choice all-beef hamburgers
Klement's brats: Simmered in seasonings, onions and beer and then grilled on location
All-beef hot dogs
Carolina hand-pulled BBQ pork: Slow roasted, seasoned, shredded and mixed with onion in a special barbecue sauce served on a fresh roll
Team-Building Events
If your company is about to take on a new challenge, you can prepare employees while rewarding them. Team-building outings are a great way to foster productivity and boost morale. Not sure what to do? The stunning domes at Mitchell Park Conservatory provide endless opportunities for learning and engaging as a cohesive team.
Ready to start your corporate event planning? Our talented and experienced Milwaukee catering team would love to make your next event exceptional. Find our creative and meticulous event planners online or on Facetime, or give us a call at 262-547-9447.
More Articles You Might Like: