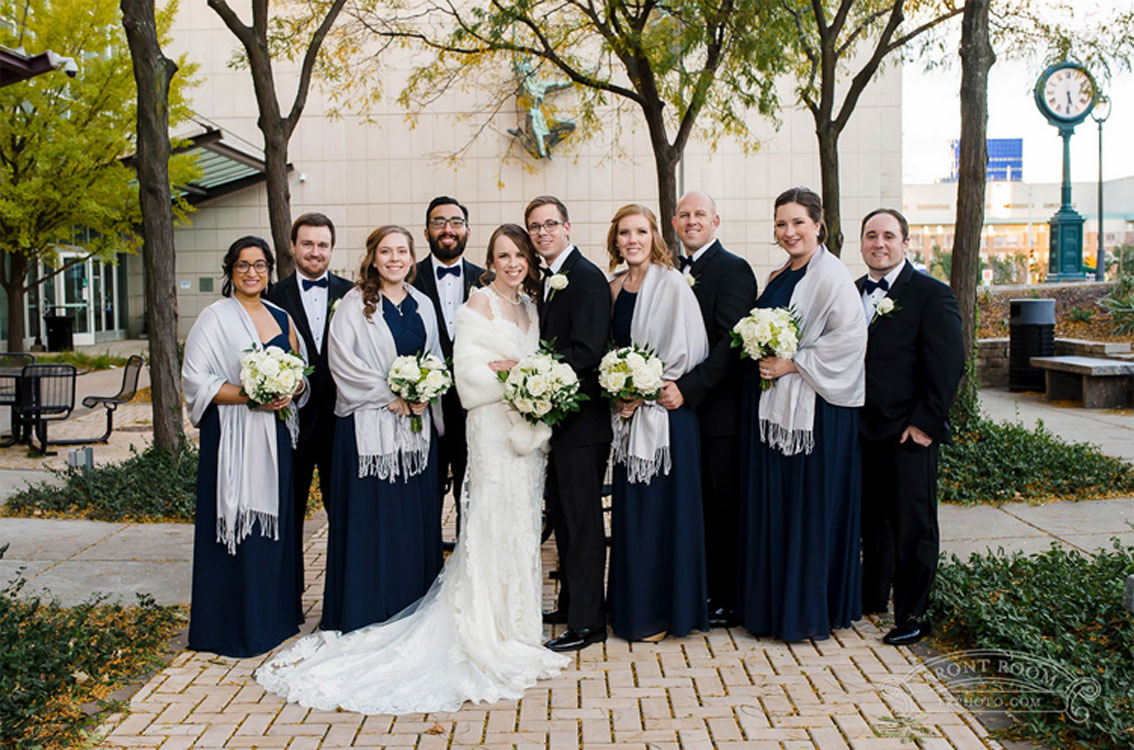 On a gorgeous fall day in October, Corrine and John tied the knot with a stunning reception in the Steigleder Gallery at Milwaukee Public Museum. The couple reached out to us to help them create their custom menu and transform the space with all their important details.
After a gorgeous ceremony that took place off-site, Corrine and John took fun photos all over the Museum—in front of a Tyrannosaurus Rex, on the Streets of Old Milwaukee and snuggled up on a bench in the Pastime Theatre. It was exciting to witness their new adventure as newlyweds to all ends of the earth.
Cocktail hour on the first floor and in Pastime Theatre
Over 150 guests arrived at the Museum for the couple's reception. They were greeted with a special drink chosen by the couple: a tasty key lime martini. The whole first floor made for a romantic location for guests to mingle and enjoy a refreshing drink and tasty hors d'oeuvres.  The Pastime Theatre projector showcased a beautiful slideshow full of the couple's special memories.
Tray passed hors d'oeuvres included:
Grapes with a twist: Sweet, crisp red grapes rolled in cream cheese with a hint of vanilla and coated with finely crushed toasted almonds.
Watermelon tower with goat cheese: Fresh watermelon cubes topped with whipped goat cheese cream, balsamic glaze and garnish.
Tomato bocconcini skewer: Grape tomato, pesto marinated bocconcini laced with a balsamic glaze served on a skewer. Finished with Maldon sea salt.
Chorizo croquettes: Sautéed onions, garlic, Latin spices and chorizo. Blended with pureed potatoes, cotija cheese, fried to a golden brown and served with chipotle lime aioli.
Artichoke, asiago, sun-dried tomato purse: Artichoke hearts, asiago cheese, sun-dried tomato blended with cream cheese baked in a puff
Buffalo chicken tartlet: A flaky phyllo shell tart filled with spicy chicken, bleu cheese and scallions, garnished with a crisp celery slice and buffalo sauce.
A swoon-worthy dining atmosphere
After an enjoyable cocktail hour, the Steigleder Gallery doors opened. Everyone was blown away with the gorgeous detail. Stunning white floral arrangements by Adorn topped each ivory linen, accented with metallic votives and navy napkins. The couple sat at the head table, which was rectangular rather than the rounds for guests, adding a bit of differentiation to the space. Each place setting also had a special gift from the couple: a custom wine cork commemorating the day.
Dinner provided the following phenomenal entrees:
Watermelon Cucumber Salad: Salad with cubed watermelon, cubed cucumber, arugula, crumbled feta cheese and cider honey vinaigrette.
Grilled Chicken Breast with Lemon Burre Blanc Sauce: A boneless, skinless breast of chicken grilled and laced with one of our specialty sauces.
Tenderloin Filet with Bourbon Shallot Cream Sauce: Grilled and laced with roasted shallots, Kentucky bourbon in an herb demi reduction, finished with a touch of cream.
Roasted Butternut Squash Ravioli: Served with toasted hazelnuts, asparagus, fennel and brown butter sauce. Garnished with sun-dried tomatoes, feta and olive tapenade.
Sides included petite yukon gold potatoes and grilled asparagus spears. The children in attendance were able to enjoy a delicious meal of chicken strips.
Dance the night away
After dinner, A Personal Touch DJ had everyone on the dance floor celebrating.  A beautiful cake was provided by C. Adams Bakery, which satisfied everyone's sweet tooth. Guests also enjoyed the miniature dessert station and coffee for a sweet ending to the evening. Desserts included:
Mousse votive with dark chocolate: Filled with creamy chocolate mousse and topped with shaved chocolate.
Raspberry cheesecake cordials: Mini raspberry cheesecake cordials
Classic crème brulee: A rich egg and vanilla bean custard baked in mini cups and torched to caramelize the tops with sugar
Need help finding the perfect venue?
Feeling overwhelmed by the number of incredible Milwaukee venues to choose from? No worries! Our complimentary wedding venue concierge pairs you with a Zilli wedding professional, who will give you an in-person tour of every venue that matches your specific vision.
Get in touch with us!
If you want help planning and executing your dream wedding, contact us online or give us a call at 262.547.9447.
More articles you might enjoy: