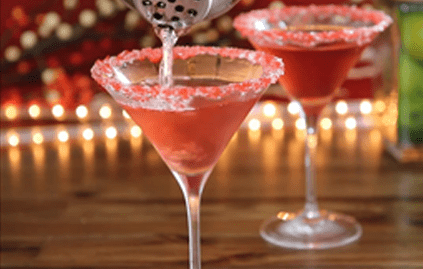 This colorful cocktail is the perfect drink for your holiday party. Serve it up in a martini glass and garnish with fresh cranberries for a festive presentation.
Makes 2 Servings
Ingredients
1 (1.5 fluid ounce) jigger vodka
1/2 fluid ounce orange liqueur
1/2 fluid ounce dry vermouth
2 (1.5 fluid ounce) jiggers cranberry juice
1 cup ice
cranberries
Directions
Combine vodka, orange liqueur, vermouth, cranberry juice, and ice in a cocktail shaker. Shake vigorously to chill. Pour into martini glasses, and serve. Garnish with cranberries.
Recipe from allrecipes.com.