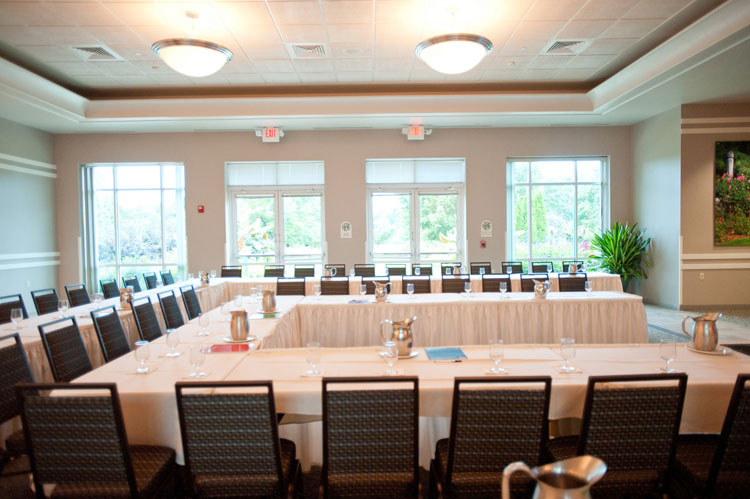 Anyone who's ever attended an all-day conference knows firsthand that it demands a lot of stamina. Depending on the length of each session and content being presented, attendees may find themselves struggling with their concentration and energy levels. This is why consistent breaks are key. They give conference-goers a chance to refuel and take on the next important discussion at hand.
The nourishment available for conference attendees makes a big difference. At Zilli, we have catering for all-day conferences down to a science. We offer custom corporate menus and a full event design and event manager who works with you through every last detail so the day of your event goes exactly as planned.
As always, we strive to build lasting relationships with all our corporate clients, who know us for the "Zilli touch," or our creative flair, exceptional customer service, attention to detail and years of experience. Here are some more ways we can enhance your next all-day event:
Custom-Fit Menus for Any Budget or Event Size
Our culinary team has the experience and expertise to craft customized menus that fit any budget or guest size. We don't devalue the level of quality and creativity when it comes to our all-day menus. It's essential to us that menus offer the most up-to-date trends in culinary variety and excellence.
What are you thinking for your all-day event? A table of assorted fruits and cheeses? A potato bar? A hot chocolate station? Once we understand what you desire, we can choose a menu type that's right for you and add on any personal touches.
All of our stations and buffets are elegantly draped and decorated to elevate the ambiance of your event. We even offer complimentary food presentations, which include office deliveries directly to your team!
Full Event Design Team & a Dedicated Event Manager
We appoint your all-day event with a team of passionate designers and a dedicated event manager who makes sure that every detail is exactly as you envisioned. Themes, linen, lighting, audiovisual technology that is required for your presentations—we've got it covered. We ensure the right amount of experienced staff members for your event; they will make you feel as though you don't need to lift a single finger.
Our in-house floral division, Adorn, is one of our most commented-on corporate event services. Our florists have worked in venues throughout Milwaukee and have a keen eye for bringing a room to life. Let them help you take your event to the next level.
Client testimonial: I just wanted to thank you for all you did for us prior to and the day of our event. We have had nothing but extremely positive feedback, and our executive director was very impressed. Everything went so smooth thanks to the hands-on efforts by your entire team of employees, from kitchen to cleaning crew. We would definitely recommend you to anyone and hope to be back in the near future! –Lori Fritz, Executive Assistant
Perks for Our Corporate Partners
We value our corporate partnerships, which is why we believe in helping them save on events. We created our Corporate Partners Rewards Program, which allows you to utilize points as cash towards future events.
We also offer three-year price guarantees, which protect you from our ever-inflating economy. This is a great concept for repeat events year over year!
Outstanding Venues
Finally, we work with so many exceptional venues that are in prime business areas throughout the Milwaukee area. Many of our fantastic locations have the most scenic views and inspiring atmospheres this city has to offer.
If you're in need of a hopping business location, take a look at Coast and The Miller Room. Both provide sleek, versatile spaces to entertain your guests while still maintaining a productive work environment. If you're looking for areas to accommodate breakout sessions or break hours, these venues can be fitted to match the format of your all-day event.
Miller Room is perfect for larger conferences and meetings, while Coast has more relaxation spots built into it. In either case, the flexibility offered within these spaces is absolutely essential when working with all-day events!
We'd love the hear more about your all-day event. Tell us what you're thinking!
More Articles You Might Like: