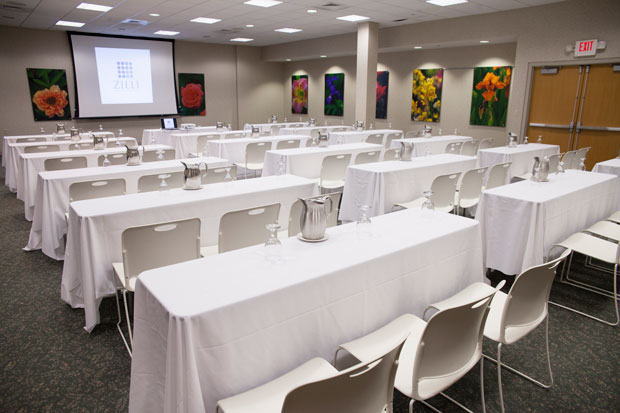 All-day conferences are unique events—they last an exceptionally long time and fill many rooms. And this presents challenges that make choosing among Milwaukee event venues exceptionally hard. But when you do find the right space, these corporate meetings present an opportunity to take employee engagement and excitement to a new level.
With more than 50 years of experience, our Milwaukee catering team took a look back at some of the most successful all-day conferences. And we made a list of their commonalities. Find these attributes in a Milwaukee venue and your all-day conference will be set up for success too!
Winning Attributes of All-Day Conference Spaces
Not too big, not too small—the perfect size is variable
Enough space to relax between sessions, but not so much that the halls feel empty—the ideal venue size depends on your number of attendees. Of course, you will want to consider how many conference rooms, breakout rooms and meeting spaces you need. But also map out your event and how attendees will move around, considering meetings and breaks. Guests should be able to get to refreshments and the next session without any bottlenecks.
Tip: Small but mighty companies love Milwaukee's Grandview Inn while the Zilli Lake & Gardens is the go-to location for companies expecting thousands of attendees.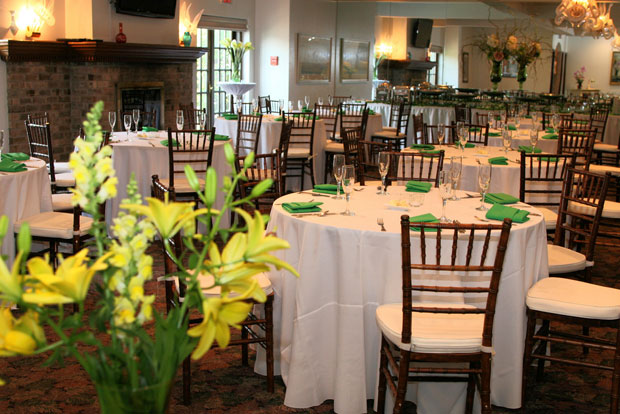 Fully equipped with WiFi and advanced technology
We always recommend you confirm that your conference venue can provide basic corporate event technology like WiFi, screens, projectors, audio-visual equipment and electricity sockets. Then ask yourself how you can use technology to inspire forward thinking. These trendy technology ideas might be the answer, and we can help you find a Milwaukee venue that facilitates them.
Location, location, location
Whether guests arrive by car, public transport or airplane, they should enjoy easy transportation to your all-day conference. Not an ounce of energy should be wasted on parking or walking to your venue—they will need it all come the final hour! That is why a central location and ample parking spaces or valet are so valuable.
Tip: Hosting out-of-town guests? Proximity to hotels is a must that you probably already considered. But how can you really impress out-of-town guests? Welcoming and parting gifts are great, but there's no better way to treat them than with a diverse all-day training session that embraces their ideas.
Their space, your brand
When you rent out a conference space, the venue becomes yours for the day and should feel like it! Corporate branding can be both subtle and outright, and the right Milwaukee venue will lend itself to your company image. And by working with a talented catering team, you can use design to achieve your event goals. Choose among customizable Milwaukee event spaces, share your brand image with us and let us do all the work to remind employees what their company represents.
Tip: Consider how branding and décor will appear not only to attendees, but also how they will look in photos. An all-day conference means plenty of pictures, for better or worse! Let us make sure your event reinforces your brand image to guests and the public.
Natural light and endless energy
What décor did we find at successful all-day conferences? Light and the radiant energy it brings. Look for natural light as well as bright décor that create a positive atmosphere and reenergize guests between sessions. The proof is in the study: workplace light exposure increases vitality and thus productivity.
Tip: The Boerner Botanical Gardens is a premier example of a technologically advanced space that offers plenty of natural beauty.
Partnered with experienced corporate catering services
Consider your catering team and venue staff to be like one of your most important employees—expect them to be on time and well prepared. From planning to execution, not a single glitch or delay will throw off your conference schedule when you work with one of the most experienced and trusted Milwaukee corporate catering companies.
Tip: Look for a venue with an exclusive caterer. This ensures a seamless working relationship and valuable experience. Your caterer should know how to design a menu that keeps energy high at an all-day conference.
Provides further networking opportunities
One of our favorite corporate event ideas is to extend the celebration. Or, in this case, extend the networking and event sharing that begins at your all-day conference. Look for a venue in close proximity to restaurants, bars and entertainment. Sometimes after a long day of meetings, relaxing with a drink is just what employees need.
Let our conscientious event planners customize your venue and corporate menu to match your all-day conference needs. You can find us online or give us a call at 262,547.9447.
More Articles You Might Like: