Justin Riege, Executive Chef at Coast/Zilli Lake and Gardens, is a young, up and coming chef with a lot of enthusiasm for creating new menus and having creative fun with foods.  He can often be found at Zilli catered events at a station, at the center of a crowd of guests, entertaining them with creations such as Instant Ice Cream Lollipops, made on a "reverse griddle" that freezes the lollipops instantaneously, or caramel popcorn balls, frozen in nitrogen and served to guests so smoking cold that they can see their own breath as they eat them.
"It's awesome," he said recently, when he was describing the fun he has with liquid nitrogen cooking.  The station was a real crowd-pleaser!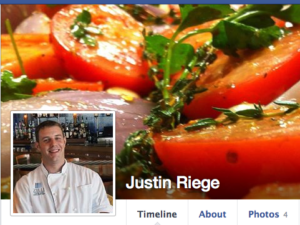 Riege has been with ZHG for more than 10 years, and has been cooking for almost 15 years.  Over the years, he said, he has learned from working alongside many chefs. He has come into his own as a chef at ZHG in the past couple of years, as he has been regularly training with top catering culinary professionals across the country.  Since 2012, he has attended professional development trainings in Las Vegas, Indianapolis, Denver and Philadelphia.  Those experiences included intensive culinary class sessions, tours of top catering operations such as the Bronco Stadium suites exclusive caterers, networking with other chefs, and menu sampling. In one case, he had the chance to observe and work alongside another caterer a corporate event with multiple buffets for 7000 guests.  The opportunity to connect with top professionals gives him the chance to keep up on food trends and fresh ideas for presentations and flavors.  His Facebook page features some of his magazine-perfect culinary creations, such as Israeli Couscous and red quinoa salad with roasted corn, red pepper, zucchini, shallots, and lacinato kale lightly tossed in a white balsamic vinaigrette.
"It is a pretty cool thing," he said. "I've brought a lot of ideas back and have been able to implement some good food ideas."