Speaking of fun, how about adding an interesting interactive element to your next event? Zilli's interactive catering stations are tended by our talented chefs and let you participate in the actual process of preparing your delicious food! With four groups to choose from and fun options like "Shot & A Brat" or "The Carvery," our food stations are a reflection of the local food landscape and a step up from any traditional catering or buffet experience!
Local
Family Owned
Professional Staffing
Complete Set Up
Interactive Stations Group 1
- Select One -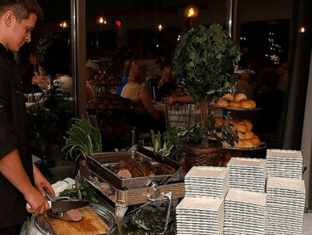 THE CARVERY
Tenderloin chef carved at the station accompanied by onion butter, horseradish cream sauce, rolls and a Jack Daniels au poivre sauce. Served with grilled vegetables.
WISCONSIN FISH FRY STATION
Baked and Breaded Cod with coleslaw, potato pancakes, applesauce and tartar sauce, lemons.
STIR FRY STATION WITH CHICKEN
Served with white rice, Asian vegetables and egg rolls accompanied by sweet and sour sauce and hot mustard.
MONGOLIAN BBQ STATION
Marinated flank steak, crispy chicken, shrimp, or tofu accompanied by fresh vegetables. Guests select their ingredients for a chef to sauté at the station.
MILWAUKEE TAILGATE
Italian sausage with peppers and marinara sauce, Klement's bratwurst with sauerkraut, all-beef hot dogs with caramelized onions and house-made kettle chips.
SHOT & A BRAT STATION
Klement's brats grilled on site and served with caramelized onions, sauerkraut, mustard, and a shot of beer.
Interactive Stations Group 2
- Select One -
PASTA STATION
Cheese tortellini with sundried tomato cream sauce, cavatappi with marinara sauce, and penne pasta paired with alfredo sauce. Served with a fresh caesar salad and Italian bread with herb butter.
RATTLE-N-SHAKE STATION
Lightly breaded chicken breast bites shaken with sweet bbq and buffalo Sauce. Served with celery, carrots, bleu cheese dip & seasoned house chips.
PETITE CRAB CAKE STATION
Crab Cakes seared at the station. Accompanied by: chipotle aioli, pineapple salsa, tomato caper relish, caramelized onions, mango chutney, and black bean and rice salad.
THAI CHICKEN WITH EGGPLANT
Tender chicken and vegetables in a medium spice coconut - peanut cream sauce. Served over white rice.
MICRO BURGER STATION - BEEF AND CHICKEN
100% black angus burgers, and grilled chicken, guacamole, pickle chips, roma tomato slices, cheese, ketchup, and mustard, on silver dollar rolls. Accompanied with house made kettle chips.
BLOOD ORANGE TOFU STIR FRY
Tofu marinated in a blood orange sauce, with green tea soba noodles, oriental vegetables and crispy cellophane noodles.
Interactive Stations Group 3
- Select One -
KOREAN TACOS
Warm flour tortillas, bulgogi marinated pork, napa cabbage and cilantro. finished with jalapeno and cucumber salad and salsa verde.
SHAKIN' SALAD STATION - COSMO AND MARGARITA
Includes cosmo salad ~ greens, walnuts, sun-dried cranberries, mandarin oranges, feta cheese, citrus vinaigrette drizzle and margarita salad ~ shredded romaine, tabasco & tequila chicken breast, tortilla straws, tomato concasse, cilantro lime dressing.
POTATOES A LA MARTINI
Real smashed potatoes with your guest's choice of toppings: bacon, chives, sour cream, shredded cheese, broccoli cheese sauce, chili and vegetable sauté.
"WALKING" FISH TACOS
A layer of Crispy tortilla strips, shredded napa cabbage, Southwest seasoned baked fish, Pico de Gallo, black bean and Jicama salad, Queso fresco, chipotle mayonnaise and lime wedges.
MACARONI AND CHEESE
Elbow noodles blended with a creamy cheese sauce. Guests select their own toppings from: smoked sausage, diced chicken, steamed broccoli, bacon bits, diced tomatoes and salsa.
COSMO TACO STATION
Seasoned grilled chicken, tri-colored tortilla strips, spanish rice, refried beans, pico de gallo, sour cream, cheddar cheese, diced tomato, and onion.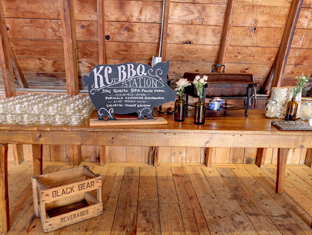 KC-BBQ DINNER IN A GLASS - STATION
Slow roasted bbq pulled pork, served over poblano and cheddar potato shred, and topped with a colorful, tangy coleslaw.
Interactive Stations Group 4
- Select One -
FRESH MARKET
Fresh seasonal fruits, Wisconsin cheeses, assorted crackers and grilled vegetables with cilantro dip.
CHILLED SALAD BAR
Select Three:
Quinoa savory salad | Grilled vegetable cous cous salad | Ranchero salad buffet style | Pan Asian crunch salad buffet style | Big apple salad
BRUSCHETTA STATION
Traditional bruschetta served with crostini, fresh gorgonzola and parmesan, caramelized onions, and balsamic soaked portabella mushrooms.