Kristen and Caleb came to us with a clear vision for their wedding: make the focus of the ceremony about honoring God. Our experienced event planner, Lori Reesman, used her creativity and diligent work ethic to ensure God's light shined bright at this spring wedding in Milwaukee. From unique ice carvings to a custom wedding menu, each aspect of the wedding highlighted life's natural beauty.
Planning a Wedding Filled with God's Glory
Choosing a Milwaukee Wedding Venue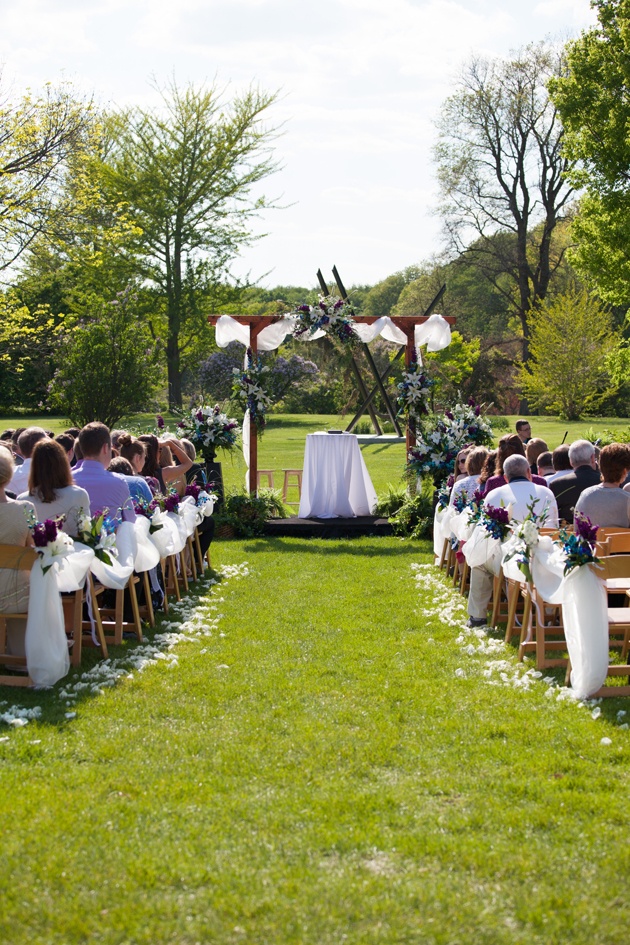 We love helping couples select from over fifty stunning Milwaukee wedding venues. Kristen and Caleb wanted a location with vast space to accent God's natural gifts. They also needed flexibility to allow for an extensive ceremony exactly as they envisioned. The Boerner Botanical Gardens has floor to ceiling windows, lush grass, brilliant tulips, elegant décor and an adaptable space, which made it the perfect place. Babboni's Photography was there to capture the passion and meticulous attention to detail that brought another wedding dream to life.
Bringing God's Glory to The Wedding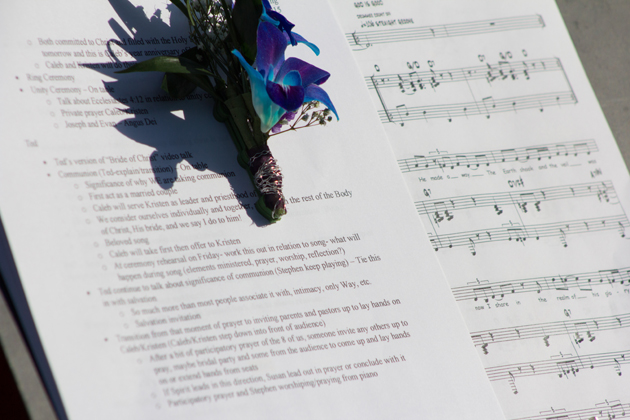 Hard work and many prayers helped create an all-encompassing religious experience on May 23rd. Beth and Ellen from Poplar Creek Church conducted prayer sessions at the Milwaukee wedding venue the night before and morning of their wedding. A registration and Bible table were other personal touches that helped guests experience God's glory as they entered the wedding.
Music Graced the Wedding Ceremony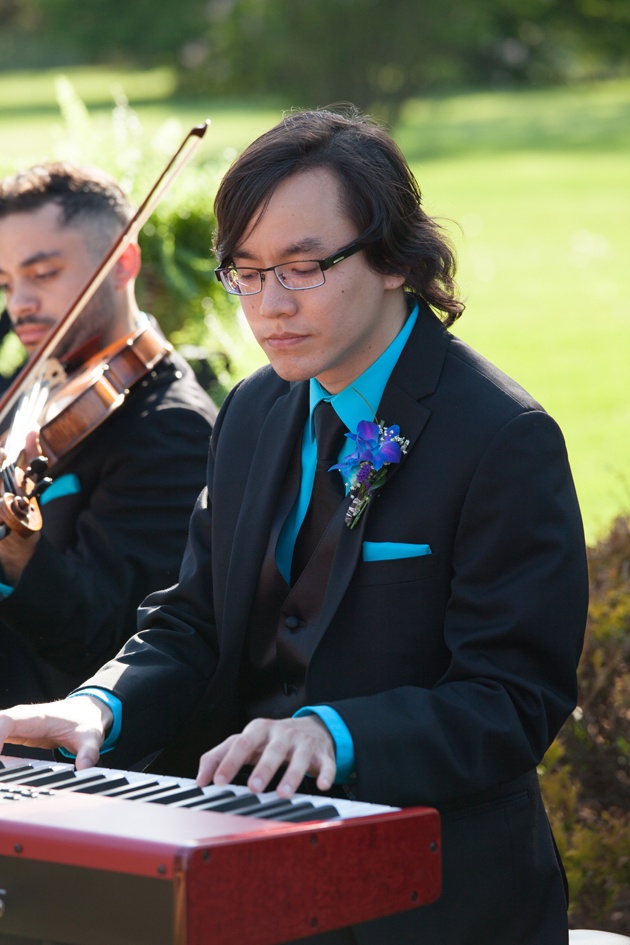 At 4:30 pm, guests took a seat in oak wood chairs in the Blue & Silver Garden for a touching wedding ceremony. Israel Houghton's "Jesus at the Center" played while the wedding party walked down the aisle towards the trellis made by Kristen's father. Then guests basking in sunshine enjoyed a 90-minute worship led by Pastor Ted while the lead musician guided the service with joyful music. The communion included a short video as well as time for guests to lay hands on the couple and pray. A memorable moment occurred when Pastor Ted prayed that the Holy Spirit would show itself as a wind, and sure enough, there were two gusts on an otherwise still day. But quite possibly the most memorable moment was the conclusion of the ceremony. Kristen's musical talent and God's glory shined bright when she performed her original gospel song on the Steinway piano.
Delicious Passed Hors d'oeuvres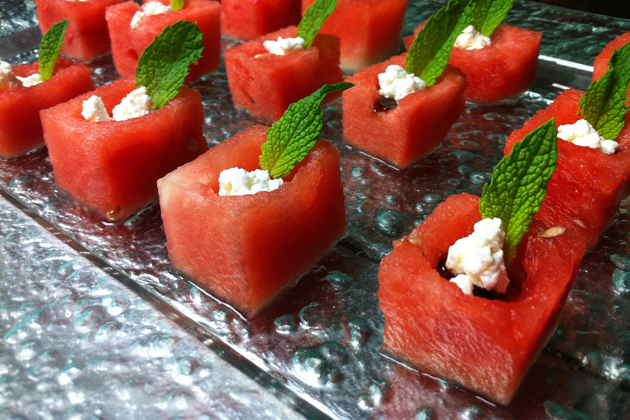 After the wedding ceremony with time for extended worship, guests enjoyed these small tastes:
Watermelon tower with goat cheese, micro basil and balsamic glaze
Tomato, bocconcini and basil skewer
Bacon-wrapped chicken with princess glaze
Artichoke, asiago and sundried tomato purse
Blue cheese tater tots with truffle oil
We also set up a station with freshly sliced Wisconsin cheese, sausage and crackers for guests to enjoy before taking a seat in Boerner Hall.
A Beautiful Wedding Dinner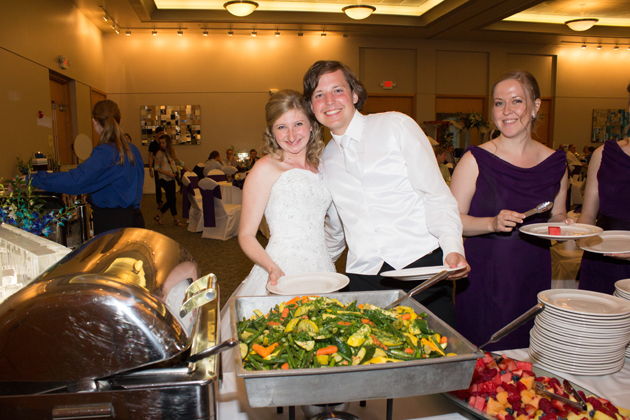 Boerner Hall was ornately decorated with ice sculptures and a color theme of deep purples and brilliant blues. Art Below Zero's ice carving of 3-D double hearts and flames engraved with "Kristen and Caleb" was a prominent feature. By His Spirit, for His Glory." To complement the piece, we used clear glass for the table centerpieces, punch bowl and buffet display.
At 7pm guests took a seat at their elegant reception tables for introductions, cake cutting, toasts, prayers and a served Mesclun salad. Guests then chose from these delicious wedding buffet dishes:
Chicken: boneless, skinless breast of chicken, sautéed and finished with our signature sundried tomato cream sauce
Chef carved beef tenderloin: served with Jack Daniels au poivre sauce
Baked fillet of cod: complemented with lemon caper sauce
Garlic herbed mashed potatoes
Rice pilaf: seasoned white rice blended with red and green sweet peppers and fresh sliced mushrooms
North shore vegetables: fresh asparagus, squash, carrots and green beans lightly seasoned with herb butter
Seasonal cut fresh fruit: garnished with grapes and strawberries
Signature Wedding Beverages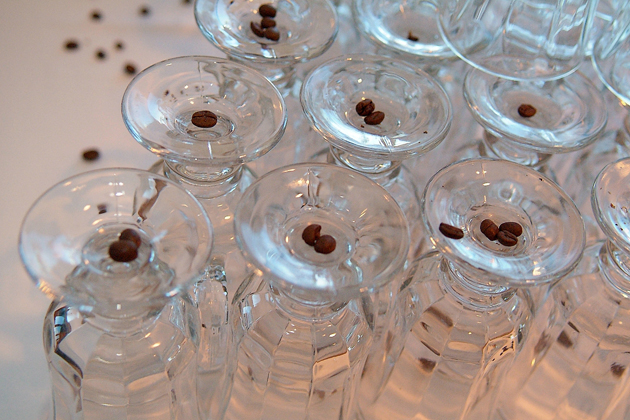 We provided a wide variety of soft beverages and a French roast coffee station. A guest favorite late into the evening was the light sparkling citrus blend. Since the toasts and Birch Beer soda were particularly important to the couple of honor, we made sure we had chilled mugs ready for these.
Flowing Into Desserts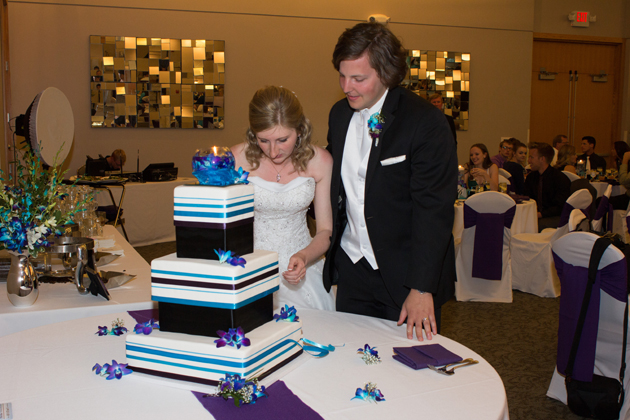 Sweet Perfections delivered a beautiful wedding cake that did not disappoint. In addition, we created a chocolate fountain for dipping fruit, marshmallows, cookies and pretzels into the warm chocolate cascading over three stainless steel tiers. When this glorious Milwaukee wedding concluded at 10:30pm, hearts were filled with the power of God and the couple's love.
See more photos of Kristen and Caleb's wedding here, featured in Premier Bride.
To work with our experienced and creative wedding team dedicated to your wedding vision, contact us online or give us a call at: 414.939.7701.
More Articles You Might Like: