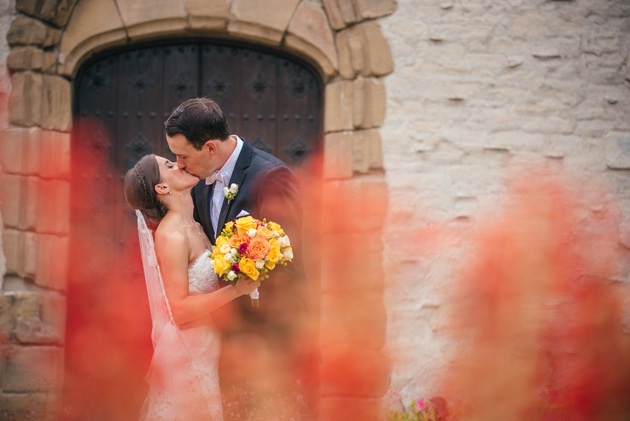 The true connection between Kristin Lastres and Carl Anderson set the stage for a delightful August wedding in Milwaukee. After talking with the couple, we agreed that a traditional wedding in the Milwaukee Public Museum would suit Kristin and Carl's personalities perfectly.
Our obsessive attention to detail and reputation for flawless wedding planning give couples like Kristin and Carl the confidence to relax and enjoy the days and moments leading up to the moment when they tie the knot.
A Personalized Milwaukee Wedding
We use our creativity to personalize even the most traditional weddings in Milwaukee. From a custom wedding menu to artistic and tasteful displays, we made sure Kristin and Carl's individual style flowed throughout their wedding.
Choosing a Top Milwaukee Wedding Venue
Our expert planners work with couples and our venue locator tool to pick their perfect venue among our 38 venue partners. Kristin and Karl are always up for new adventures, which drew them to the Milwaukee Public Museum, a special place that encourages "exploring life on earth."
After a touching ceremony at their alma mater's Church of the Gesu, 143 guests headed over to the Milwaukee Public Museum where the beautiful red and orange hues with metallic accents immersed them in the wedding spirit! Kristin and Carl kept guests engaged by filling areas on the first and second floor with brilliant displays of innovative Milwaukee catering.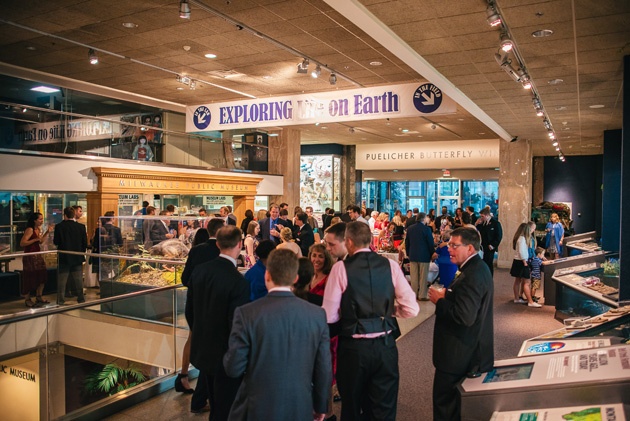 A Whimsical Cocktail Hour
After a lovely wedding ceremony, guests flowed into the open gallery space in front of the Puelicher Butterfly Wing for a relaxing cocktail hour. Among stunning open-air dioramas depicting the history of the Menomonee River Valley, guests socialized and enjoyed unique wedding cocktails and small tastes. This atmosphere encouraged guests to mingle and socialize while getting a taste of the innovative Milwaukee catering they would enjoy throughout the evening.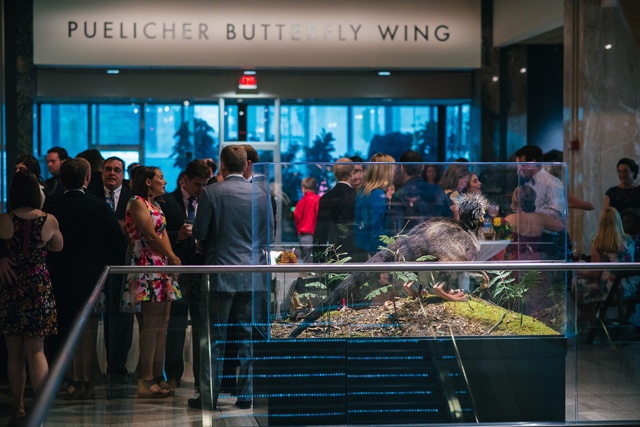 During the cocktail hour, we treated guests to these delicious and beautiful tray passed hors d'oeuvres:
Grapes with a twist
Tenderloin forks
Market pita
Bacon wrapped chicken with princess glaze
Buffalo chicken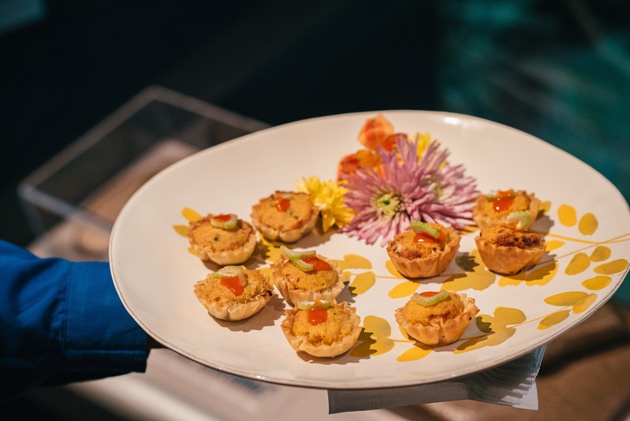 Crafting Unique Wedding Memories
From the wedding ambiance to our custom menu, every aspect of Kristin and Carl's wedding was designed to share special memories. One of our favorite features was the elegant table inviting guests to flip through Kristin and Carl's scrapbook documenting more than 4.5 years together. Guests really took their time to soak up the images and leave a thoughtful message for the couple of honor.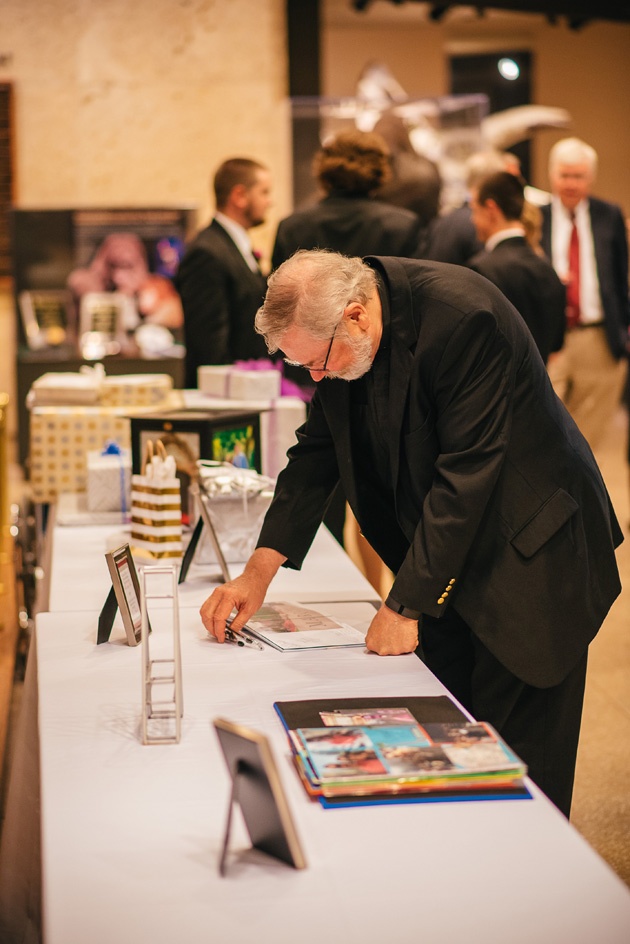 "Eat, Drink and be Married"
Joy filled the Milwaukee Public Museum's second-floor reception space as guests enjoyed the finest Milwaukee wedding catering in the Steigleder Gallery. Kristin and Carl were among the first to transition guests from a cocktail hour among the exhibits to a seated dinner and dancing reception in this space, and it proved to be a big hit. More brilliant shades of orange and red graced the Jane Kelly Floral centerpieces and set the stage for a wonderful dining experience.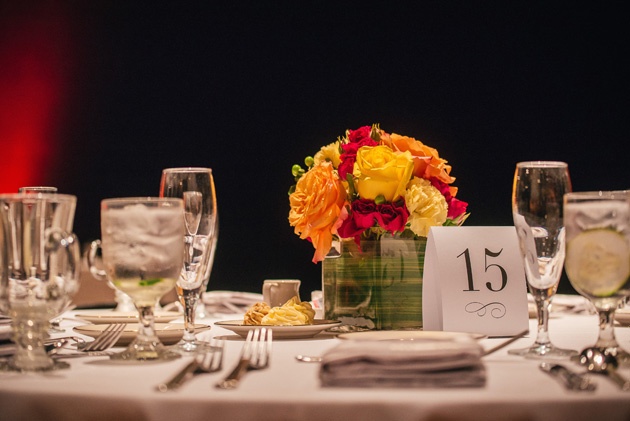 Guest soon sat down to enjoy our fresh mesclun salad with raspberry vinaigrette and one of these pre-selected entrées:
Grilled chicken bruschetta served with garlic truffle mashed potatoes & green beans polonaise
Roasted butternut squash ravioli served with sundried tomato & feta tapenade toasted hazelnuts, fennel brown butter sauce and asparagus
Festive Milwaukee Wedding Entertainment
Kristen and Carl's friends and family wasted no time hopping on the dance floor. Among beaming red and orange lights and Sound by Design entertainment, guests danced, shared stories and showed their Marquette pride. Andy Stenz Photography captured the smiles and laughs as guests enjoyed good company and a top Milwaukee catering experience.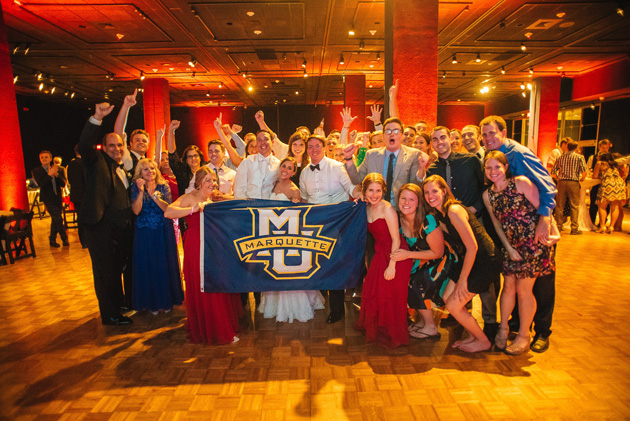 Sweet Wedding Favors
Kristin and Carl believe in indulging in life and maybe even some extra sweets. In addition to Sweet Tooth's elegantly designed wedding cake, the couple set up a "Love is Sweet" candy station. Guests could fill thank you bags with their favorite sweets as a reminder of life's simple delights.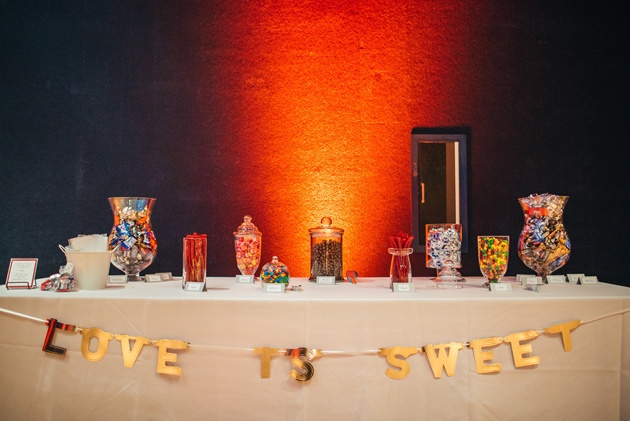 Our creative Milwaukee catering team has been bringing wedding dreams to life for more than 50 years. Our expertise garnered from working with thousands of brides allows us to artfully personalize every aspect of your wedding in Milwaukee.
To bring exceptional customer service and innovative cuisine to your wedding in Milwaukee, contact us online or give us a call at: 262-547-9447.
More Articles You Might Like: