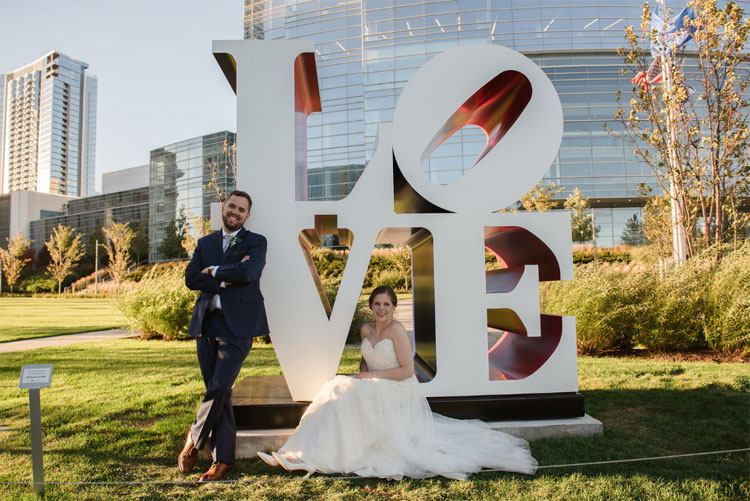 Lauren and Patrick came to us in search of a gorgeous, upscale downtown-Milwaukee venue. After seeing Coast at Zilli Lake and Gardens, they fell in love with the pristine atmosphere, knowing it was the right setting for the posh wedding they were looking to create.
Waterfront setting and relaxed vibes
The naturally nautical vibe at Coast was enhanced with a simple, crisp blue and white theme with romantic votives spread throughout for ambiance. Lauren added a DIY touch with handcrafted florals, gorgeous white blooms accented by blue thistle and silver ribbon. Special thanks to Fresh Frame Photography for capturing these special moments.
Cocktail hour full of delectable delights
As guests arrived to the cocktail hour after a gorgeous ceremony at the St. Francis of Assisi Parish, guests were treated to a variety of delicious and creative passed hors d'oeuvres including:
Tomato Bocconcini Skewer: grape tomato, pesto marinated bocconcini, laced with a balsamic glaze and finished with Maldon sea salt.
Market Pita: hummus and sun-dried tomato-olive tapenade mixed with feta cheese atop a crisp pita chip. Garnished with pickled cucumbers.
BBQ Pork Pop: savory BBQ pork surrounded by jasmine rice, coated in seasoned bread crumbs and served with a spicy scallion oil.
Braised Beef Short Rib Mini Tostada: slow-braised beef short ribs, house made pico de gallo and queso fresco.
Bacon Wrapped Chicken with Strawberry Merlot Glaze: seared chicken breast wrapped in bacon, served with a strawberry and merlot reduction.
Heartwarming words and gestures
Following cocktail hour, the reception kicked off with some beautifully heartfelt speeches by the bride and groom, parents and the bridal party.
A refined reception
Then came the food! The menu was served buffet-style including all the crowd-pleasing favorites with a gourmet flair. Guests enjoyed:
Braised Beef Short Ribs with Red Wine Demi: boneless ribs braised in red wine, carrots, celery, onion, veal jus and herbs for nearly 12 hours.
Grilled Chicken Breast: boneless, skinless breast of chicken grilled and laced with lemon beurre blanc sauce.
Petite Yukon Gold Potatoes: one bite potatoes roasted and tossed with olive oil and sea salt.
Smoked Gouda Mac & Cheese: tender ditalini pasta in a creamy smoked gouda and bleu cheese sauce.
Caesar Salad: romaine lettuce, shaved Parmigiano-Reggiano and croutons tossed in caesar dressing.
Vegetarian options were made available. Guests were served a plated meal of portabella stuffed with bruschetta atop a bed of quinoa drizzled with balsamic glaze. We love to customize plates for various dietary needs.
Cake cutting and plenty of sweet dance moves
After dinner, Lauren and Patrick cut their towering cake by Aggies Bakery & Cake Shop. The colors perfectly complemented the décor for the evening with blue and silver accents.
Once the cake cutting ceremony was over, guests took to the dance floor to bust a move… and started a pretty epic congo line! Brew City DJs did an outstanding job coaxing people out of their seats to celebrate this special couple.
At the end of the night just before 10:00 p.m. guests nibbled on pizza at the late-night station to close an epic evening full of love, laughter and lots of new dance moves. Congratulations to the new couple!
More Articles You Might Enjoy: