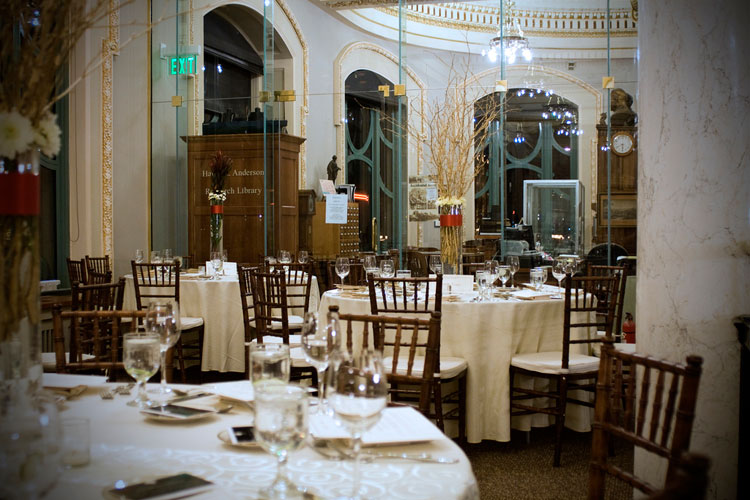 When prominent companies come to us with lengthy guest lists and imaginative holiday party ideas, we are excited to enable and elevate their vision in unforgettable ways. Recently we had the pleasure of working with some creative corporate minds to blow away guests in a winter wonderland-themed holiday party. Exquisite details, personalized items and an exemplary custom menu lit up a prized Milwaukee holiday party venue.
To help you plan your next company party, we reviewed this fine event to break down the planning process step by step—making it even more accessible to you.
Taking on a Winter Wonderland Company Holiday Party
Contact ZHG and Share Your Event Vision
We applaud every company that calls us more than six months in advance to start planning their unique holiday party. Because it gives us more time to learn about your vision and secure your desired venue, contacting us early is the best way to put your event on the fast track to success.
When this local corporation presented a winter wonderland theme to our talented team, we immediately started lining up partner vendors and suggesting magical venues. With ample time to scout out the best locations and providers, this company was able to confirm dates and event essentials ASAP—giving them more time to put the polishing touches on their holiday party plans.
Bonus: Because this company reached out well in advance of their event date, we were able to invite them to a mini open house and other special events in the following months. We also took care of their upcoming picnic needs—allowing them to sample our food and benefit from the efficiency that comes from working with one stellar team.
Preview Top Milwaukee Holiday Party Venues
As this company began to imagine the atmosphere that its idyllic holiday party theme would cultivate, they were eager to start touring venues. When using our venue finder to explore their options, Boerner Botanical Gardens, Coast and The Domes intrigued them. We provided all the details about each location—drawing on our 50 years of service in the Milwaukee community. Ultimately, they decided that the refined décor and design of Coast was the perfect match to their delightful holiday party theme.
Bonus: By booking six months in advance, this client was able to secure their first choice of event dates.
Design Your Custom Holiday Party Menu
Your theme and desired guest experience dictate our chef's culinary goals. And this company wanted to spoil their guests with the finest seasonal ingredients integrated into innovative dishes that shined a spotlight on holiday party food trends. Complementing Coast's crisp design, each menu item was refined and polished—presented in artistic and eye-catching ways. Stationary food displays were integrated into white and whimsical propping and décor while entrees were meticulously arranged on white china.
Bonus: To further personalize guests' experience, we designed a custom cocktail and poured it into glasses customized with the company's logo.
Explore Unique Holiday Party Ideas
Once this client nailed down their venue and menu, they had lots of time to have fun expanding their creative ideas to decorations and entertainment. Our award-winning team was with them every step of the way. From our event planners on call to our designers ready to jump into action, every idea found all the support it needed to flourish at this memorable holiday party.
Bonus: When scouting out new holiday party ideas, the company realized that the music, entertainment and lighting aspects of their event would be crucial to guests' experience. Our partner vendors were able to make all their wishes a reality.
Add in a Surprise!
Inspired by one of our favorite Milwaukee office holiday party themes, this company extended a pre-party event invitation for employees to gather at a private skating rink. Many guests opted for this fun excursion and brought a healthy appetite to the party that followed. We love to see entertainment and outings used to build excitement for a party theme and boost company morale in this busy season.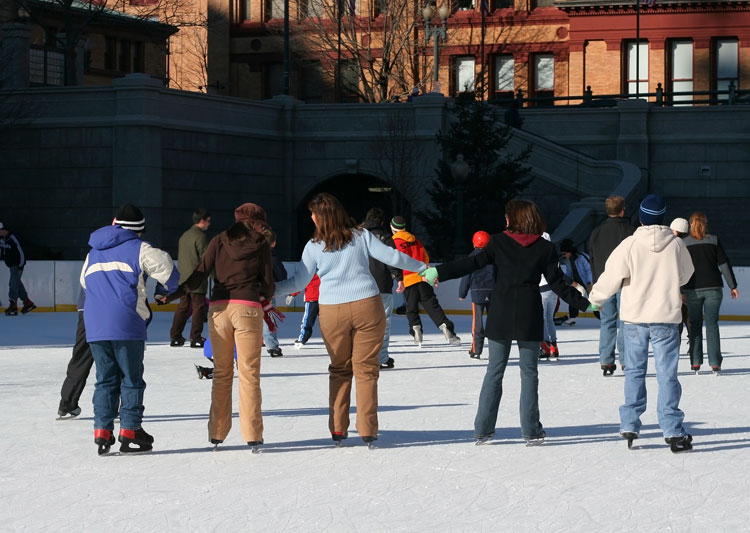 Bonus: With lots of stories to share from their time on the rink, every minute from cocktail hour through dinner was filled with good conversations and laughs.
If you'd like to bring a creative flair, exceptional customer service and an unrelenting attention to detail to your holiday party, contact us online or on Facetime, or give us a call at 262.547.9447.
More articles you might enjoy: