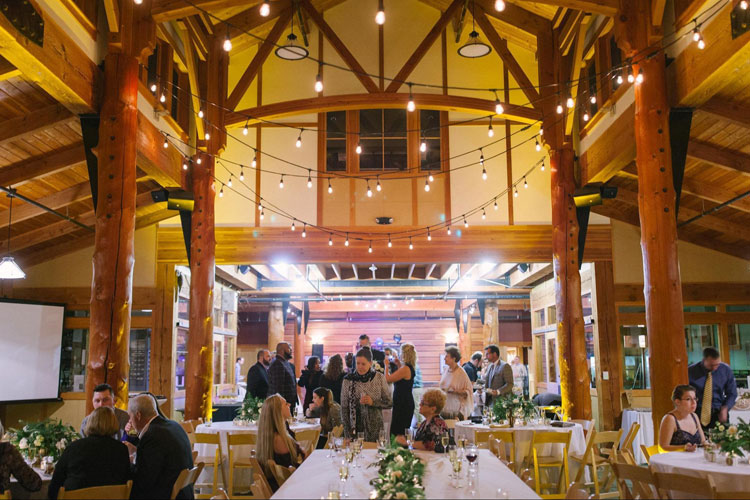 Your wedding style plays a major part in the personalization of your big day, which is why the Milwaukee venue you choose is essential. You want a stage that tells your unique story and complements your special flair.
We understand just how daunting choosing a wedding venue can be, which is why we created our complimentary venue concierge and one of the best venue finders online. Looking for something traditional with a lake view? How about a venue that's eccentric and a little outside the box? From historic gems to art centers and breweries, here are some of our favorite Milwaukee venues to match your style:
What Wedding Venue Style Are You?
Modern Venues in Milwaukee
Located in the heart of Veterans' Park, the Milwaukee Community Sailing Center is a truly breathtaking setting for modern weddings. With walls of bright windows, a high, curved ceiling, exposed beams and nearly panoramic views, this venue is sure to complement any contemporary wedding celebration.
Some modern delicacies from our menu that would perfectly complement modern weddings are the sushi cakes or cosmopolitan chicken.
Other incredible, modern venues to check out are:
Urban Venues in Milwaukee
The renovated warehouse spaces of the Historic Pritzlaff Building perfectly balance the strength and rawness of Milwaukee's industries with class and sophistication. Expansive rooms, advanced lighting, full bars and complete versatility make the Historic Pritzlaff Building an incredible atmosphere for your urban wedding.
Urban weddings have a distinct tone that requires complementary catering. We love serving stations like the fish taco bar or desserts like flaming strawberries romanoff at these lively celebrations.
Explore some of the other striking urban venues with whom we work, like these four places:
Traditional Venues in Milwaukee
Traditional weddings are traditional for a reason: they're absolutely beautiful! The Boerner Botanical Gardens is full of lush flowers, beautiful greenery, natural light, white décor and charming ambiance to enhance your traditional wedding celebration.
We love traditional weddings, and we love serving elegant cuisine! Try the pan seared Napa Valley chicken or the artichoke hors d'oeuvre; guests are sure to love them!
Check out some of these other amazing, traditional wedding venues:
Lakeview Venues in Milwaukee
You won't find better views of Lake Michigan than those from the wide windows at Zilli Lake & Garden's Coast overlooking its South Garden. Dine next to the magnificent waters and celebrate your special day in a one-of-a-kind way, surrounded by friends, family and the sparkling lakefront.
Lakeview venues are best with light delicacies like the tuna tartar wonton or the English cucumber salad.
Lakeview venues are simply breathtaking, and these examples are definitely worth checking out:
Classic Venues in Milwaukee
Best Place at Historical Pabst Brewery is the epitome of classic Milwaukee wedding venues. Bright, timeless art and décor give this renovated space an unparalleled warmth that enhances classic wedding festivities and makes for a truly memorable day.
We serve simple and elegant cuisine to match the style of our classic weddings. The peasant breast crostini or braised Berkshire pork shank would complement your classic celebration to a tee!
Explore two of our other gorgeous, classic wedding venues:
Rustic Wedding Venues in Milwaukee
There are many types of rustic weddings, and it's important to decide which version of rustic matches your idea of it. The Farm at Dover, for example, blends a classic Victorian house with modern amenities and the surrounding natural scenery of southeast Wisconsin. The venue Lilac Acres, on the other hand, showcases a beautiful barn on a working farm overlooking a beautiful countryside.
Pair your rustic wedding with a non-traditional buffet featuring chicken spedini and a side of redskin provencale or yukon gold potatoes.
Here are some other rustic wedding venues for you to consider:
If you need more insight into any of these Milwaukee wedding venues, feel free to use our venue finder, which allows you to select filters like capacity, indoor/outdoor settings and price point. Once you select your filters, you can compare up to four venues side by side. Or you can use our complimentary venue concierge, which pairs you with a dedicated professional who will walk you through any space and will help you narrow down one that matches your style.
Have more questions about how we can help plan your big day to match your style? Just contact our experienced event planners online or give us a call at 262-547-9447.
More Articles You Might Like: