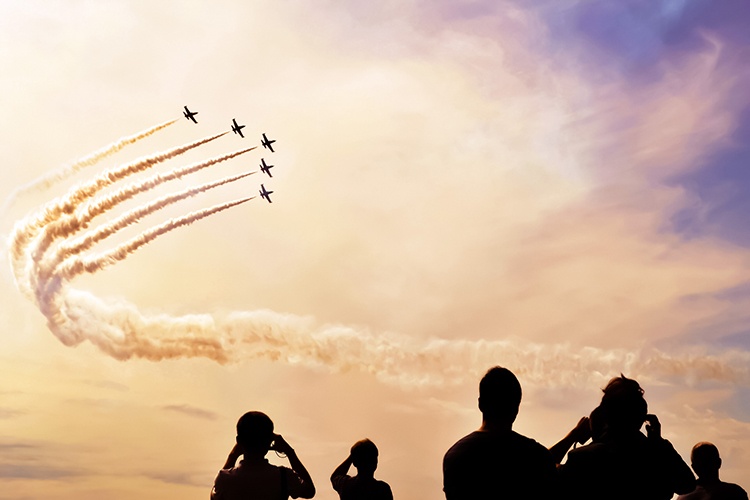 The Milwaukee Air & Water Show is one of Milwaukee's top family events of the summer and one of the most well-loved air shows in the Midwest. On July 27 and 28, 2019, our team had the pleasure of being the exclusive provider, serving close to 4,000 guests spread out across multiple tents and public areas.
Guests enjoyed delicious food and drinks, not to mention front row seats to The United States Air Force's Thunderbirds flying over Lake Michigan.
All-American theme
Each tent was dressed in the Air & Water Show's theme colors: red, white and blue. It was our goal to provide exceptional service to all our guests.
VIP tents and concessions
Each VIP tent was its own private event, arranged to each corporate client's design needs and food specifications. A few of the tents featured simple bar offerings, while others included a full-service bar and catered lunch for guests. Some even featured a special beverage of the day, chosen by one of Zilli Hospitality Group's event planners.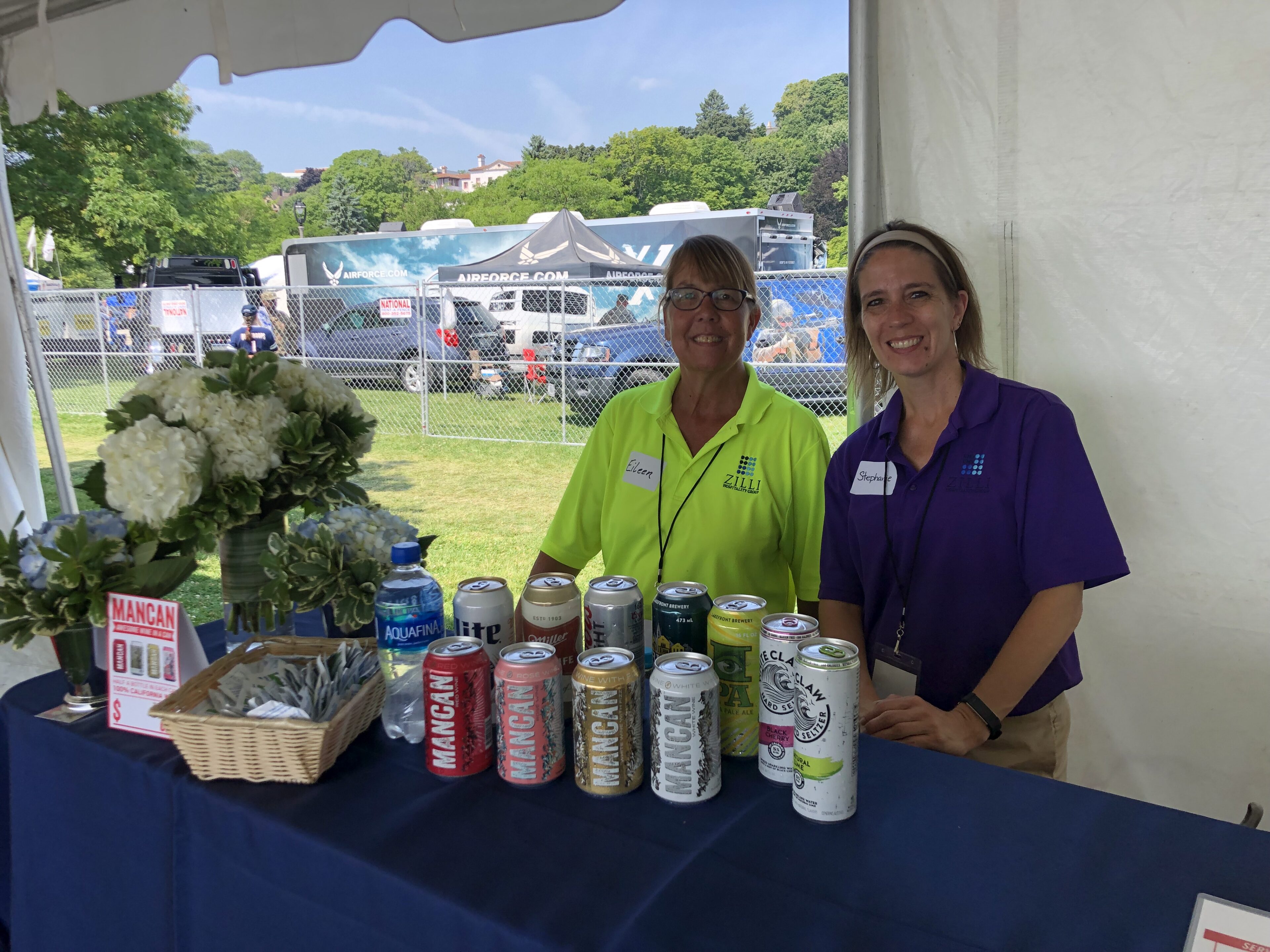 We provided other arrangements that took place across two other areas at the show—Center Point Seating and Flight Line Club. Center Point Seating's offerings included food and non-alcoholic beverages, while Flight Line Club's seating allowed access to concessions.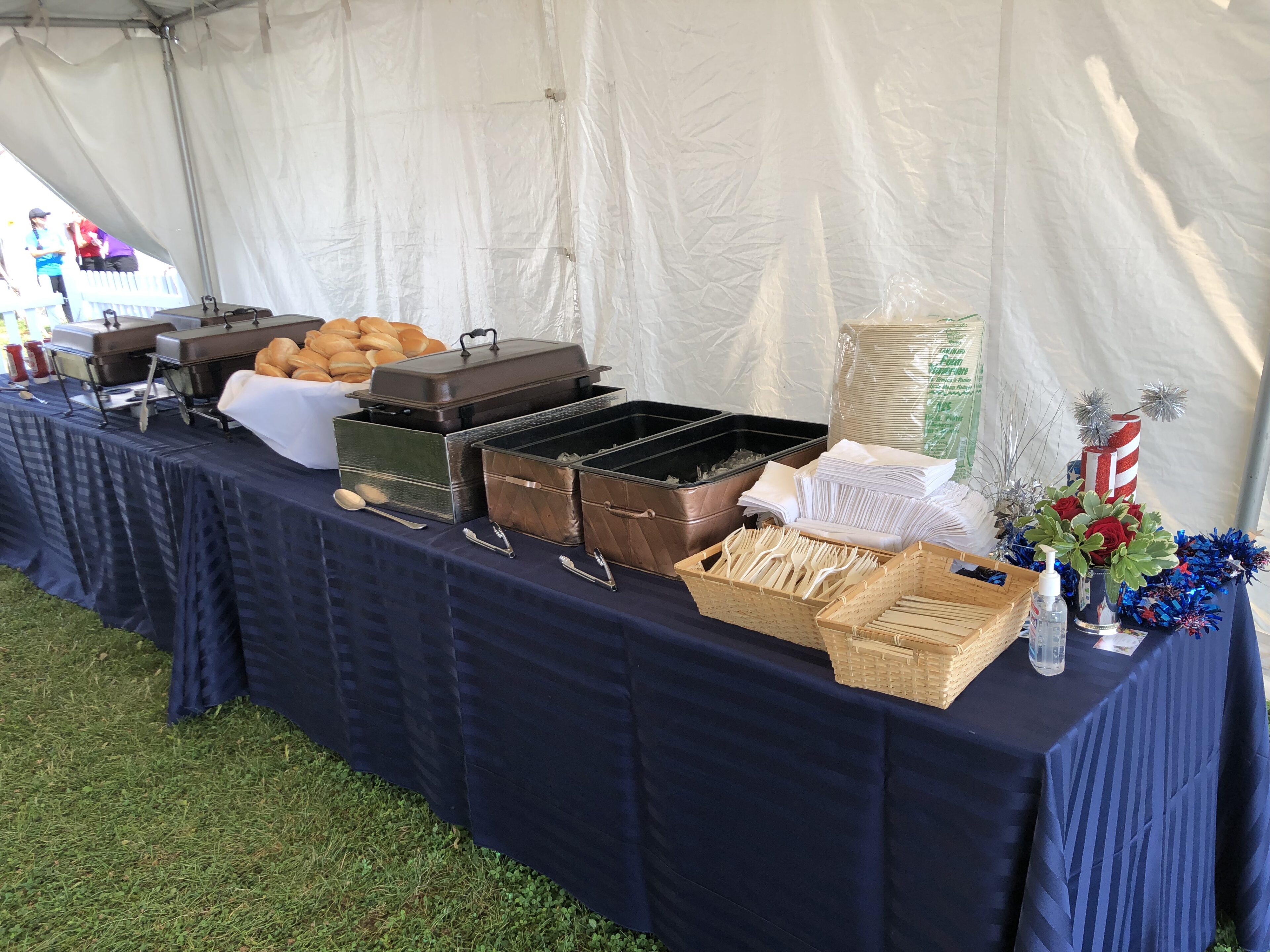 From picnic fare to BBQ shredded chicken and BBQ baby back ribs, menu items varied to match different tastes and budgets.
Our custom VIP menu, for example, included the following delicious buffet selections:
Braised Beef Short Ribs: Tender boneless ribs braised in red wine, carrots, celery, onions, veal jus and herbs for nearly 12 hours. Served in a Jack Daniels sauce (Jack Daniels, mushrooms, onions, Dijon mustard, pepper and garlic)
Klement Bratwurst: Grilled and drizzled in onions and beer
BBQ Shredded Chicken: Shredded chicken breast blended in our special BBQ sauce
Au Gratin Potatoes: Shredded cheddar cheese and green onion baked with sliced potatoes
Summer Strawberry Salad: Strawberry, red onion and feta cheese drizzled in champagne vinaigrette
Fresh Fruit: Slices of watermelon, cubed cantaloupe and cubed honeydew
Chef-Selected Desserts: Assorted cookies (homestyle chocolate chunk, M&M and oatmeal raisin), lemon bars and blondie brownies

Catering for large-scale events
In executing a large-scale event, it's important to maximize team communication and streamline event processes. Our operations team has such a wide range of experience that they were able to overcome all logistical hurdles and work through the two-day event without any major hiccups. Thanks to our many trusted vendors, including one of our largest vendors, Festival PRO, LLC, which provided us with fencing, tenting, cooking areas and golf carts.
One massive event for a good cause
It was a true honor for us to be a part of this special Milwaukee event. During the summer, the Milwaukee Air & Water Show is something that many people look forward to. The event provides an opportunity for everyone to come together and show their gratitude and support for enlisted and retired U.S. military service men and women's dedication to our country.
Kind words from the client: I was one of the raffle winners at the summer celebration this year, and my prize was the Milwaukee Air and Water Show. I just wanted to let you all know that Charmaine and her staff at Zilli Hospitality made the experience for myself and my guests a very pleasant, personalized and memorable occasion! Every aspect, from notification of the agenda to transportation to the event and back to our vehicles, was seamless and hassle-free. Charmaine and her staff provided a true VIP experience we'll remember for years to come.