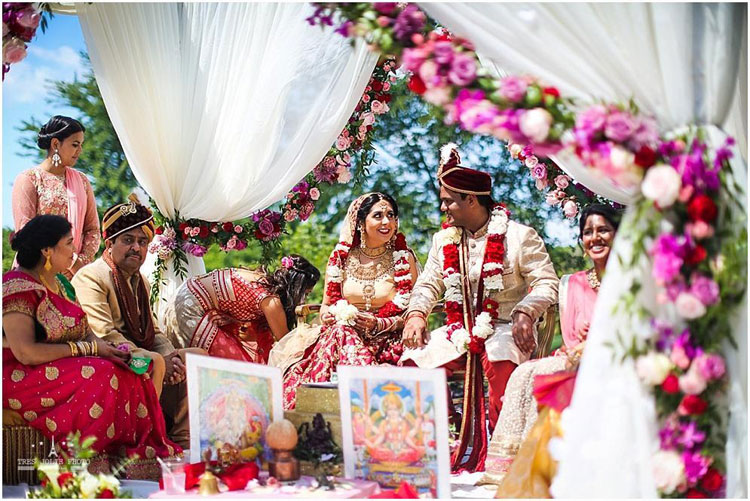 Tres Jolie Photography
The countless rituals and ceremonies can make planning an Indian wedding a daunting task. But working with an experienced catering team and a complete wedding planning guide can make the preparation as much fun as the wedding itself!
Whether or not you have experience planning an Indian wedding, let us guide you on this amazing journey to ensure you and your guests enjoy all the customs traditional in Indian culture.
Top Indian Wedding Ideas
Find a Milwaukee Venue for Your Indian Wedding
Use a wedding venue tool to take a look inside more than fifty top wedding venues in Milwaukee. Consider a venue with plenty of room to celebrate your day of love with all of your family and friends. Zilli Lake & Gardens, for example, can host over 400 guests comfortably. But there is a plethora of great indoor and outdoor venues, so keep searching until you find the perfect match to your style and needs!
Choose an Indian Wedding Caterer
When looking to create a menu for an Indian wedding, it's important to partner with a caterer that has a lot of experience and who employs chefs with a traceable history of cooking a cuisine that is known for its various spices and distinguishable flavors.
We'd love to help you design a custom Indian wedding menu that everyone will love. Dishes like our Pani Puri Masala with Boondi are a big hit at Indian engagement parties and weddings. And, of course, do not forget the decadent dessert station complete with cake and kulfi.
If you're looking for more Indian food inspiration, here's a sample menu. Or for more information on how we can help customize your Indian menu, check out this post.
Pre-Wedding Rituals and Events
For those guests not invited to your pre-wedding rituals, we encourage you to let them know which rituals will take place and explain why some events are reserved for an intimate group. At a minimum, share the meaning of these symbolic rituals:
Pithi ceremony: Friends and family apply a paste made of turmeric, chickpea flour and rose water to the bride and groom. This is thought to help the skin glow and bring good luck.
Mehndi: This is where the women gather to have henna designs drawn on their hands and feet, symbolizing joy and spirituality. Guests add to the upbeat atmosphere of the evening with traditional songs and dances.
Barni Bandhwana: This ritual is performed by the pandit 15 days before the ceremony. It involves them reciting the Ganesh Puja, a prayer asking for a smooth and blessed wedding experience.
Sangeet: Female family members, led by the elders of the family, serenade the bride and groom with traditional songs. This singing tradition occurs mostly in Punjabi culture.
Tilak Ceremony: It is usually attended by the male members of both the families. The father of the bride along with other male associates visits the groom at home. There he applies red turmeric on the groom's forehead to ensure that he is finally ready for marriage and also that the bride's family has accepted him as their would-be son-in-law.
Send Invites
There are lots of services and websites like Indian Wedding Card that let you choose and customize Indian wedding invitations. Include all the basic wedding and prewedding event information as well as anything that may come as a surprise to some guests. Guests may not know they can ship gifts to your home or bring an envelope to the wedding. And, of course, be clear about which day of your wedding they should attend.
Stunning Indian Wedding Outfits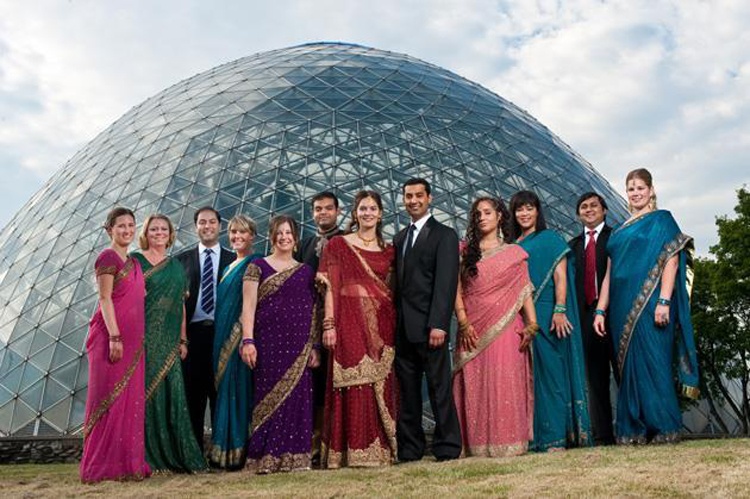 Indian wedding attire is exquisite and carefully designed with dazzling embellishments. Help guests decide what to wear by outlining traditional Indian wedding attire:
Brides: Most will choose to wear a beautiful wedding sari or lehenga. But if your family is open to the idea, you may choose to blend Indian clothing and Western wedding attire.
Grooms: Depending on the region of origin, a groom may wear anything from a Dhoti to a western suit. A veil with a Sehra will cover his face.
Guests: We encourage everyone to find a couple great outfits and change between the ceremony and reception. Ladies will want to think about bold and vibrant colors accented with stunning jewelry. For those who do not own a traditional sari or lengha, a shawl is the perfect pair to a striking and tasteful dress. For gentlemen, a suit and tie or kurta are appropriate.
Unique Indian Wedding Décor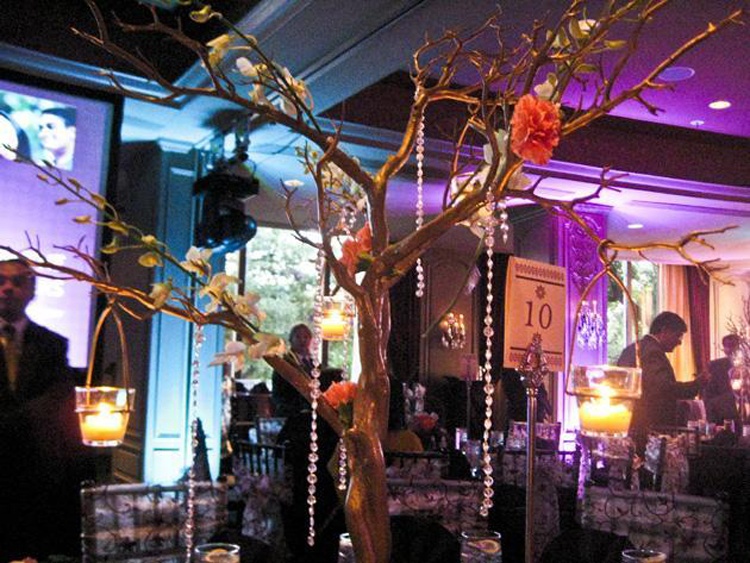 Traditional Hindu mandaps, marigold garlands, hanging umbrellas, floating candles, colorful drapery, rangoli—Indian weddings are known for their spectacular color and artistic beauty.
For creative wedding decoration ideas that embrace your culture, visit some Indian wedding inspiration boards. Maharani Weddings and Pinterest are full of beautiful photos filled with the red, gold and orange Indian wedding color scheme.
Another great way to bring the Indian culture into any wedding venue is by incorporating Indian fabrics into your wedding décor.
Explanations of Wedding Ceremony Rituals
We encourage you to empower guests to embrace your culture and wedding rituals. Design an eloquent pamphlet or use top tools and apps to help them follow along and learn little known facts about Indian wedding ceremony practices like the following:
Baraat (groom's procession): The groom will arrive on a white horse and guests dance around him to the sound of the dhol. The bride and her family greet the groom, and the couple of honor exchange garlands to be worn around their necks.
Kanya daan: The bride's parents give away the bride, and the couple of honor circle around a small fire known as the agni.
Saptapadi: The couple of honor takes seven steps, each with a different vow. The groom then places a red powder on the center of the bride's forehead and a black necklace around her neck.
For the reception, be sure to turn up to the music. Guests will love the upbeat tunes, folk dancing and delicious food that fill your Indian wedding reception. Your excited guests are sure to get the party started in no time at all. For music inspiration, check out Dhingana for over 350,000 Indian songs and wedding playlists.
To bring our meticulous attention to detail and exceptional customer service to your Indian wedding in Milwaukee, contact us online or give us a call at 262-547-9447