Many couples choose rustic weddings to depict their love story because they offer a laid-back yet personalized feeling (perfect for DIY touches), and their settings often lend to scenic celebrations with great photo opportunities.We've been helping couples plan all kinds of weddings in Milwaukee for the last 50 years. Our expert event team would be happy to assist you in creating the perfect menu, adding the right flair and providing award-winning staff who will ensure that your event goes off without a hitch. We can even help you find a gorgeous venue and connect you with bands, DJs, tent rentals and more!
Start Planning Your Dream Wedding
Delicious Cuisine


We craft our menus around local ingredients that cater to a variety of tastes, customs and dietary needs. Whether you're imagining a mouthwatering BBQ buffet, inventive rustic stations or fresh, flavorful passed hors d'oeuvres, we have the creativity, staff and equipment to ensure a culinary experience that is nothing short of exceptional for all your guests.
Keep in mind that our menus are just a starting point, and we'd be happy to customize yours to fit your preferences and likes.
Example Menu
Fresh Market Station
•Fresh fruit, cheese and grilled vegetables
•Peach and tomato bruschetta
•Tarragon chicken salad cucumber cups
Buffet
•Beef brisket with orange marmalade BBQ
•Boneless chicken thighs with Stone Mill cream or grilled chicken breasts with sun-dried tomato herb cream
•Smoked gouda mac and cheese
•Rustic green beans
•Wisconsin cheddar and kale salad
•Apple cider coleslaw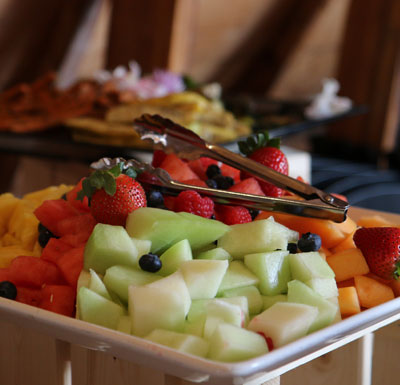 Personalized Planning


We can't wait to meet you in person and learn more about what's most important to you. We understand that every couple has a different vision of rustic, which is why we'll spend the time getting to know you and asking the right questions. We'll discuss everything from number of guests to décor, seating and serviceware—clearly and at a pace you're comfortable with.
Venue Assistance


We've partnered with venues throughout Milwaukee and southeast Wisconsin to create the weddings couples dream about. Whether you're looking for a location surrounded by lush farmland scenery or one filled with vintage touches, we can assist you on your quest for the venue that speaks to you and fits your needs.
There are so many venues to choose from in Milwaukee. That's what we had in mind when we created our complimentary wedding venue concierge program, which pairs you with one of our exceptional wedding professionals, who will personally walk you through the venues you want to examine more closely.