Complete with delicious passed appetizers and flavorful signature cocktails prepared by our amazing mixologists, Zilli's gala event corporate packages are poised to please. Our executive chefs and dedicated culinary team tailor their finest fare to your finest occasions. The experience includes our most visually stunning culinary accomplishments with plated service by our friendly waitstaff. Choose five tasty appetizers, two amazing entrees, a healthy salad, a delectable vegetable and a filling starch!
Local
Family Owned
Professional Staffing
Complete Set Up
Small Bites
- Select Five -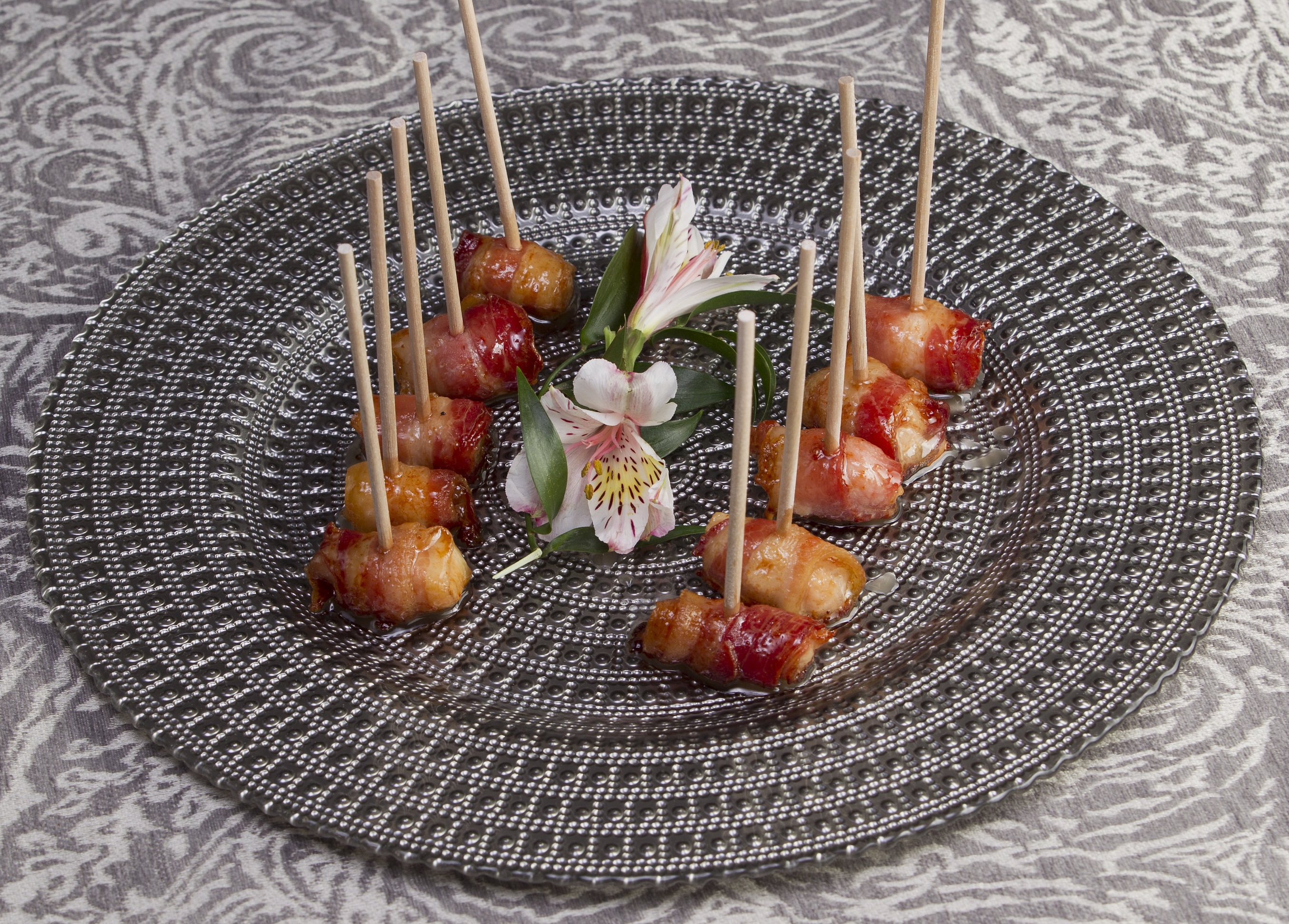 BACON WRAPPED CHICKEN WITH BOURBON MAPLE GLAZE
Seared chicken breast seasoned with garlic, thyme and pepper wrapped in bacon, dipped in a bourbon maple glaze.
PETITE CRAB CAKES
Breaded Crab Cakes topped with a dollop of Chipotle Aioli Sauce.
BUFFALO CHICKEN TART
A flaky phyllo shell tart filled with spicy chicken, bleu cheese & scallions, garnished with a crisp celery slice and buffalo sauce.
ARTICHOKE, ASIAGO AND SUNDRIED TOMATO PURSE
Artichoke hearts, Asiago cheese, sun dried tomato blended with cream cheese baked in a puff pastry.
BRAISED BEEF ON A SEA SALT SPOON
Shredded braised beef on a edible spoon. Topped with a natural beef demi reduction.
MARKET PITA
Roasted red pepper hummus and sun dried tomato-olive tapenade mixed with feta cheese atop a crisp pita chip, garnished with pickled cucumbers.
BLT BITE
A blend of arugula, bacon and sun-dried tomato crème nestled on a sourdough crouton.
Salad Course
- Select One -
GORGONZOLA PEAR SALAD
Crisp field greens, caramelized pecans, bosc pear, crumbled gorgonzola, apple walnut vinaigrette.
COSMOPOLITAN SALAD
Mix greens, walnuts, sun-dried cranberries, mandarin oranges and feta cheese drizzled with Citrus Vinaigrette.
WATERMELON TOWER SALAD
Refreshing stacked salad with crisp watermelon and cucumber batons, arugula, crumbled feta cheese drizzled with a honey and cider vinaigrette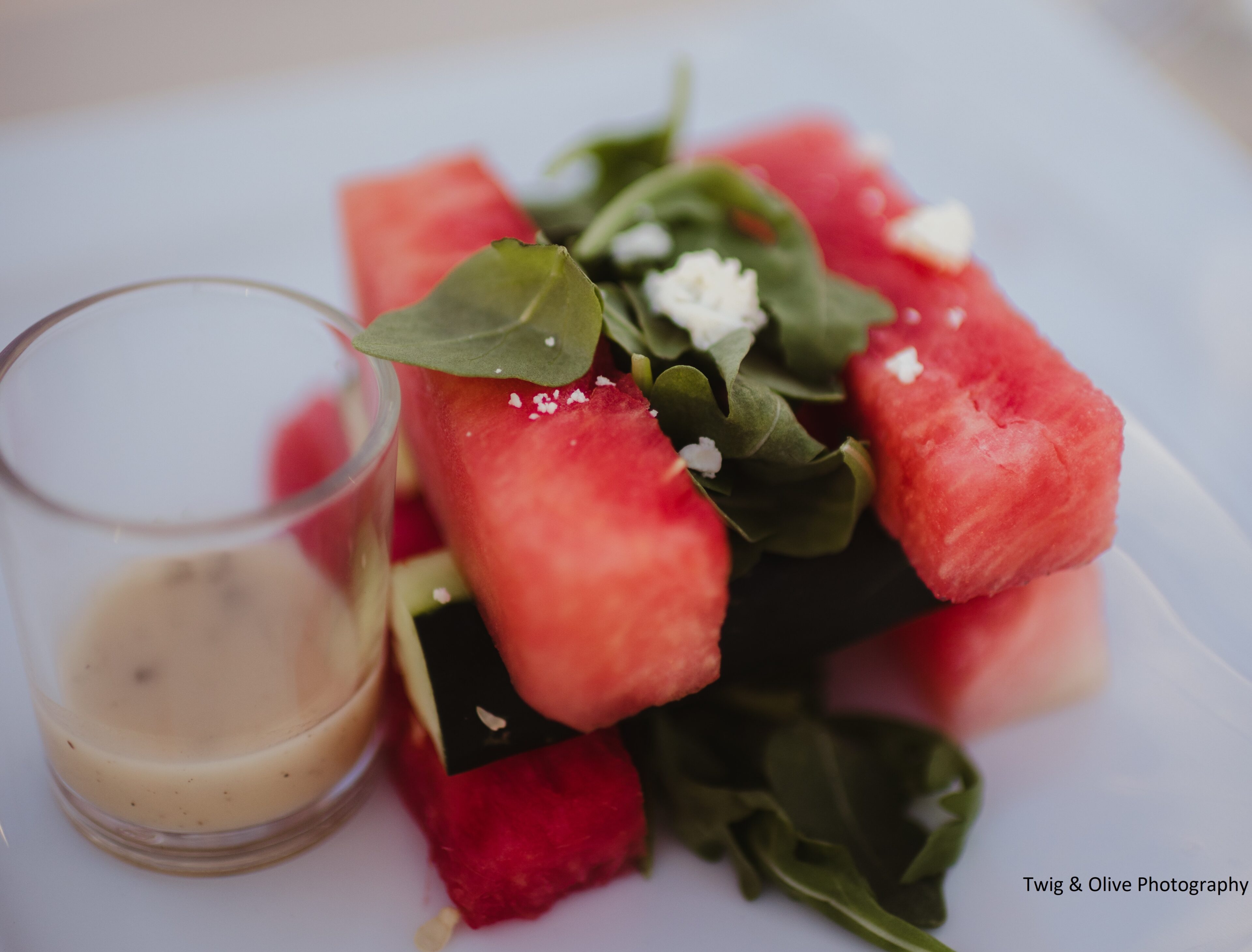 WATERMELON TOWER W/GOAT CHEESE & MICRO BASIL
Fresh watermelon and cucumber batons, topped with goat cheese cream, micro basil and balsamic glaze.
COSMO 7-LAYER SALAD
Cosmo glass fill with lettuce, peas, shredded cheddar, bacon, diced tomato, diced egg and chipotle mayo.
GROWING POWER SALAD
Locally grown spring mix with Dark tart cherry, crumbled blue cheese, chopped green onion, toasted sunflower seeds, bourbon walnuts and red wine vinaigrette.
GALA ENTRÉES
- Select Two -
SALMON NAPOLEON
Salmon fillet stacked with sliced Roma Tomatoes, fresh mozzarella cheese and fresh basil and drizzled with a blood orange balsamic glaze.
GRILLED CHICKEN BREAST W/PINEAPPLE SALSA
A boneless, skinless breast grilled and topped with pineapple salsa.
EGGPLANT NAPOLEAN
Layers of eggplant, tomato, fresh mozzarella, fresh basil, roast red pepper with a smoked roasted tomato sauce atop angel hair pasta.
BRAISED BEEF SHORT RIBS
Tender, flavorful and hearty. These boneless ribs are braised in red wine and veal jus with vegetables and herbs for nearly 12 hours, then finished with a natural reduction.
ROASTED BUTTERNUT SQUASH RAVIOLI
Served with toasted hazelnuts, asparagus, fennel and brown butter sauce. Garnished with sundried, feta and olive tapenade.
TENDERLOIN FILET
Grilled and laced with sauce of your choice: JACK DANIELS or BOURBON SHALLOT CREAM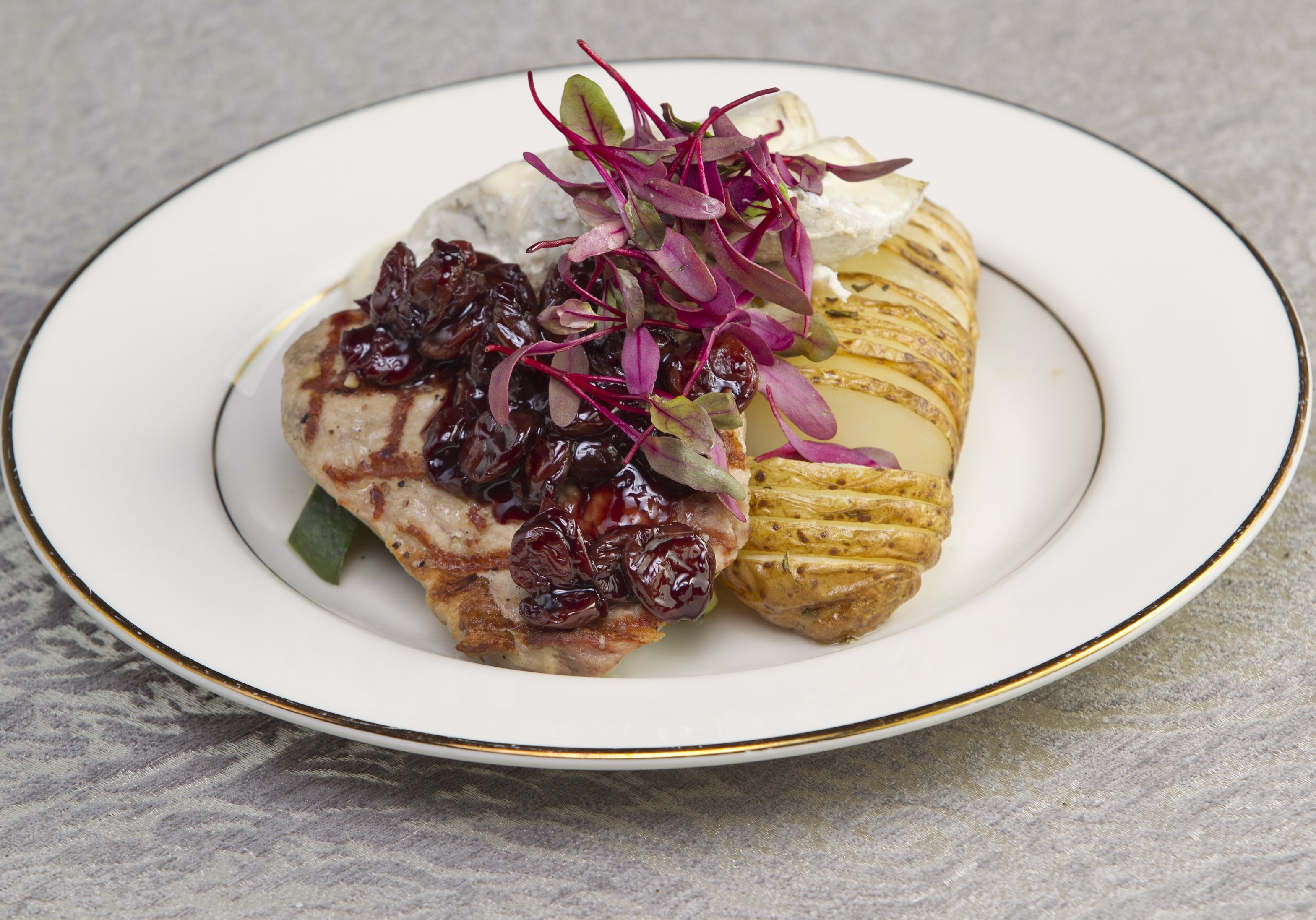 BONELESS PORK RIBEYE STEAK & BAKED BARRAMUNDI DUET
Boneless Pork Ribeye Steak with Cherry Sauce and Baked Baramundi with Lemon Buerre Blanc
Starch
- Select One -
BLEU CHEESE TATER TOTS
CHATEAU POTATO CREPES
Puréed potatoes blended with sour cream, Parmesan cheese, and chives, rolled in a crepe.
PARMESAN RISOTTO
POMMES ROYALE
Fresh whipped potatoes seasoned with horseradish, heavy cream and cheddar cheese. Piped out into a swirl then baked to a golden brown.
PEAR SHAPED POTATO W/GARLIC & HERBS
GARLIC TRUFFLE MASHED POTATOES
Creamy whipped potatoes blended with garlic, sour cream, chives, parsley, seasonings, truffle oil and butter.
Vegetables
- Select One -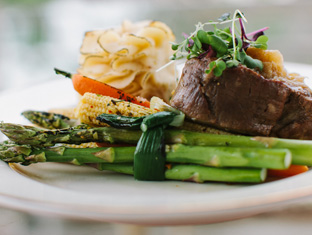 ASPARAGUS AND GREEN TOP CARROTS TIED WITH LEEK
Asparagus and green top carrots bundle wrapped with a leek string.
SEASONAL SAUTE
Chef select seasonal vegetables.
WHOLE GREEN BEANS IN ZUCCHINI RING
Whole Green Beans with Red Pepper strips in Yellow Squash ring.
VEGETABLE JEWELS
Fire roasted red and yellow petite tomatoes and green grilled asparagus pieces.
ROASTED ROOT VEGETABLES
Carrots, butternut squash, parsnips, yams and celery root oven roasted in extra virgin olive oil.
BRUSSELS SPROUTS WITH BACON AND ONION
Roasted Brussels sprouts accompanied with crisp bacon and caramelized onions.