Sometimes, love is a thunderbolt, passionately exploding into two lives. And sometimes, just as importantly, it whispers insistently of its presence, even when its two intendeds may not realize it's there. Until they do.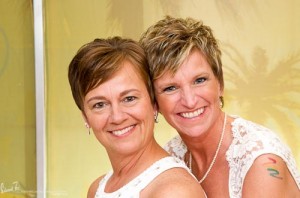 For Anilisa McDonald and Michelle O'Toole, what started as a friendship and is now everlasting love will be celebrated on October 19, when they'll be getting married at the Mitchell Park Domes.
The two might not have met if Anilisa had not walked into a bar one day in 2005 and struck up a conversation with a friendly server. A native of Salem, Massachusetts, and Director of Nursing at Seven Oaks Health and Rehabilitation Center in Glendale, Anilisa and a group of friends met up at a Milwaukee restaurant/bar where Michelle happened to be working.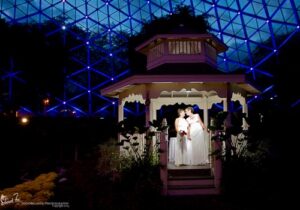 Michelle, a Milwaukee native and Purchasing Manager at the Sixteenth Street Community Health Centers, was moonlighting at that bar. The two started talking about work and one conversation led to another. Anilisa's group came in each month on Tuesdays, so they saw each other over a period of months. Each time, they'd spend most the evening talking, and both recall enjoying their conversations immensely. Michelle says she lit up when Analisa would walk in the bar, and was flattered when Anilisa showed up one Tuesday without her group – just to see her. The friendship stayed on slow burn and then Michelle left the bar. "I didn't realize what was happening to me until I stopped working there," recalls Michelle. "Some time went by and I realized that I missed our talks; I missed her." As if on cue, she happened across Anilisa's business card, which had fallen under a dresser. "I sent her an email and the was the restart of what is now a great friendship as much as a life partnership."
A lot of flirtatious emails followed that first one, and they talked by phone every day. But it was another several months before they finally started dating, in January of 2007. Michelle says by then they knew each other so well, and finally starting to date as a couple felt like coming home. It was clear to them both this was right. "We are a perfect match, our similarities are many and yet there are enough differences to keep it interesting and exciting. We finish each other's sentences," says Anilisa. "And we still have a huge crush on each other.  There are still many times where we look at each other and get that butterfly-in-the-belly feeling, and we see it in each other and smile."
They also both felt this was forever. "When we first became serious we would joke about being together forever or at least for 40 years," recalls Anilisa. "I think we will beat the 40 mark. Whether it be in this lifetime or whatever lies beyond, our souls will be matched for eternity."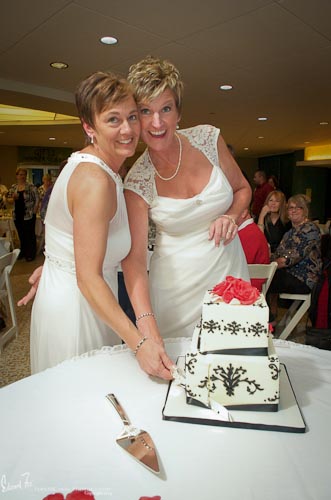 The two might have simply continued as forever partners, except Michelle had told Anilisa she was disappointed she'd never had a traditional wedding where her father would walk her down the aisle and have father/daughter dance. Anilisa decided she wanted to do something about that. "I wanted her to be able to have that," she says.  Anilisa proposed last June at the lakefront in Milwaukee on the last day of Pride Fest. Although they shared the happy news of their engagement with friends immediately, both women come from traditional families, and say didn't feel it was complete without the blessings of their families.
Anilisa set up a date to ask Michelle's father for permission. "I practiced my speech," she says. "I was taking notes on a napkin while waiting for him to arrive that day. I told him I loved his daughter very much and that even though this was not a traditional relationship, some traditions are important. I told him I loved Michelle and I wanted to spend the rest of my life with her, and asked him if he would give us his blessing for us to be married. He got teary-eyed, gave me a big hug, and said yes. So it was then that it was official."
For Michelle, including her father made the proposal it even better. "It was awesome," she says. "He was so genuinely touched and moved. My dad doesn't cry often, so making him teary-eyed was a big deal."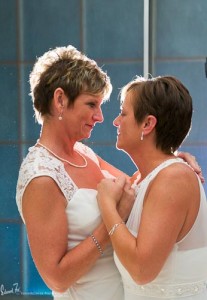 The wedding and reception will be held October 19, 2013, at the Mitchell Park Domes with 150 friends and family.  Both women wanted to include a tribute to their grandparents in the celebration. At the Domes, they were able to purchase one paver inscribed with their names and additional pavers to honor their grandparents, all of which will be on display at the wedding. "That is our way of remembering our families and leaving a  lasting mark at the place we are having our ceremony," says Anilisa.
They say they hope one day to be officially recognized as a married couple in Wisconsin but for now, they will be registered as domestic partners within Milwaukee County. "For now," says Michelle, "that will have to serve as our marriage certificate."  But most of all, they say they are looking forward to celebrating their love and commitment with their families and friends who support them, and spending the rest of their lives together. "We are perfect for each other in every way and are both as excited as the other to be formally celebrating our commitment to a lifetime journey together. We often speak of our journey to find each other and are so very thankful for all of our experiences as they led us to who we are and so therefore led us to each other."