It may have been April Fool's Day, but Taylor & Dylan's wedding was no joke. This happy couple's rustic wedding was an authentic show of love and family coming together in one of the most charming Wisconsin wedding venues you can find—the Hartland Rustic Manor 1848. Zilli Hospitality Group was honored to be a part of the celebration.
The Rustic Manor 1848 venue caught the couple's eye right from the start. It is a combination of old-world rural charm and new-world accessibility just miles away from the Milwaukee community. The well-kept and polished barn space is surrounded by gorgeous Wisconsin countryside complete with wooded trails, rolling meadows and farmland as far as the eye can see and right up to the banks of the Bark River. The endless opportunities for once-in-a-lifetime wedding photos within this breathtaking setting made Taylor & Dylan's wedding venue decision an easy one.
Here's a glance at the custom menu that we prepared to the delight of all 124 wedding guests.
Delicious Hot & Cold Tray Passed Hors d'Oeuvres
Guests arrived at 3:15pm, and the ceremony began at 4 o'clock sharp. After the beautiful on-site ceremony concluded at 4:30pm, guests were treated to some of our most outstanding warm and chilled passed hors d'oeuvres. These included:
Watermelon tower w/ goat cheese & micro basil. Fresh watermelon squares topped with goat cheese cream, micro basil and balsamic glaze.
Grapes w/ a twist. Red grapes rolled in cream cheese with a hint of vanilla and coated with finely crushed toasted almonds.
Lobster macaroni and cheese demi. Lobster and macaroni tossed with truffle oil and a blend of bleu and smoked gouda cheeses, finished with toasted breadcrumbs.
Artichoke, asiago and sundried tomato purse. Artichoke hearts, asiago cheese and sundried tomato blended with cream cheese in a puff pastry.
Bacon wrapped chicken with princess glaze. Seared chicken breast seasoned with garlic, thyme, and pepper wrapped in bacon, served with a cranberry-scented princess glaze.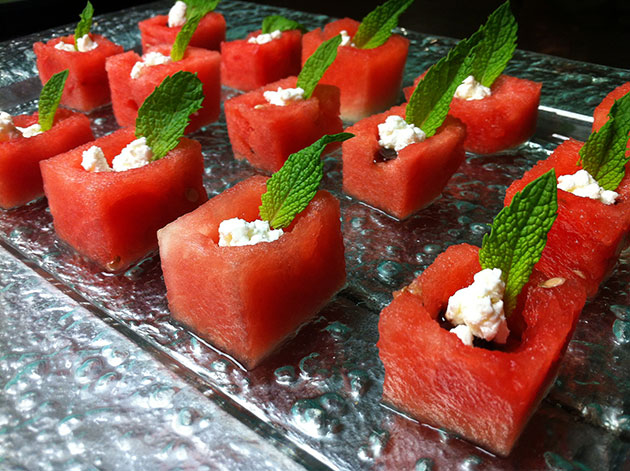 The fresh ingredients and wide variety of hand-prepared selections perfectly reflected the theme and environment for the couple's wedding day.
An Array of Wedding Buffet Selections
Hors d'oeuvres were passed until guests were seated in the huge reception area at 5:45. After introductions, cake cutting, speeches and prayer, guests were directed to the buffet at 6:30, where they were introduced to some of our most noteworthy culinary entrées.
Chef-Carved Tenderloin Buffet Style. Served with Jack Daniels au poivre sauce.
Buffet Salmon. Paired with one of our specialty sauces.
Stuffed Gouda & Bacon Chicken. Topped with Sonoma sauce.
Garlic Herbed Mashed Potatoes. Accented with roasted garlic and fresh herbs.
Seasonal Sautéed Vegetables.
Guests were also treated to a buffet-style fresh fruit selection that included watermelon, cantaloupe, honeydew and pineapple garnished with grapes and strawberries. Along with a fresh caesar salad and cucumber slices, the buffet at Taylor & Dylan's reception showed what our culinary team can really do.
Food Stations with Imagination
As the night wound down, wedding guests looking for a late-night snack fix weren't disappointed. The Zilli Hospitality Group team set up coffee, dessert and snack stations to satisfy all the salty and sweet cravings in the room.
The coffee station featured French roast and decaf options served with fresh cream and sugar.
Our chocolate mousse votives were filled with creamy chocolate mousse and topped with shaved chocolate.
Of course, we can't forget about our raspberry cheesecake cordials.
Last but certainly not least, the late-night nacho station featured all the proper nacho fixings like ground beef, cheese, diced onions and tomatoes, sour cream, olives and jalapenos.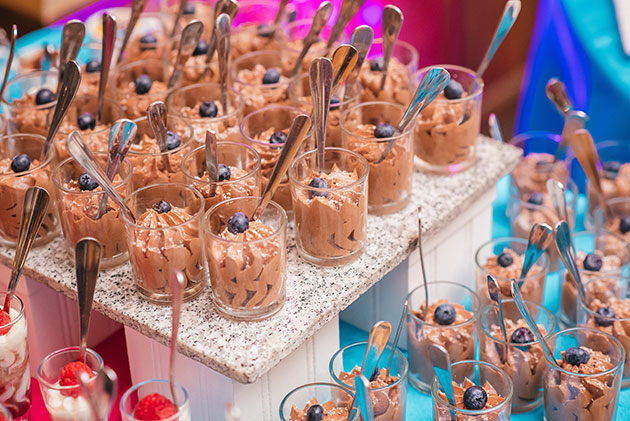 Stations were open from 10 till midnight, when the event concluded. Our team of experts were on-hand to ensure that everyone went home full and happy after a beautiful and boisterous wedding celebration.
Backed by nearly five decades of experience, our award-winning Milwaukee catering team can make your wedding dreams come true. To start customizing everything from your menu to décor, contact our creative and meticulous wedding planners online or give us a call at 262-547-9447.
More articles you might enjoy: