Great food helps maximize the enjoyment from a picnic. Choosing the right menu is a good first step; however, so many other factors determine the overall quality of catered food.
Keys to the Best Picnic Food

Custom Menu
A custom picnic menu should reinforce the culture, personality and goals of the hosting company or individual. An innovative company will want a creative and unique menu. If a relaxed work environment is important to you, then the picnic menu should feature more classic comfort foods. Whatever you want to communicate to guests, we can help you create a custom picnic menu that suits your style.
Accommodate Dietary Restrictions
All guests need to be included in a corporate or social picnic. One way to accomplish this is to accommodate all guests' dietary needs so that everyone enjoys a full and delicious plate. For example, we happily work with our clients to create a menu that includes all dietary requests with the following:
Kosher

One of ZHG's specialties is kosher food. We love working with clients to bring some of their personal favorites to the picnic table.

Vegetarian/Vegan

We have many dishes without meat and dairy and are still flavorful and nutritious!

Gluten-free

Increasingly more guests are opting for gluten-free dishes, so we encourage you to include some on your picnic menu.
Highest Quality Food
Although we cook with all high-quality ingredients, our selection of meats really showcases this value. We suggest you inquire about what cut of meat your picnic caterer plans to serve and then look for the following:
Beef

Tenderloin and top sirloin are the best options and preferable to round, sirloin, shank, bottom sirloin, flank, sort loin, plate, rib, chuck, shank and brisket.

Pork

Blade shoulder is the highest quality pork (and the only cut that we serve!). Leg, loin, side, spar rib, arm, shoulder and head are lower grade.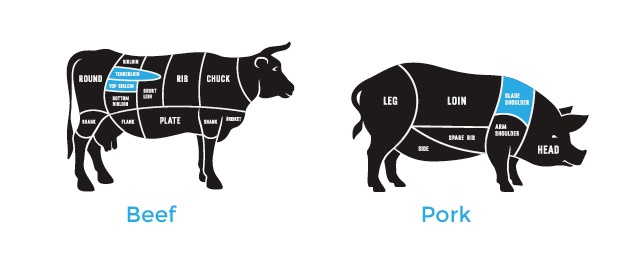 Freshly Prepared Food
Your custom picnic menu should be filled with the finest ingredients, but it all goes to waste if it's not prepared to the highest standards. Guest safety and satisfaction are ZHG's priority so we take the following measures:
Grilled on-site

We don't believe in pre-cooking meat in convection ovens. Our burgers, hot dogs and brats are grilled on-site so that you get the juiciest meat.

Gas grills

You won't find charcoal grills at picnics catered by ZHG because we want to make sure our grills stay lit and ready to go no matter the weather challenges. Rain or shine, we use gas grills to cook our meats at the most consistent temperatures and to ensure have those pesky hot and cold spots never show up.

Temperature controlled

Chances are that guests will want to enjoy food throughout your entire event, so it's important that the temperature of the food is properly controlled. In order to maintain the proper temperature of hot food, we use chafers with polished metal pans, insulated stainless steel bowls and metal chafer guards. We also use ice bins to ensure that we serve our cold food at the appropriate temperature to protect guests' health.
ZHG's attention to detail and over 50 years of experience allows us to provide the absolute best picnic food to you. From creating a custom picnic menu to cooking premium meat on-site, our catering incorporates all the keys for great picnic food. For more advice on planning any event, check out the ZHG blog and contact our expert team.