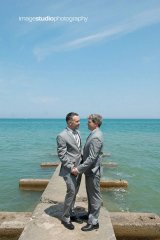 They say that opposites attract, but it's the similarities that keep happy couples together.
Jonathon Flynn and Sergio Magaña had very different paths which brought them both to a Green Bay Packer game party, hosted by mutual friends, in 2011. Although their life stories started in separate states, even countries, theirs each wound circuitously and finally back to Wisconsin – and to each other.
Jonathon is a Wisconsin native from a large family who grew up near Ladysmith, Wis. He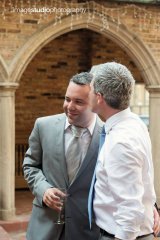 moved to Milwaukee in middle school and graduated from Shorewood High School in 1995. After earning his Bachelor of Science in computer science, he moved to Los Angeles, earning a Master's in aerospace engineering along the way. But he returned home to Milwaukee and took a position at Metavante while studying for his law degree at Marquette – which he earned in 2008. Jonathon is currently working on his PhD in computer engineering while teaching at Cardinal Stritch University in their College of Business.
Sergio was born in El Paso, Texas, and grew up with a small family in the Mexican state of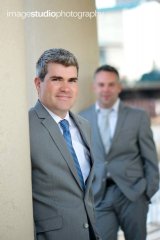 Tabasco in the city of Cardenas. In elementary school, he and his family moved to Mexico City where his mother's family is from. They eventually made it back to El Paso where Sergio went to Coronado High School, graduating in 2004. He received a full scholarship to Boston University where he earned his Bachelor of Arts degrees in history, Hispanic language and literature and economics in 2007. He attended the University of Texas at El Paso, where he completed coursework towards a Master of Arts degree in Sociology with a focus on immigration and social network theory. He went on to Marquette in 2009 and received his JD in 2012. Today, Sergio is an associate at Durrani Law Firm, primarily working in immigration law.
Their paths might not have crossed had it not been for their shared love of law not to mention football. Given their evident work ethic and shared intellectual curiosity, it's not hard to imagine that kinship came quickly – and then much more.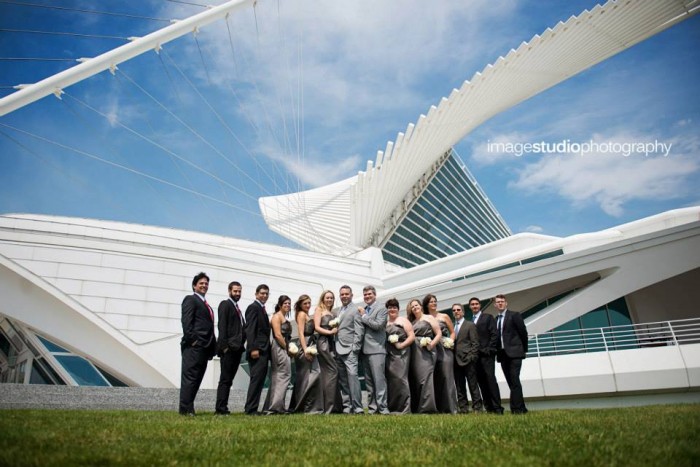 Sergio says he knew pretty soon Jon was the one, thanks to another sport: baseball. He recalls, "I knew I had found my soulmate when I discovered that Jon had actually been pretending to like baseball so he could hang out with me. In 2011, the Brewers made the playoffs and there were a lot of games on TV almost every day. I really like baseball and I would go out to watch the games and Jon was always happy to come along because he said he also loved baseball. However, during one of the last games he asked me what "period" the game was in and that's when I realized he had been pretending to like baseball to spend time with me." (Today, Jon and Sergio have Brewers season tickets and they enjoy games together.)
Soon after baseball season, they went to Sergio's law school formal dance together at the War Memorial, where they danced the night away. As they were leaving, Jon stopped Sergio in front of the Art Museum – which happened to be lit up in blue with the wings open – and professed his love. It was the perfect romantic setting on a beautiful October night and that's when Sergio says he absolutely knew he had found the love of his life.
Jonathon proposed to Sergio on the beach at Big Bay Park in Whitefish Bay on June 3, 2012. They will be legally married in Boston on June 1.
As befitting two Milwaukee residents, they're having their wedding party on July 6 at the Pabst Brewery. They will both wear tuxedos with a particular shade of blue tie that Sergio picked out for their big day.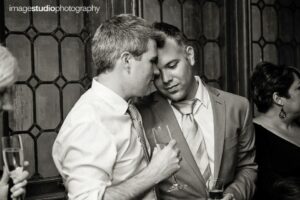 But their reception will honor the many places that led to them being here, together, at last. Said Jonathon, "We are also planning on Wisconsin and East Coast sports team-themed table designations. Guests may find themselves sitting at the Packers table, the Brewers table, or… the Red Sox or Patriots table."
For these two, there's room, and love, for it all.