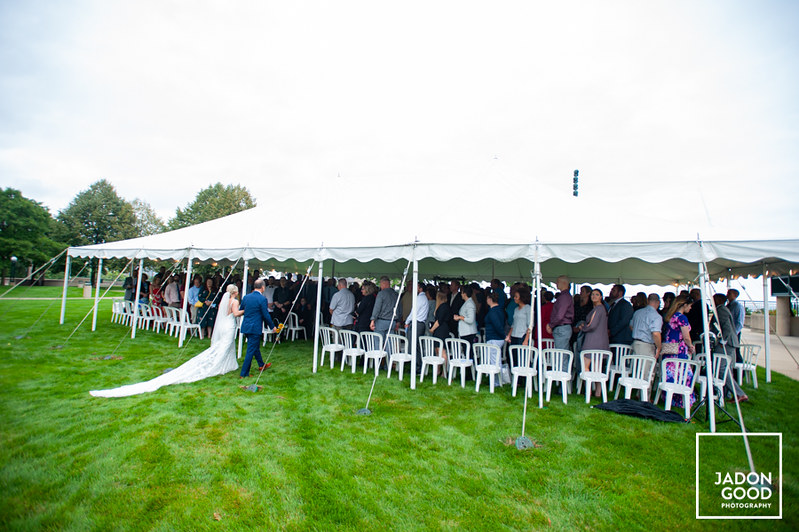 Planning a wedding in the era of social media means there's no shortage of stunning tented wedding inspiration to help you envision the ultimate tent for your big day. However, there's more than what meets the eye when it comes to celebrating inside a tent—and that's where we come in!
We're proud to create so many gorgeous tented weddings with fabulous, knowledgeable Milwaukee venue partners and vendors. Here are our go-to tips for choosing the right tent for your upcoming nuptials.
Visionary and budget-friendly tenting
While many of us love sprawling tents with high peaks, wood flooring, chandeliers and romantic draping, sometimes that just isn't practical, especially if you're trying to stick within a budget. Tent rental costs can add up quickly. That's because you're not just paying for the tent itself, but also the labor to set it up and take it down, everything you put inside it and the taxes.
Typically, your tent can be one of the highest expenses on your wedding day, so that's why it's essential to first determine your full wedding budget so you know how much you can realistically spend. Don't worry—there are solutions for every budget to make it the dreamy venue you have in mind. We will work with you to secure a top tent vendor and create a custom proposal to ensure your vision comes to life without breaking the bank.
Options for every season
Are you getting married in mid-July during the dead of summer or October when it typically can be a little unpredictable with rain? These are all things to keep in mind when deciding on what tent you want to add and how to configure it.
If you're getting married in the summer months, be sure to add high-power fans or AC units—you don't want the heat to put a damper on the day. If the forecast is historically dreary on your big day, don't risk ruining those perfect curls that took all morning—add sides to the tent! There are many options, including adding sidewalls to all sides or just a couple for some added protection.
You can also add heating if you're getting married in the late fall and want to keep everyone extra warm and cozy throughout the evening.
The ultimate blank canvas
Whether you're looking for an elegant black tie or whimsical bohemian setting, the great thing about a tent is that you can create whatever vibe you'd like. It's not like your standard venue that has existing carpeting or parameters you must work within; the beautiful thing about a tent is that it is a true blank canvas for your vision.
If you're looking for an elegant feel, add gorgeous string lighting throughout, complemented by pale draping throughout the tent and chandeliers straight down the middle to add even more shimmer. Looking for the bohemian vibe? Stick to the neutral palate of the tent and add greenery down the poles with long picnic table-style seating. The options are limitless!
 Venue pairings
Another thing you must consider is the venue. For an upcoming event, we'll be tenting off a tennis court for 300 guests with a stunning Century tent without poles to get in the way of their fabulous fete.
Some of our favorite areas to tent are the North and South Gardens at Zilli Lake and Gardens—there are so many options! As a reminder, catering tents and event tents should be kept separate. If you're having an entire reception outdoors under a tent, additional tents for catering areas must be placed as well. But not to worry! We can help you figure that out.
While choosing the perfect tent may seem like a big task, we can help you make it easy, providing you the best options within your budget. Reach out to us online or give us a call at 262-547-9447 to start chatting with our planners about your dream tented wedding!
More Articles You Might Enjoy: