When it comes to weddings, we are in the business of setting them apart in any and every way imaginable. This can be through deliciously customized menus, beautiful décor and design schemes or adapting a one-of-a-kind venue to the vision of our loving couples.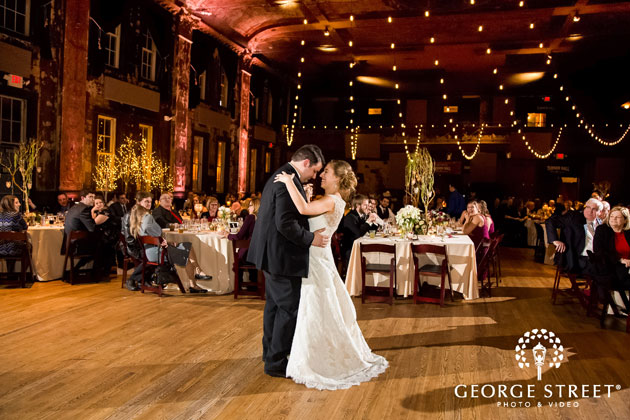 Winter weddings are exciting for our team because they tend to break the mold by their very nature. Milwaukee winters can be cold and miserable, full of snow and brisk temperatures. But the contrast between outdoor brutality and indoor elegance can really lend itself well to an unforgettable wedding. Such was the case in January 2017 with our couple, Amie and Matthew. The two brought in the new year by starting their new life together in a visually gorgeous and memorable wedding at Turner Hall.
Here are some highlights of how we helped make it happen.
Natural Décor to Bring Out the Venue's Wintertime Beauty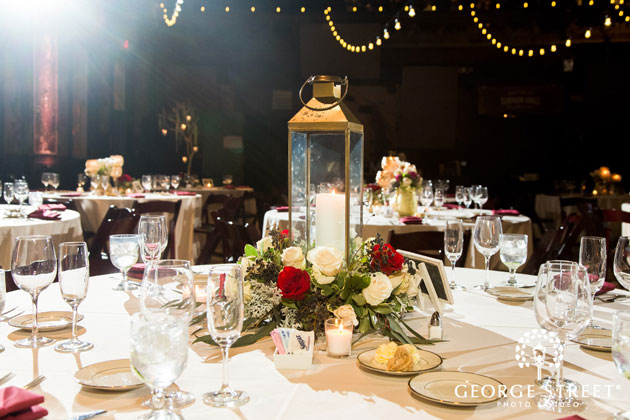 With its buttressed ceilings, classic American-style windows and exquisite woodwork, it didn't take much from our planners to turn Turner Hall into a winter wedding venue gem for our couple on this occasion.
White candle lantern centerpieces with red and white roses adorned each table covered with crisp ivory linens. Lights were strung across the ceiling to provide a very soft ambient glow that accentuated the wood finish. It gave the dance floor a storybook feel for the couple's first dance. Wooden folding chairs were used in transition from the ceremony space to the reception. Finally, the venue was surrounded by small ferns that further contributed to the elegant and natural winter character of the celebration.
A Well-Executed Wedding Timeline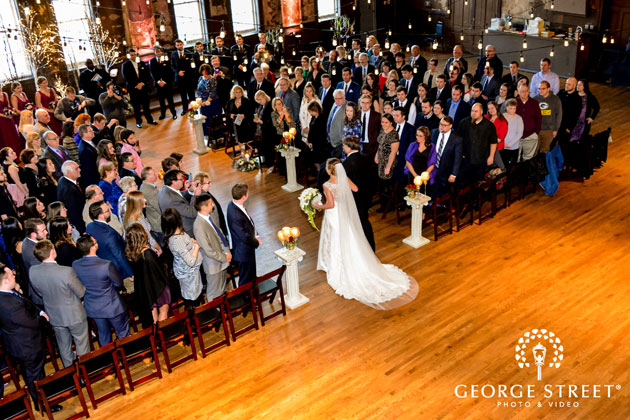 The cold outside didn't hamper our team from ensuring everything for this winter wedding ran on schedule. Our planners and staff were on-site to ensure that every detail was met with care and that proceedings from the ceremony through the reception were on point.
Guests arrived at 3:30 PM, and the ceremony began at 4:00 PM sharp. Afterwards, the space was transitioned into a reception area while cocktail hour was held upstairs. Guests were seated at 6:00 PM, introductions at 6:15 PM, and dinner service was right on time.
There were several small details throughout the course of the evening that required our coordination. Amie & Matthew's wedding was a real display of how our ability to communicate effectively with clients and within our team ensures that wedding dreams are carried out exactly how they're envisioned.
Serving Up a Fantastic Menu
Amie and Matthew's wedding welcomed 173 guests with seemingly just as many different culinary preferences. Putting together their menu was fun because it gave our planners and chefs the opportunity to flex some muscle and show some versatility in what our kitchen can do.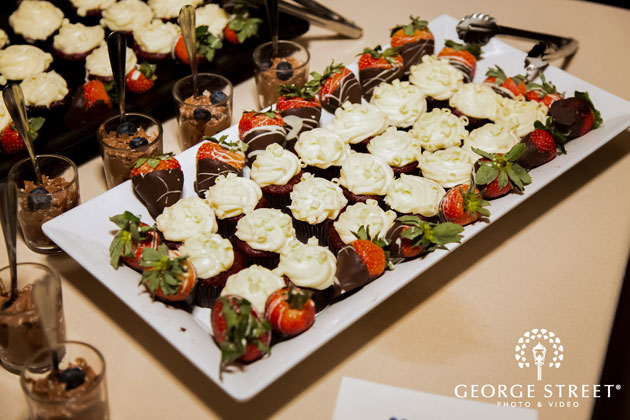 First came the tray passed hors d'oeuvres, including:
Tomato, bocconcini and basil skewers: Cherry tomato, bocconcini and fresh basil laced with a balsamic glaze served on a skewer.
Artichoke, asiago and sun-dried tomato purse: Artichoke hearts, asiago cheese and sun-dried tomato blended with cream cheese baked in a puff pastry.
Bacon-wrapped chicken with princess glaze: Seared chicken breast seasoned with garlic, thyme and pepper wrapped in bacon, served with a cranberry-scented princess glaze.
Caramelized onion, leek and three-cheese tart: Caramelized onions and leek with Swiss, mozzarella and shredded cheddar baked in a petite tart shell.
BBQ pork pop: Savory BBQ pork surrounded by jasmine rice, coated in seasoned bread crumbs and served with a spicy scallion oil.
After a simple greens salad, the main course made its way out to the dining room.
Chicken bruschetta: Gluten-free parmesan-crusted chicken drizzled with balsamic vinaigrette and finished with bruschetta topping.
Garlic herbed mashed potatoes
North shore vegetables: Medley of fresh asparagus, squash, carrots and green beans lightly seasoned with herb butter.
Roasted butternut squash ravioli: A vegetarian option served with toasted hazelnuts, asparagus, fennel and brown butter sauce. Garnished with sun-dried feta and olive tapenade.
A miniature dessert station helped round out the menu, featuring:
Chocolate mousse votives: Filled with creamy chocolate mousse and topped with shaved chocolate. Made without nuts or Nutella to accommodate multiple guests' food allergies.
Raspberry cheesecake cordials
Mini red velvet cupcakes
Chocolate-covered strawberries
The reception featured unlimited wine pour during dinner service, a coffee station, and a late-night pizza station from Ian's Pizza. Altogether, the menu and service kept appetites and spirits satisfied.
Other vendors at Amie & Matthew's wedding included:
It's about having an eye for detail and constant communication. That's how our team takes wedding dreams for loving couples like Amie and Matthew and creates memorable experiences like this one on a beautiful January evening in Milwaukee. If you're ready to start planning your wedding celebration with Zilli, contact us online or give us a call at 262.547.9447.
Need Help Finding the Perfect Venue?
Feeling overwhelmed by the number of incredible Milwaukee venues to choose from? No worries! Our complimentary wedding venue concierge pairs you with a Zilli wedding professional, who will give you an in-person tour of every venue that matches your specific vision.
More articles you might enjoy:
Event Designer

Candy Zilli
Event Designer
Candy has been with Zilli Hospitality Group since 1985 and is responsible for both corporate and social sales at Zilli Lake & Gardens. She spends a great deal of time working with our clients to ensure all the details of their event are in place.