Let's find your happy place
Choosing the perfect venue for your wedding is a big deal. In Milwaukee alone, there are at least a thousand locations to choose from. Narrowing down one that fits your budget and vision is important, yes, but so is having a dependable insider who knows everything there is to know about the space.
Couples often look to the Zilli team to provide them with our venue insight, which has naturally developed over the last 50 years of planning weddings and strengthening relationships with our venues.
CHECK OUT OUR VENUES!  Contact Us
Since we work with over 50 outstanding locations throughout Milwaukee, we decided to offer a free venue concierge program. This means that a dedicated professional will walk you through some of the city's most unique locations. And the best part: it's an easy, straightforward process.
Your Zilli wedding coordinator will traverse the city with you and your spouse-to-be, searching high and low for that special place that resonates with you. A place…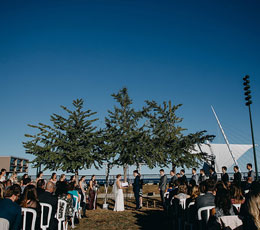 …Along the Lakeshore
Are you looking for an expansive wedding venue that you can arrange as you see fit? Zilli Lake & Gardens has reception and ceremony spaces for every couple—colorful gardens, polished ballrooms and bright rooms with some of the best views in Milwaukee.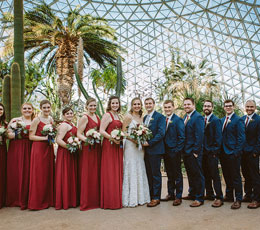 …Surrounded by Natural Life
How about a facility with stunning architecture, streams of natural sunlight and hundreds of interesting plants and flora? The Domes has three different themes—the Floral Shower Dome, Desert Dome and Tropical Dome, which are all lush, vibrant spaces filled with diverse plant species and gorgeous floral arrangements.
Where do you want to get married?
We know it's not a simple question, and we're here to help answer it in the simplest way possible. Give us a call at 414-939-7701, tell us about your ideas and we'll take you to all our fabulous sites!