What's for dinner?
Ancho-rubbed Beef Tenderloin with Pear and Jicama Slaw and Roasted Sweet Potatoes
Serves: 4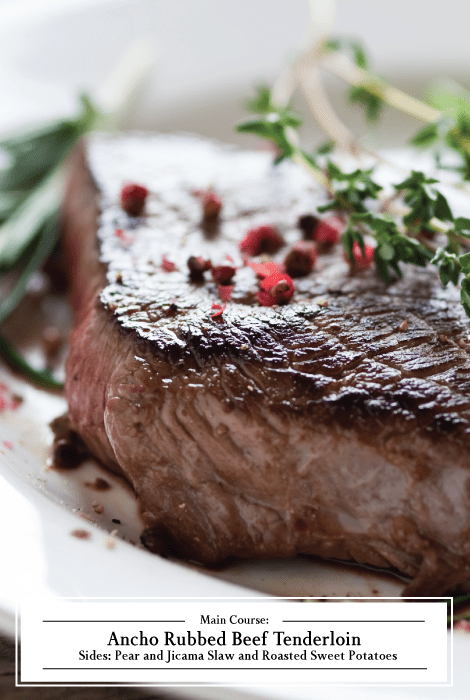 Download and print this recipe here!
Ingredients
Tenderloin
You will need 2 pounds of clean and trimmed tenderloin, 2 tablespoons of olive oil, ¾ teaspoon of ancho powder, 1½ teaspoons of granulated garlic, 1 teaspoon of salt and ¼ teaspoon of chipotle powder.
Slaw
You will need 2 fresh pears, 1 medium-sized jicama, 2 tablespoons of olive oil, 1 tablespoon of chopped cilantro, 1 tablespoon of lime juice and 1 teaspoon of chili powder.
Sweet Potatoes
You will need 2 pounds of washed sweet potatoes, ¼ cup of olive oil, and salt and pepper to taste.
Directions
Heat the oven at 350 degrees and heat up the grill.
Tenderloin (part 1)
Mix all the seasonings together, rub the tenderloin with the oil and seasonings. Let it marinate for 30 minutes.
Sweet Potatoes
Peel and dice the potatoes into ¼-inch pieces. Coat them with the olive oil, salt and pepper. Place them on a baking sheet and bake for about 25 minutes or until golden brown.
Slaw
Use a mandolin to julienne the pear and jicama, mix in the rest of the ingredients and let the slaw rest until ready to eat.
Tenderloin (part 2)
Grill it for about 8 to 10 minutes or until its internal temperature reaches 135 degrees. Let it rest for 5 minutes and slice into 2-ounce slices.
To plate
Place the roasted sweet potatoes in the middle of the plate. Add about 3 to 4 slices of tenderloin and top with the slaw.
BONUS!
This dish pairs well with: Shiraz-Cabernet, Shiraz, Zinfandel, Cabernet Sauvignon, Chianti