An All-American picnic in Milwaukee is not limited to a Memorial Day or 4th of July celebration. With a long history in the United States, any picnic is a great time to let patriotism shine.
In this post, we offer the top picnic ideas to bring fun and red, white and blue pride to your next picnic.
How to Throw an All-American Red, White & Blue Picnic
All-American Picnic Food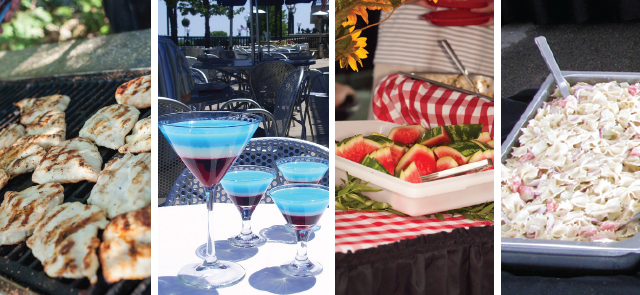 One of the best things about picnic menus is that they are naturally loaded with American favorites. No company picnic or family affair would be complete without on-site grilling of all-beef, plump hot dogs and USDA choice all-beef hamburgers. But don't stop there. Our creative flair wows guests with these picnic foods:
Klement's Brats: simmered in seasonings, onions and beer
Five-Spice Chicken Breast: boneless chicken breast seasoned with our special five-spice blend and simmered in a butter sauce
Carolina Hand Pulled BBQ Pork: slow roasted, seasoned, shredded and mixed with onion in our signature barbecue sauce
An all-American themed picnic wouldn't be complete without these classic sides:
Baked Mac & Cheese
Ranchero Pasta
Classic Potato Salad
Ruffles Chips
Chilled Watermelon Wedges
And, of course, don't forget the fudge brownies and a fabulous selection of cookies.
And don't forget the beverages! Even the drinks you serve can be patriotic by offering a cherry, white chocolate and tropical blue martini.
Patriotic Décor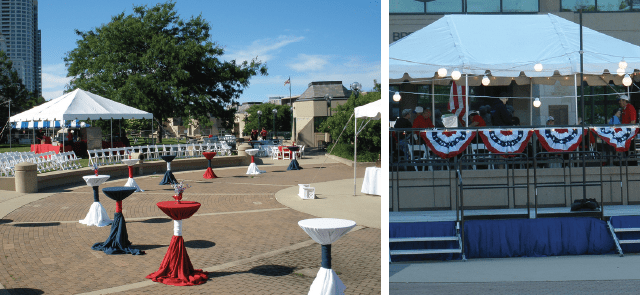 Guests will find red, white and blue throughout your Milwaukee picnic venue. Red and blue tablecloths, napkins, plates and cutlery perfectly contrast beaming white tents. With your picnic color scheme set, polish off your all-American picnic décor with American flags. Many of the best picnic venues in Milwaukee already have a grand American flag flying, but you can also add them to signs, entrance banners and centerpieces. Red, white and blue carnations with small American flags make the perfect all-American picnic table centerpieces.
All-American Fun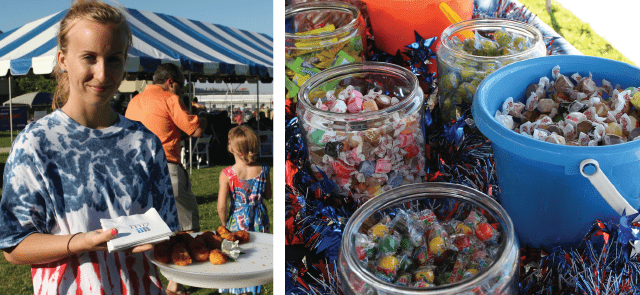 The all-American picnic theme reinforces loyalty and hard work. Treating your guests to a picnic in Milwaukee is the perfect way to showcase the idea of "work hard, play hard." Let the music set the tone by asking your DJ to play oldies like Simon and Garfunkel's "America" or popular hits like Miley Cyrus' "Party in the USA" while guests take part in these fun picnic games and activities:
Bingo: decorate bingo boards in red, white and blue and let peppermint mints serve as markers to make this historic game even more American.
Face painting: if kids will be attending your picnic, then this station is a must. But even adults get in the spirit with small American flags on their cheeks.
Candy station: adults and kids alike will love filling a paper bag with traditional hard candies and toffees. Display the sweets in baskets lined with red, white and blue cloth so this activity also adds to your picnic décor.
Caricature: guests will get a good laugh out of an imitation of their face, especially when they see it topped with an American hat or a twist from a famous president.
Horseshoes: test guests eye-hand coordination with a light-hearted game of horseshoes. Don't be surprised if guests gather around to watch as competitive spirits soar.
Tie-dye t-shirts: guests will love the tie-dye shirts worn by our catering staff, so invite them to make their own. The lawn at Zilli Lake & Gardens is the perfect location for this popular picnic activity.
Our picnic team is ready to help you join the thousands of Midwesterners who are glad they brought our expertise and obsessive attention to detail to their picnics. For more innovative picnic ideas, take a look at our blog and contact us at: 262.547.9447 or picnics@zillihospitalitygroup.com.