Here in the Midwest, we know what living a "rustic" life means. Our lives are rustic by nature. It's about a blue-collar, by-the-bootstraps mindset that built our community and that's been around for more than 200 years. It's about a legacy of living off the land and making do with what you are given. It's about living plainly, staying humble, and appreciating the simple things in life.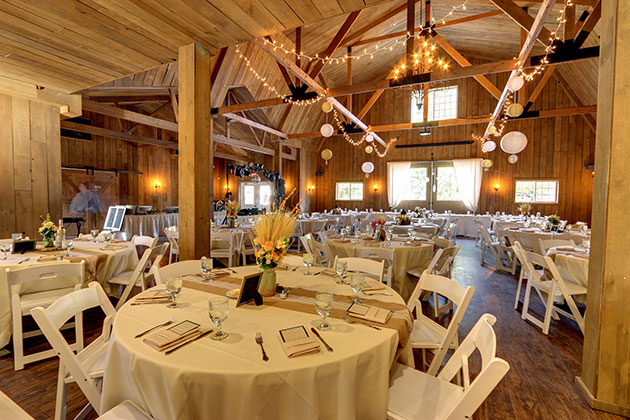 So it should come as no surprise that rustic weddings are in high demand throughout our local community. Rustic weddings in Milwaukee (and in general) feel authentic. They feel real to who we are as people. They pay homage to our past and how our humble beginnings inform our everyday lives and the love we share.
With so many modern wedding trends focused on doing things differently, rustic barn weddings prefer to use more traditional elements. Not to say that doing things differently isn't still in high demand, but rustic barn weddings find their charm in bringing the old world into our new space.
If you're looking to plan the perfect rustic barn wedding in or around the Milwaukee area, here is a list of four "must-have" features to consider.
Nature and the elements. Midwesterners have embraced the elements and lived off the land for generations. Great rustic barn weddings look for ways to include this legacy of life and nature into several different areas. You'll want to include imagery of plants and animals. This helps create a comfortable and welcoming atmosphere. Arbor-themed elements (oak wood tables and altar arches, moss/ivy) and wide open green pastures are all highly evocative of these feelings. Even the menu (showcasing hearty vegetables and delicious cuts of meat) can go a long way towards creating a rustic feel.
Artisan crafts. From early farmers to turn-of-the-century factory workers, the Midwestern legacy of artisan creativity and ingenuity is strong. The perfect rustic barn wedding in Milwaukee should tip its hat to this legacy through exhibiting the same personal care those craftspeople devoted to their trades. Be sure to include whimsical custom signage (welcome signs, placards, etc.) with hues of red/orange/yellow/brown along with strategic uses of metals like iron and copper (silverware, centerpieces and other décor). This will give your rustic barn wedding a feel of traditional beauty and hand-made craftsmanship. Think layered dessert displays that incorporate vintage items like mason jars and wax candles!
Vertical and aerial displays. Rather than discarding linens, many rustic barn-style weddings recycle them in the form of decoration. It's a tribute to the improvisational spirit of the Midwest: making do with what we have in new and creative ways. Try it for yourself! It makes for some truly stunning visual elements for your wedding that (while more modern in practice) still lend themselves well to a rustic feel. Draped elements, hanging lights, floating foliage and archways are all great examples. Their thoughtful use at the 1848 Rustic Manor in Hartland, WI makes for some picturesque photo ops that give couples and guests the feeling of stepping back in time.
DIY and interactive stations. We Midwesterners are very proud of our independence. We believe that everything is earned and nothing is given. If you want something done, you've got to do it yourself. So why not include this theme in your rustic barn wedding? One example: Zilli's flaming donut station! What about a build-your-own sundae station? Fun and personally interactive experiences lend themselves well to the ethic of DIY and can make your Milwaukee rustic barn wedding shine.
Our talented Milwaukee event planning and catering team has more than 50 years of experience and would love to help you plan your amazing rustic barn wedding. Contact us online or give us a call at 262.547.9447.
More articles you might enjoy: