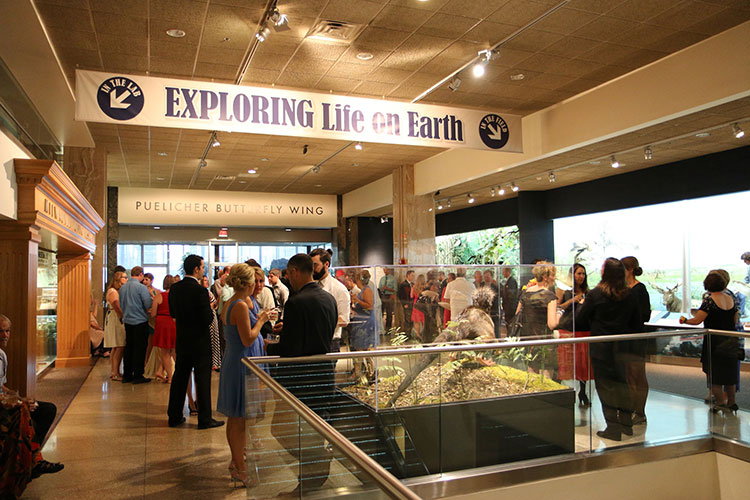 If your fundraising goals are set high and your event vision is aligned with them, then you are ready to think about how you will inspire your guests to take action. Guided by a meticulous attention to detail and 50 years of experience that comprises our award-winning service, you will be on the fast track to surpassing expectations at your fundraiser.
But first, we are excited to give you a sneak peek into the advantages you benefit from when working with our talented team of experts.
How Experience Helps You Surpass Your Fundraising Goals
Offers Inside Knowledge of Local Corporate Events
For 50 years, we have helped social and corporate clients plan and enjoy events in Milwaukee. One of our favorite first steps of planning a fundraiser is sharing the ins and outs of the best event venues like Boerner Botanical Gardens. But taking a close look at the details that perfect these spaces is also a real treat. For example, we love to help clients envision the perfect pre-set for their silent auction tables.
Thanks to all the time we have spent at corporate events, we are able to present you with a variety of unique ideas that suit your chosen theme. Not only will we share floor plans and layout tips, but we will also suggest creative ways to better guests' experiences. For example, hand-held smartphone bidding provides many advantages over manual paper auction sheet bidding.
Provides Critical Guidance
Our professionals know how to best work with and train student volunteers, guaranteeing your event runs smoothly. Knowing how much staff and what degree of experience is needed to provide your guests with flawless service is essential to your fundraising efforts. And although staffing is one of the most important considerations for corporate events, there are many other details to consider.
Because our meticulous event planners are on top of every item, you can put full confidence in your plans. Some aspects that our talented team may bring to your attention during the very exciting event planning process include:
If a dinner wine glass is needed at the guest tables
If donated products will be used
If coffee is served in thermals or individually
If meals are needed for volunteers

Increases the Impact of Your Event
By meshing creativity with formality, you can treat guests to an exceptionally memorable and motivating experience. Fine dishes that perfectly match your event's theme and atmosphere are a great way to inspire donors to give generously. Whether served an elegant plated dinner or through interactive stations, guests will take note of the innovative food you select and want to back your forward-thinking company.
Whatever style of service you choose, our talented team will make sure that guests are seated and anxious to extend their support when it's time for your live auction. We might have to entice them with desserts served family-style, but that's not a bad way to get ready for a gifting event.
Augments Your Fundraiser's Success
We want our impact on our clients to extend beyond the incredible food and service we are trusted to deliver to company events. That's why we go to great lengths to get the crowd excited about our ZHG Auction Donation of a catered event—increasing the amount of money raised. As Amy from the Urban Ecology Center expressed, these wonderful gifts from our team are greatly appreciated by our clients. She wrote to us to say: "Please thank Mr. Zilli for the auction donations as well. The live auction item sold for even more money this year than last year!"
We also welcome our corporate clients to become members of our rewards program so they earn valuable points to redeem when planning their next custom menu. You can add these huge savings to your list of what to expect at a fundraiser with catering from Zilli Hospitality Group!
We can't wait to hear your creative event ideas and lofty goals. If you would like our attentive team to back your fundraising efforts, contact us online or on Facetime, or give us a call at 262.547.9447. 
More articles you might enjoy: