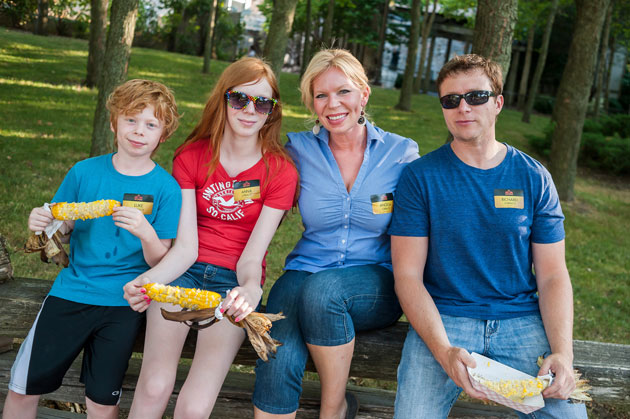 Tailgates top the list of events that quickly bring guests together in fun and unforgettable ways. In the right location and backed by an experienced Milwaukee catering company, it only takes a few hours for tailgate-theme events to charge up guests for the first swing of the bat. Whether you have a couple dozen or a few thousand guests to unite, we have experience planning seamless tailgates for your party size.
Let's take a look at some of our favorite ways to get your home, your office or a simple parking lot ready to kick off your big party!
Outstanding Milwaukee Tailgate Ideas
Photo-Worthy: Game Day Entertainment
We hope your guests will remember to snap some pictures during the game. But if not, at least they are sure to have some stellar ones from your pre-game tailgate party. Why? With Music on the Move Plus using music to create an electric atmosphere and our team facilitating unrelenting fun, guests simply can't resist taking lots of pictures.
What type of captivating entertainment are we alluding to? Choose any of these tailgate-themed party ideas and the pictures are sure to be full of big smiles:
Sports-themed photo booths: From jerseys and helmets to foam fingers and game-day sunglasses, give your guests a vast collection of paraphernalia to play around with in a photo booth. Then they won't be eyeing the props we use to decorate our food and beverage stations or the Brewer T-shirts our staff comes out in.
Take a swing: Quick! The fast pitch machine we can reserve for you through Exciting Events will have your guests swinging the bat hard and fast, so be ready to snap those photos! You may even want to hire a professional to provide this service—ensuring every guest takes home a high-quality photo.
Face paint: Something as simple as rub-on sports tattoos will work, but we love to see the joy that overcomes children when they sit down with a professional face painter.
Eye-Candy: Edible Sports-Themed Centerpieces
The good news is that if you can imagine it, Adorn can create it. And the challenge is that this gives you endless design options, and not all are well-suited to a tailgate venue. For example, due to the winds of Miller Park, we suggest using lower-lying centerpieces such as baseball helmets or baskets decorated with pennants filled with bags of shelled peanuts or licorice strings. Invite guests to take the snacks with them when they leave for the game, and then you have a party favor and decoration all in one!
Step Right Up: Mouthwatering Food Stations
One of the great things about tailgate picnics is that they are exceptionally engaging. And not just in the entertainment, but also in the food service. Our staff loves these opportunities to interact with guests and make sure everyone from little kids to elderly guests are able to enjoy the celebration (and food!) to the fullest extent. Whether building their own burger, perfecting their mac and cheese or dishing out ice cream into a plastic baseball cap, we have the toppings and staff to make all guests' experiences personalized and unforgettable.
We encourage you to look for ways to add extra excitement to every element of your tailgate-themed event. A Hot Diggity Dog station is especially flavorful with root beer and homemade kettle chips while something as simple as corn on the cob can be elevated with flavored salts such as cilantro lime and siraccha. Place these menu items on custom plates designed with your logo/slogan or the team's mascot, and all the fixings of an outstanding and unforgettable tailgate meal are in order. Simple yet effective, company-branded dishware is one of our favorite corporate tailgate ideas to complement your custom menu.
Focused Energy!
Whether you are planning to have your tailgate-themed event at your office, home, parking lot or actual sports venue, there is a lot of thought and work that goes into ensuring everyone is able to attend and enjoy it. If you've read our tips for tailgating at Miller Park, then you know the right preparation is critical to these events. But you also know we can take care of it all for you—setting up you and your guests to dive right in to the party!
To ensure you have your full energy to celebrate, let us take care of everything from rentals and reservations to entertainment. All you have to do is purchase the tickets—so easy! To benefit from family-oriented crowds and the earlier start times, we recommend looking for a Sunday game. Because the little ones will not be starting to crack and adults will not be rushing in from work, a noon or 1pm weekend start time is ideal. Full energy and full excitement—now that's a winning game-day recipe!
Backed by 50 years of experience, our skilled Milwaukee catering team can't wait to obsess over every detail that will make your tailgate a resounding success. To share your vision with our creative and meticulous event planners, contact us online or give us a call at 262.547.9447.
More articles you might enjoy: