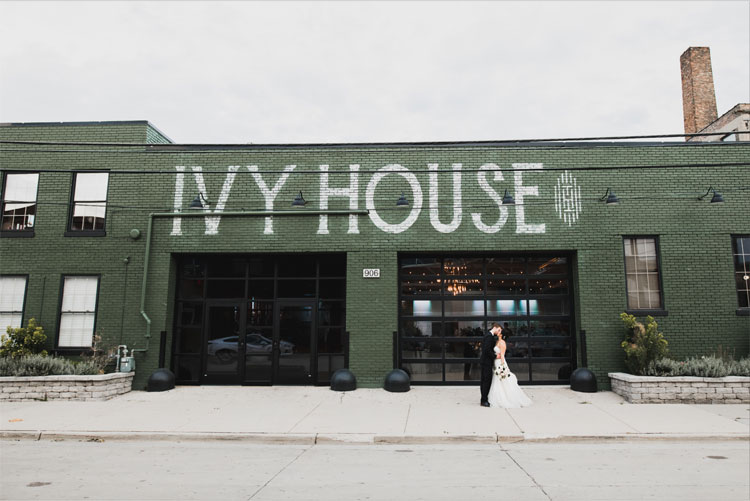 Daniel LaBelle Photography
Location: Milwaukee, Wisconsin     
Capacity: 400 seated; 400 conference; 600 cocktail
Greenhouse No. 7 is one of Milwaukee's most iconic event venues and provides a romantic stage for an intimate wedding. Greenhouse No. 7, fondly known as the "glass house," is a shining example of Milwaukee innovation. The 15,000-square-foot structure, which is lined in picturesque windows, offers front row seats to every view you can imagine of Mitchell Park.
Imagine a ceremony in the center of soft garden lights, LED uplighting, an aisle runner, floral arrangements and seating. The surrounding life outside the Annex will make your guests feel like they are outdoors under the sun and stars without the stress of inclement weather.
Location: Milwaukee, Wisconsin
Capacity: 250-350
The Ivy House is an industrial wedding venue located in the Walker's Point neighborhood in downtown Milwaukee, and it speaks to any couple looking for a romantic, trendy, rustic stage for their big day. It has an indoor and outdoor space for every trendy couple looking to spend one of the best days of their lives with family and friends.
Though the interior allows for plenty of customization and creativity, details like its intricate layers of brick and wooden beans make it beautiful on its own. The outdoor space is expansive and surrounded by all the right details—immaculate landscaping, a large bar and outdoor fireplaces. Enjoy a night on the 5,000-square-foot patio for an intimate ceremony or relaxing cocktail hour. 
Location: Sun Prairie, Wisconsin
Capacity: Up to 300

This modern, sophisticated wedding and event space offers something for every romantic seeking a one-of-a-kind wedding and reception venue. Get ready for some gorgeous wedding photos. 
The Loft at 132 has been designed to bring big dreams and bold imaginations to life. Large or small, elegant or casual, indoor or outdoor, Loft at 132 has the ability to transform itself into the perfect space to accommodate your needs. It offers a variety of modern indoor and outdoor spaces including a second floor event space and rooftop garden. 
For your reception, enjoy a memorable sit-down feast amid the ballroom's elegant dark walnut floors, Cream City brick and flood of natural lighting. There is plenty of open floor room that can easily be converted to a dance floor where you and your loved ones can bust a move.
Black Swan MKE was built on a dream. After eight years of success in the suburbs, Black Swan closed its doors and reinvented itself as a brand new location in downtown Milwaukee. Because of continued growth, venue owners expanded it into three locations: Riverwalk, Plant N° 4 and Bianco Room.
Location: Milwaukee, Wisconsin
Capacity: 300 
Plant N° 4 pays true tribute to Milwaukee's industrial past. Those inspired by historic spaces find themselves marveling over Plant N° 4's merging of raw materials and metals, vintage and salvaged Midwest décor. If you and your partner are true Midwesterners looking to create an experience that blends new with old, this is your venue.
Location: Milwaukee, Wisconsin
Capacity: 150

Bianco overlooks the Lake Michigan waters, along with exquisite views of downtown Milwaukee. Bianco Room offers a lofty and monumental venue space perfect for smaller weddings and rehearsal dinners. The second your guests walk into the Cream City brick venue paired with elegant doorways and chandeliers, you'll feel like you're walking into a modern-day fairytale.
Location: Milwaukee, Wisconsin
Capacity: 400

Riverwalk, known in a former life as "Black Swan MKE" (and the name for the collection's first downtown Milwaukee venue), Riverwalk is the newly rebranded riverfront venue located on the Milwaukee River. Located in the historic Third Ward and alongside the critically acclaimed Third Ward Riverwalk, the Riverwalk venue is steps away from some of Milwaukee's most iconic establishments. If you're planning a destination wedding, that means tons of activities for you and your guests!
Location: Milwaukee, Wisconsin
Capacity: 200

Filament is a dream land for anyone looking for a modern-day industrial wedding venue in Milwaukee. Your guests will be entranced by the artistic blend of industrial features and greenery. Enjoy a meal surrounded by botanical walls and a multitude of custom Filament bulbs draping from the wood-beamed ceiling. Have a drink and take in the gorgeous historical Cream City brick, one of the main focal points, from the wide and welcoming bar.
Location: Milwaukee, Wisconsin
Capacity: 200
Lilac Acres has undergone many transformations, some as recently as 2015 when owners Sara and Adam decided they wanted a space for weddings. The family farm that has rested in this beautiful countryside in Waukesha, Wisconsin for over 100 years is still farmed today.
For your wedding ceremonies, the Lilac Acres offer a tranquil ceremony space, which is a renovated barn featuring a white-washed interior, rustic brick backsplash and custom-made pews and chairs. The venue also has a reception barn that is fully climate controlled and includes a food prep room, loading dock, patio and fully licensed bar. Guests will especially enjoy the horse pasture and pond, providing a picture-perfect setting for your photos. 
There is no shortage of new and reinvented wedding venues that have been loved in the right places and even renovated to reflect the past and present of Milwaukee. We understand just how difficult choosing a wedding venue can be, which is why we created our complimentary venue concierge and one of the best venue finders online. 
Planning a true Milwaukee wedding? Regardless of your style or unique vision, we'd love to help you get started.