Following a flawless rehearsal attended by ZHG professionals, Katy Stankevitz and Billy Chapin were confident that their September 30 wedding at Zilli Lake and Gardens would perfectly exemplify their stunning vision. And it did not disappoint—their 191 guests enjoyed a delightful celebration that elegantly reflected their unique tastes and unforgettable personalities.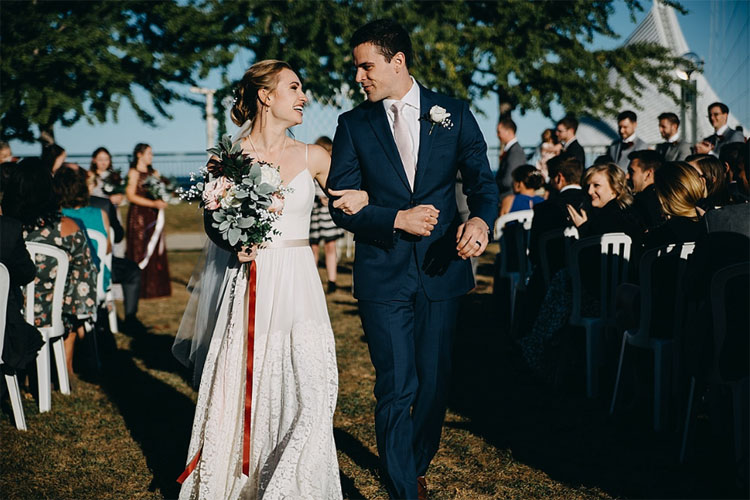 From a serene ceremony on-site to a late-night pizza station, check out how the Chapins' wedding cultivated a classy and fun experience for all their guests.
Beautiful Outdoor Ceremony Site
Katy and Billy loved the idea of holding their ceremony and reception at the same location—simplifying logistics for them and their guests. Zilli Lake and Gardens delivered all the assets they were looking for in a wedding space. From a well-stocked and spacious bridal suite to an enchanting outdoor area, the Chapins found everything to create an unparalleled event flow that let their personalities, joy and love come forward effortlessly.
The Chapins wanted to tie the knot among fresh scenery and captivating views, and the North Gardens provided just that. At 4pm, guests gathered to hear touching vows said under grand trees—a moment and sight none will forget.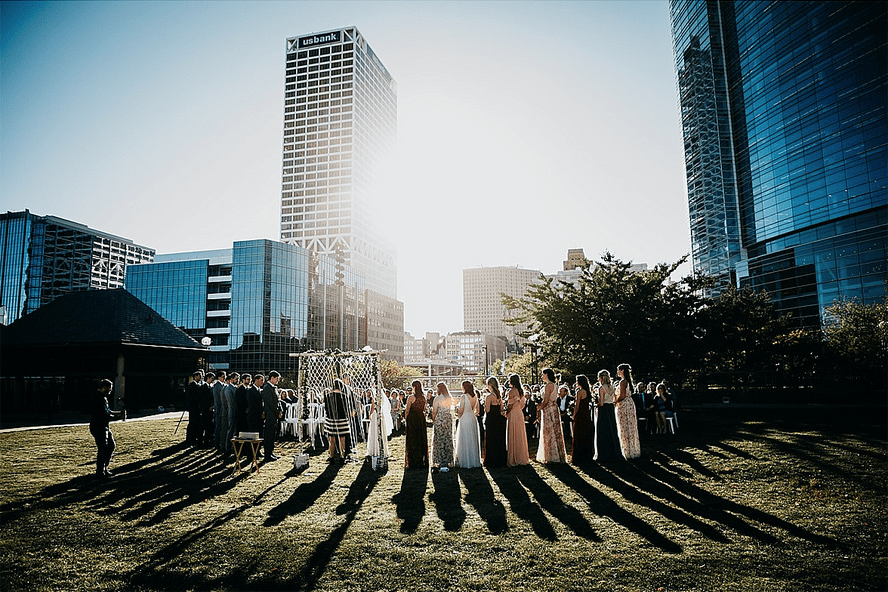 Personalized Cocktail Hour
With the expectation of sunny skies and fabulous views, Katy and Billy requested that their cocktail hour bar be set up outside in the patio area. And knowing that a fabulous array of drinks including their favorite beers like Spotted Cow and Laguinita's IPA would be available, they anxiously awaited the start of their completely custom cocktail hour.
Beer drinkers were incredibly content, but all guests were in high spirits when they enjoyed this delicious and innovative selection of tray passed hors d'oeuvres—no doubt creatively designed to pair nicely with their choice of drinks and call out the exemplary beers offered:
Tomato, basil and bocconcini skewer: Cherry tomato, bocconcini and fresh basil laced with a balsamic glaze served on a skewer.
Shot & brat: A brat slice topped with sauerkraut and placed on top of a beer-filled shot glass.
Buffalo chicken tartlet: A flaky phyllo shell tart filled with spicy chicken, blue cheese and scallions, garnished with a crisp celery slice and buffalo sauce.
Artichoke, Asiago, sun-dried tomato purse: Artichoke hearts, Asiago cheese, sun-dried tomato blended with cream cheese baked in a puff pastry.
Mac & cheese – lobster demi: Lobster and macaroni tossed with truffle oil & a blend of blue and smoked Gouda cheeses finished with toasted breadcrumbs. Served in a demi cup.
Custom Dinner Service
Foregoing a traditional cake cutting ceremony and opting for a beer upgrade rather than champagne toast, the Chapins sent their guests straight into a mouthwatering dinner that reflected their unique tastes. Boulanger rolls and a trio of seasonal butters along with wine bottle centerpieces filled with delicate florals placed upon ivory linens set the scene for a fresh and flavorful meal.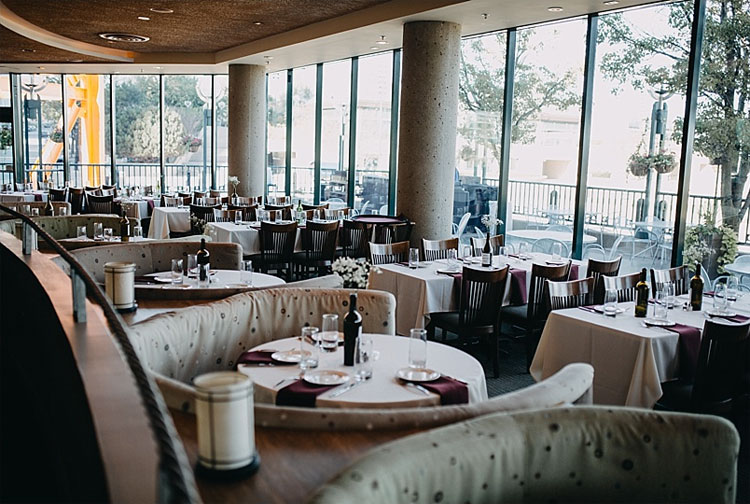 At 6:15pm, guests stepped up to a buffet filled with Katy and Billy's favorite dishes to enjoy with friends and family. By 6:45pm, guests' plates were filled with the following items:
Grilled chicken bruschetta: Grilled chicken breast topped with tomato bruschetta mix and drizzled with balsamic glaze.
Roasted butternut squash ravioli: Served with asparagus and fennel and brown butter sauce. Garnished with sun-dried tomatoes, feta and olive tapenade.
Tri-color sea salt roasted potato: Trio of roasted potatoes to include Purple Peruvian, Red and Yukon Gold. Roasted in seasonings, sea salt and butter.
Green beans with grape tomatoes and toasted onion: Whole green beans sautéed with grape tomatoes in garlic butter and topped with toasted onions.
Italian salad: Hearty romaine leaves tossed in traditional Caesar dressing and garnished with sliced black olives, roasted red pepper, shredded mozzarella cheese and seasoned croutons.
Panzanella salad: Rustic cut Roma tomatoes, cucumbers, peaches, basil, shredded parmesan cheese marinated in champagne vinaigrette, and tossed with crunchy croutons.
Thinking of everyone, the Chapins also requested gluten-free grilled chicken bruschetta and an onion-free meal to be prepared for guests with those dietary restrictions. And, of course, our chefs were pleased to make these arrangements.
Late-Night Fun
Following three speeches, guests were not surprised to find a dessert and coffee station. The cupcakes and donuts were a big hit, but at least as popular was the late-night station that we rolled out at 7:15pm. The pizza station featuring 9 different varieties and a gluten free veggie pizza was a huge hit that invited endless fun.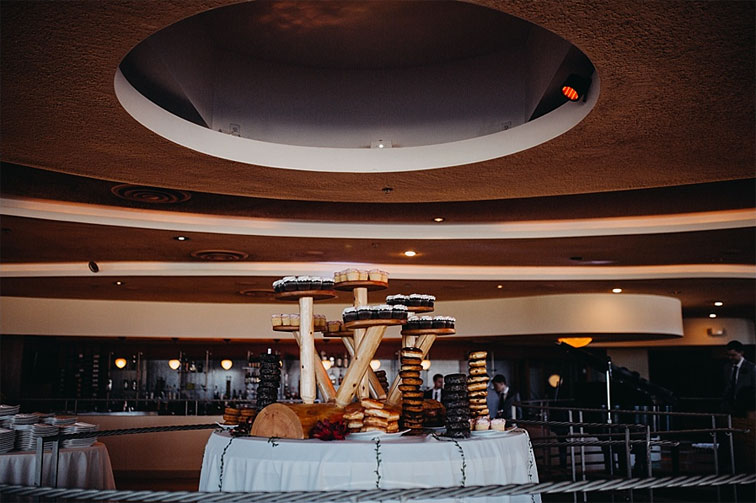 We are so glad Melissa Alderton Photography and Michael Gehrman Filmworks were on site to capture the memorable moments that came forth as guests experienced a menu and venue that perfectly fused Katy and Billy's personalities.
If you would like 50 years of experience to back your wedding dreams in any of the top Milwaukee wedding venues, then contact our creative and meticulous event planners online or give us a call at 262.547.9447.