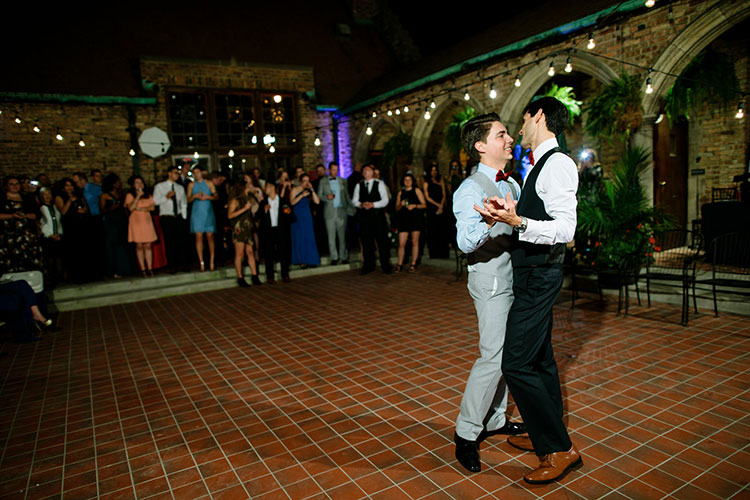 A Fun Wedding Theme Brought to Life in Memorable Ways
When Sergio Lopez and Alex Mueller shared their fun wedding vision centered on their love and fascination with Game of Thrones, we could not have been more excited. We love to design delicious custom menus that embody such creative wedding ideas. The end result—unforgettable memories and unrelenting joy—are our reward for overseeing every detail that goes into realizing unique wedding dreams.
Join us as we revisit this September 23, 2017 wedding that 107 guests will never forget. 
A Historic Milwaukee Wedding Venue
The gorgeous wood and stone interior, soaring ceilings and rustic décor of Best Place at the historic Pabst Brewery made it the perfect match to Alex and Sergio's Game of Thrones theme. Among the historic charm that fills this unique Milwaukee venue, their creative wedding dreams came to life effortlessly in Blue Ribbon Hall and the outdoor courtyard. Little decoration was needed of the outdoor courtyard or interior rooms to take guests back to medieval times.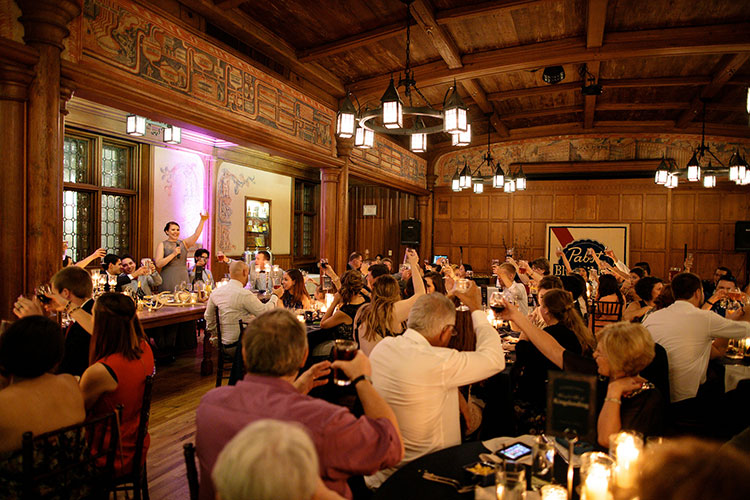 A Seamless Relationship and Celebration
From their first look through their wedding celebration, Alex and Sergio's bond and love was evident. Holding their ceremony and reception at the same venue helped ensure that their wedding would be just as flawless. With no need to transport guests between locations, the party never stopped. Guests enjoyed the same dramatic medieval atmosphere under the sunset light and night sky. This easy transition between events allowed every moment from the 5:30pm ceremony to the 11pm departure to be a beautiful continuation of guests' radiant experiences.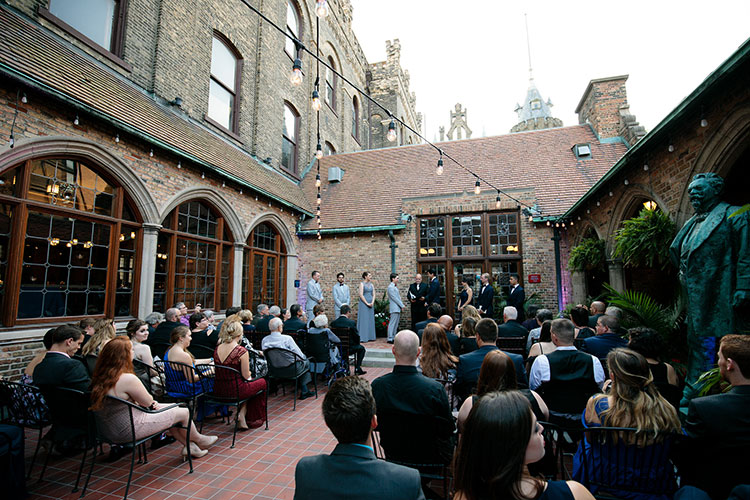 Fun Passed Hors D'oeuvres
Following the touching ceremony in the courtyard, it was time to get the party started with some fun appetizers. With the bars open, guests were eager to accept our offer of delicious passed hors d'oeuvres. Designed with a Game of Thrones theme and big appetites in mind, these artistic small bites gave guests a sample of the series' stories as well as Alex and Sergio's fun taste:
Bruschetta: Mini parmesan croustades topped with a tomato, mozzarella, fresh basil and olive oil.
Market pita: Roasted red pepper hummus mixed with feta cheese atop a crisp pita chip.
Bacon wrapped chicken with princess glaze: Seared chicken breast seasoned with garlic, thyme and pepper wrapped in bacon, served with a cranberry-scented princess glaze.
Reuben tartlet: Slow-cooked corned beef, sauerkraut, cream cheese and aged Swiss cheese piped into a tart shell and baked. Topped with Thousand Island dressing.
Shot and brat: A brat slice topped with sauerkraut and placed on top of a beer-filled shot glass.
Memorable and Interactive Food Stations
At 7pm, guests took a seat to turn their attention to the bridal party introductions, cake cutting ceremony, toasts and prayer. At 7:45pm, it was time for our friendly staff to direct guests to the interactive food stations. With the energy and excitement escalating all night, they were eager to see what we had in store for dinner service. And we were anxious to engage them with these hearty main courses filled with culture, flavor and our chef's flare:
Wisconsin fish fry: Baked and breaded cod with coleslaw, potato pancakes, applesauce and tartar sauce with lemons.
Pasta: Cheese tortellini with sun-dried tomato cream sauce, cavatappi with marinara sauce, and penne pasta paired with alfredo sauce. Served with a fresh Caesar salad and Italian bread with herb butter.
Puerto Rican oven roasted pork with roasted pork loin: Slow roasted pork loin with jerk spices; served with sauce of your choice and Puerto Rican rice with pigeon peas.
Paella with shrimp, chorizo and chicken: Fresh shrimp, crawfish, Andouille sausage, onion, green pepper, smoked ham, tomato, chicken stock and heavy seasonings.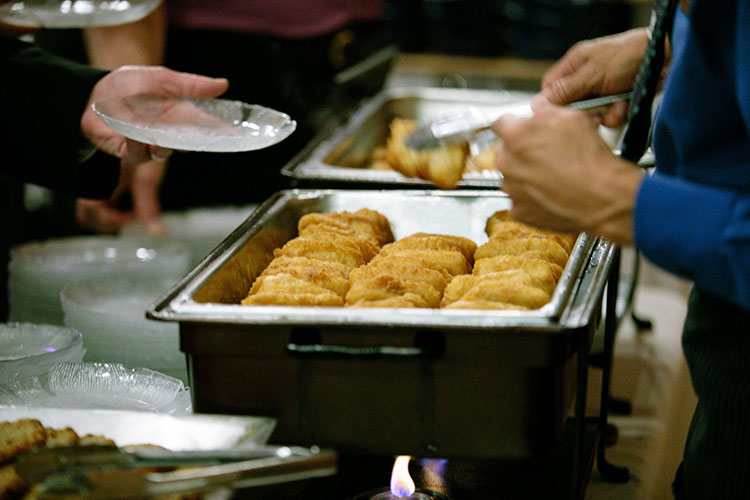 Late-Night Sweets Kept Energy High
By 8:30pm, we had cut and meticulous displayed the ornate blue wedding cake by Eat Cake at a dessert station. After guests enjoyed this tasty treat with their choice of regular Columbian supreme, Kahlua and vanilla almond coffee, they were ready to head to the outdoor courtyard dance floor. Thanks to stellar entertainment, the energy remained high all night. Well, we should also give some credit to the late-night station that opened at 10pm. Popcorn and candy definitely helped keep the sugar levels and dance floor topped off.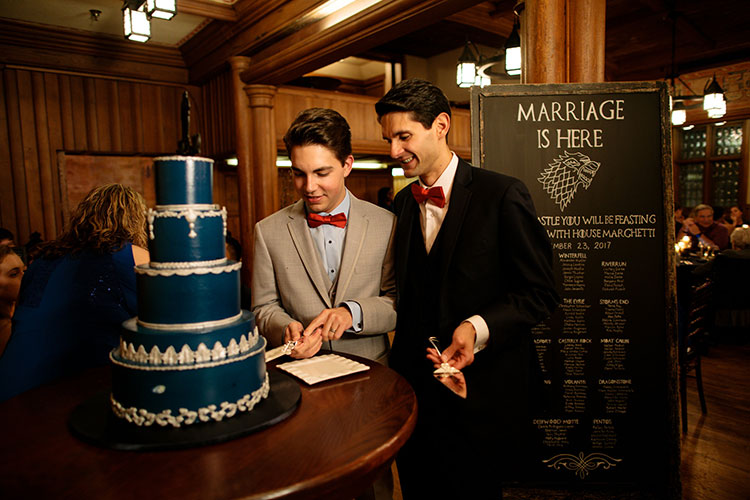 We would like to extend a huge thank you to Andrew Feller from 414 Photography for capturing the joyous moments shared at Alex and Sergio's wedding. It was an honor to help them experience their wedding dreams.
If you would like our professionals backed by five decades of experience providing award-winning service to support your distinct wedding vision, contact our experts online or on Facetime, or give us a call at 262.547.9447.
Need Help Finding the Perfect Venue?
Feeling overwhelmed by the number of incredible Milwaukee venues to choose from? No worries! Our venue page is here to help!