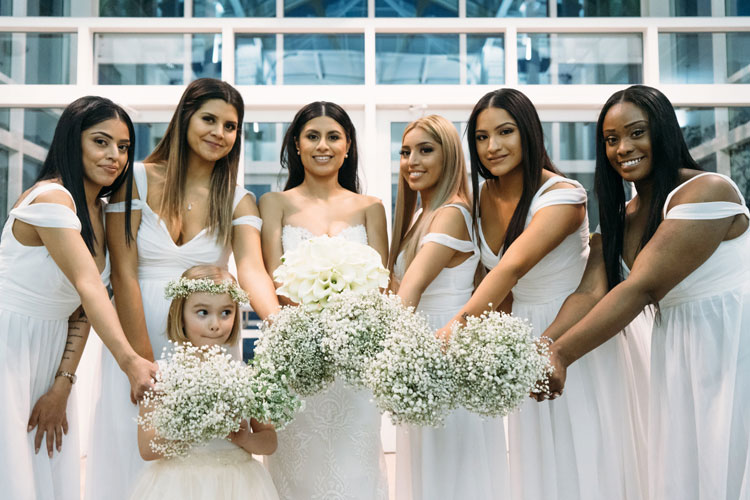 Congratulations on your engagement! Though it's an exciting time, deep down you might be feeling a little nervous about the price tag that comes along with a wedding. It's important to remind yourself that you don't have to begin a marriage in debt in order to plan the wedding you've always envisioned.
There are so many ways to get creative and save, so you can spend a little extra on what's most important to you and your fiancé when crafting a day that you'll always remember. Many couples have found ways to have a dream wedding that doesn't break the bank. Here are two different couples who accomplished their wedding goals with the budget they set for themselves:
Melanie and David
Melanie and David came to us with their dream venue in mind, unsure of how they were going to swing the cost for the dreamy winery they loved without going completely over budget. In the end, they were able to afford the winery by choosing an all-inclusive catering package that fit into their budget.
They also based their guest list on what they knew they could afford at that price point—a challenge that many couples in the planning stages face. They also decided to have their wedding on a Friday night in March, just before peak season. This major discount afforded them stunning rentals with gold and blush accents. And it allowed them to feature their favorite local wine, which their guests heartily enjoyed.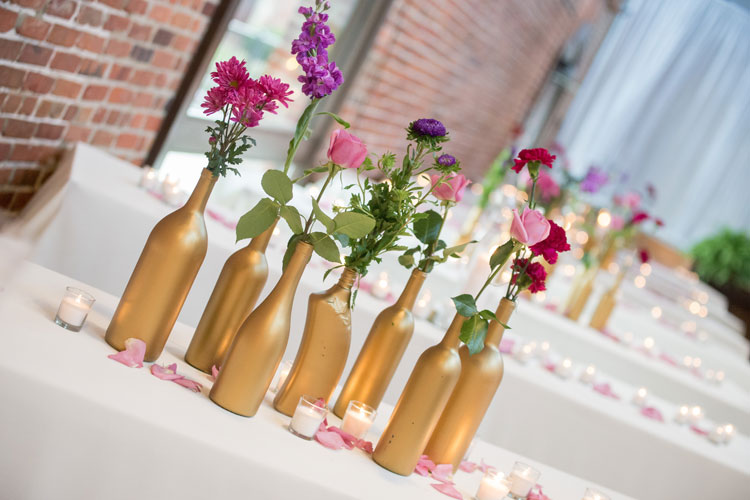 In addition to working out the perfect catering package, they made many of their own DIY touches. Melanie researched how to customize wine bottles for the reception and etched the table numbers into the bottles, placing them in wooden boxes surrounded by lush florals. The cherry on top was the strand of twinkling lights she placed in each bottle.
Everything came together so beautifully, and they'll always remember their gorgeous wedding day as one of the best days of their lives.
Save: Décor, list and time of year
Splurge: Venue and rentals
Billy and John
Billy and John are one of the trendiest couples we've had to date, and their nuptials were no exception. With a small budget and long list of friends and must-have guests, they passed on their dream black-tie venue and decided to host an epic brunch wedding at a brewery in downtown Milwaukee, which everyone adored. Milwaukee is where Billy and John first met.
Billy and John used our complimentary venue concierge program that matches venues to couples' needs and budgets. The team helped the couple transform the venue into a lush oasis. In-house floral provider Adorn arranged an extravagant setting that begged to be photographed. Guests were welcomed with a living greenery wall featuring the couple's names in lights, lush centerpieces and table setting adorned in gold. A guest favorite was the personalized donut. Billy and John's wedding hashtag was written in the frosting.
The couple requested a gorgeous brunch buffet and mimosas with colorful paper straws and fruit garnishes. Skipping the hors d'oeuvres and multiple courses helped them save so they could create the most gorgeous, Instagrammable setting that no one will ever forget.
Did we mention they sent all their invites online? Genius!
Save: Invitations and hors d'oeuvres
Splurge: Décor and guest list
These are just a few of the creative ways that you and your sweetheart can plan a day you'll never forget with no regrets! Our catering and event planning team has over 50 years of experience in helping couples plan the budget wedding of their dreams. We'd love to hear more about where you'd like to save and splurge when it comes to your important day and can offer tips where it counts. Connect with us!
Need Help Finding the Perfect Venue?
Feeling overwhelmed by the number of incredible Milwaukee venues to choose from? No worries! Our complimentary wedding venue concierge pairs you with a Zilli wedding professional, who will give you an in-person tour of every venue that matches your specific vision.
More articles you might enjoy: