On a stunning Fall day in September of last year, Leah and Jake took over the Milwaukee County Zoo for a wild safari-themed wedding to celebrate their love with family and friends.
A beautiful outdoor ceremony
230 guests joined the couple for a gorgeous outdoor ceremony at the zoo's Oak Grove Picnic Area. The wooded area provided a stunning backdrop for their vows and first moments as husband and wife, especially for a pair who loves the outdoors as much as they do!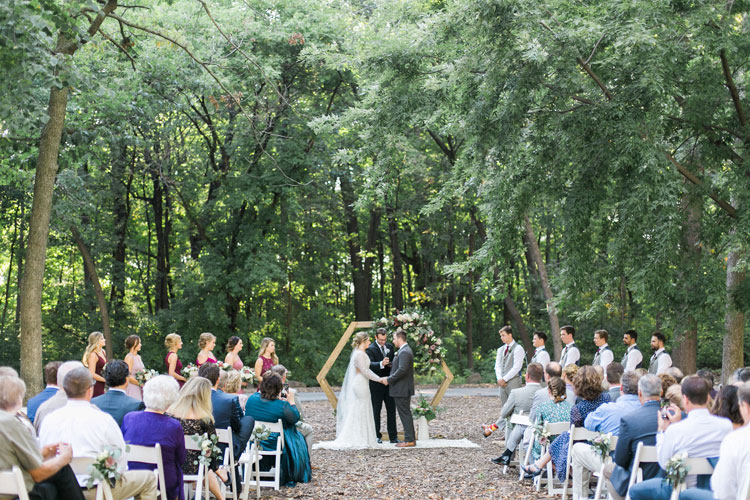 A zoo-tastic cocktail hour
After the ceremony, guests headed to the zoo's Peck Welcome Center for the cocktail hour. The space has floor-to-ceiling windows with plenty of natural light and opportunities to celebrate under the stars when the sun goes down.
Tray passed hors d'oeuvres included:
Grapes With a Twist: Sweet, crisp red grapes rolled in cream cheese with a hint of vanilla and coated with finely crushed toasted almonds.
Tomato, Mozzarella and Basil Pipettes: Grape tomato, bocconcini and fresh basil served on a balsamic filled pipette.
Prosciutto Wrapped Peppadew: Prosciutto wrapped Peppadew pepper stuffed with goat cheese, fresh thyme and lemon zest.
Braised Beef Short Rib Mini Tostada: Slow braised beef short ribs, house-made pico de gallo and queso fresco.
Bacon Wrapped Chicken with Strawberry Merlot Glaze: Seared chicken breast seasoned with garlic, thyme and pepper wrapped in bacon, served with a strawberry and merlot reduction.
Guests loved the quick bites as they mingled, caught up with those they hadn't seen in a while and met new family and friends.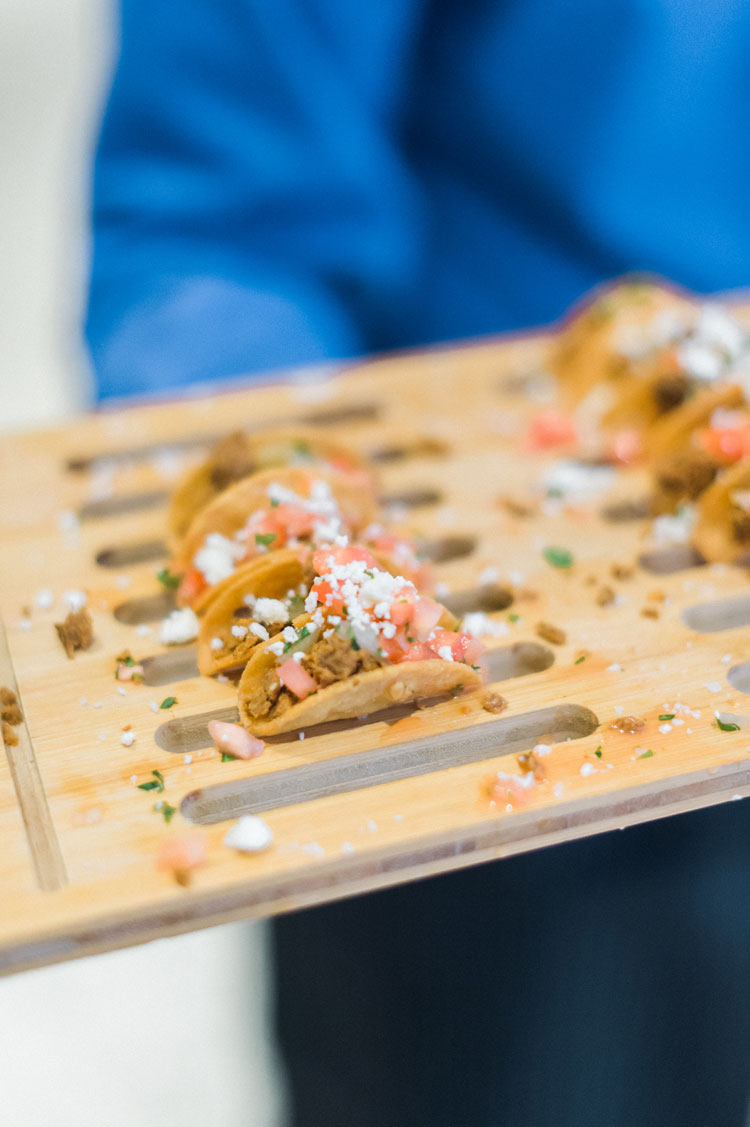 Personalized reception meets epic journey
Guests made their way to their seats, where every table featured a different animal on a place card, indicating their table. The reception space was peppered with khaki and ivory accents, and the head table boasted ornate elephant plates. The floral centerpieces, arranged by florist Leah Albers, showcased two white roses in a woven grass vase.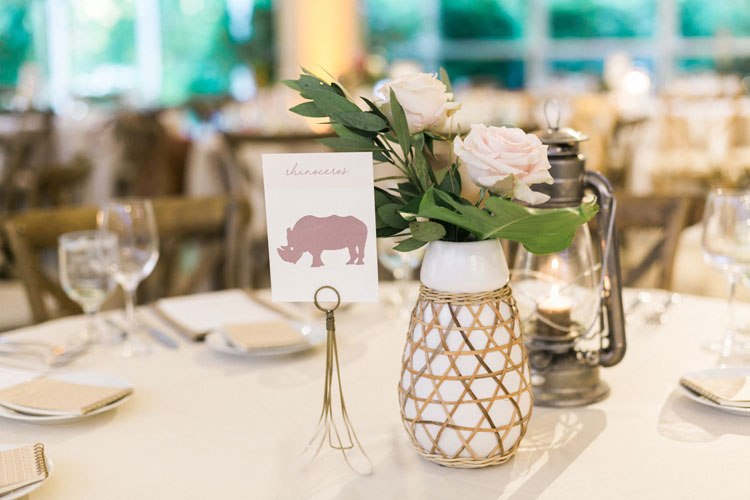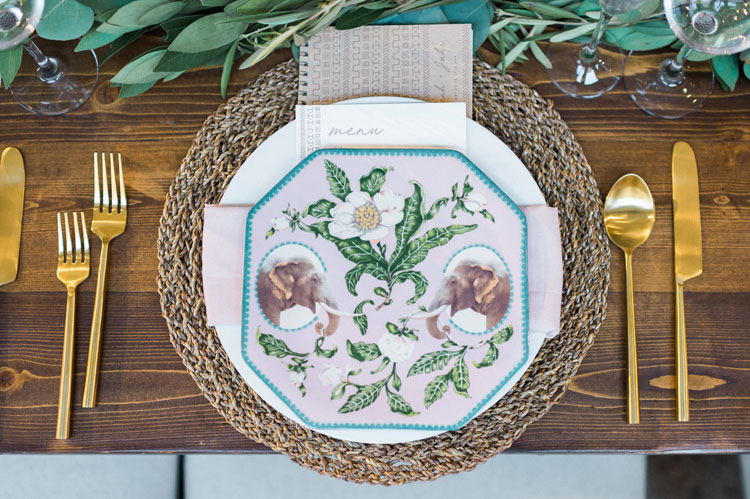 After Leah and Jake were done taking wedding photos around the zoo, the reception began with introductions of their bridal party and family, followed by a prayer to start the meal.
Dinner was then served for all to enjoy! Fall-inspired menu items included:
Simple Greens Salad: Mesclun mix with baby romaine, feta cheese and cranberry raisins. Tossed with a cranberry vinaigrette and topped with sweet potato hay.
Tenderloin Filet Mignon With Red Wine Demi: Grilled and laced with succulent red wine demi glace seasoned with thyme and garlic.
Grilled Chicken Breast With Five Spice Apple Fennel Demi: A boneless, skinless breast of chicken grilled and laced with apple cider and chicken stock base with apples, fennel, leeks and onion.
Pommes Royale: Fresh whipped potatoes seasoned with horseradish, heavy cream and cheddar cheese. Piped out into a swirl then baked to a golden brown.
Rustic Green Beans: Whole green beans with fresh minced garlic and shaved parmesan.
Vegetarian guests enjoyed portabella stuffed bruschetta topped with balsamic glaze accompanied by a baked potato with butter and sour cream on the side.
Dancing and dessert
After everyone was done enjoying their meal, they hit the dance floor and broke it down to tunes by the incredibly talented Bluewater Kings Band.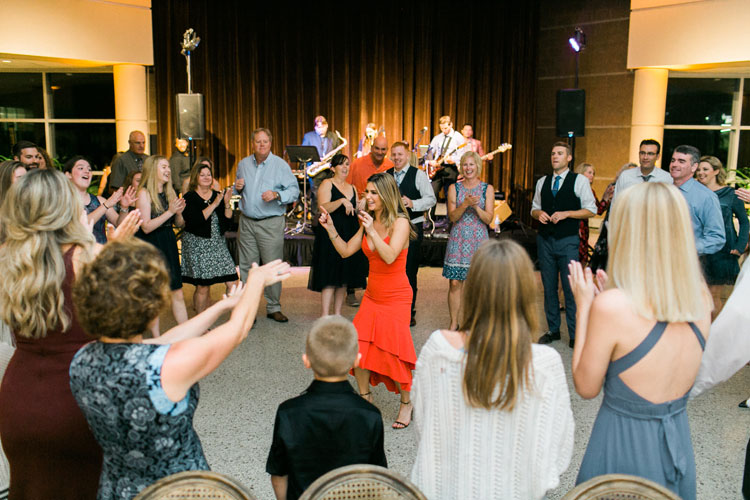 Guests took a break to watch the beloved cutting of the cake, provided by Mia Stav Cakes. Leah and Jake also offered additional dessert options for their guests, including:
Purple Door Mini Ice Cream Cones: Filled with salted caramel, raspberry chocolate chip and peanut butter banana Purple Door ice cream.
Strawberry Infusion Station: Driscoll strawberries infused with a choice of Amaretto and Irish Creme, dipped in semi-sweet dark chocolate (non-alcohol alternatives available) and assorted desserts.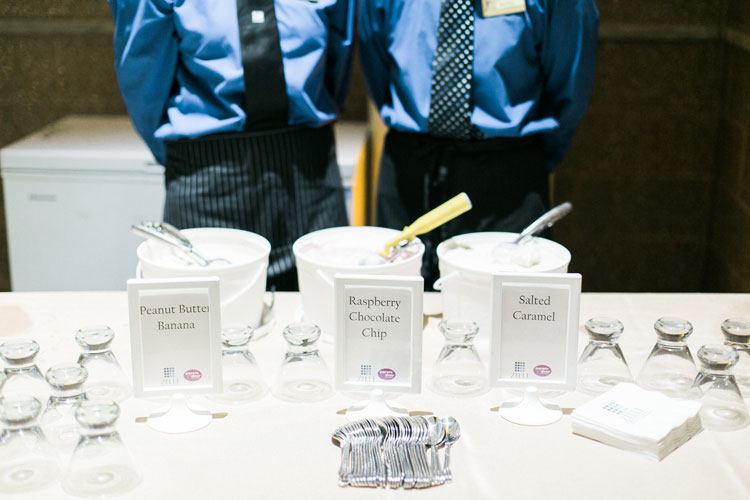 Late-night delights
Of course, after hitting up the dance floor for a few more hours and having a couple tasty cocktails from the bar, guests worked up an appetite. Leah and Jake anticipated that may happen and planned to surprise them with an epic taco bar to close the evening.
Build Your Own Taco Bar: Hard and soft shell tacos filled with seasoned ground beef and shredded lettuce with toppings: black olives, diced tomatoes, onion, salsa, shredded Wisconsin cheeses, sour cream and jalapeno peppers. Tortilla chips with salsa and guacamole on the side. Served with refried beans and Spanish rice on the side.
Guests left full of great food and joy from celebrating the happy couple. Congratulations to Leah and Jake! If you want help planning and executing your dream wedding like Leah and Jake's fantastic safari-themed bash, contact us online or give us a call at 262.547.9447.