Julie Prislipsky and Ally Blonien came to us with a wedding vision filled with love, joy and special moments shared with family and friends. And we knew our Milwaukee catering company with meticulous wedding planners and innovative chefs could bring their wedding dream to life!
Confident that nearly five decades of experience would allow us to surpass expectations on the couple's big day, we couldn't have been more excited to welcome Julie and Ally's 127 guests on Saturday, August 6.
Walk Through a Milwaukee Wedding Filled with Joy
Step into a Welcoming Wedding Venue
The warm ambiance of the Best Place at the Historic Pabst Brewery – Blue Ribbon Hall made it the perfect choice for Prislipsky and Blonien's Milwaukee wedding. Dating back to 1858, Blue Ribbon Hall is filled with an old-world charm that transports guests to a simpler time. Lantern-style chandeliers, glistening wood floors, intricate windows and restored murals invite guests to relax and enjoy the family and friendships that surround them.
The historic charm and beautiful rustic décor of this incredible Milwaukee wedding venue means it requires little additional decorating. Adorn added just the right amount of floral touches to bring out the beauty of the space and love in the air—helping guests relax and really take in the full experience.
Socialize Over Fine Tray Passed Hors D'oeuvres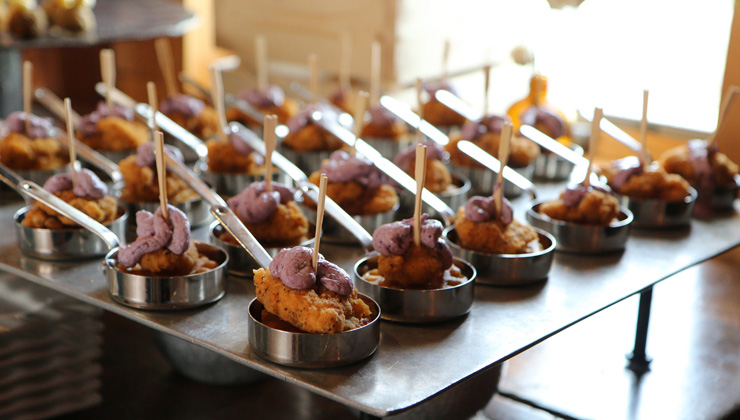 Following the 5:30pm ceremony on-site, guests spent an hour mixing and mingling while enjoying a delicious array of tray passed hors d'oeuvres. The couple of honor selected small bites that featured the highest-quality ingredients with an artistic flare. They wanted a bit of their personality to come through, and it most certainly did in this collection of creative passed hors d'oeuvres:
Tomato, bocconcini and basil skewer: Cherry tomato, bocconcini and fresh basil laced with a balsamic glaze served on a skewer
Tenderloin forks with roasted tomato and horseradish: Tenderloin with roasted tomatoes, crisp onions and horseradish cream
Shot & brat: A brat slice topped with sauerkraut and placed on top of a beer-filled shot glass
Bacon wrapped chicken with strawberry merlot glaze: Seared Chicken Breast seasoned with garlic, thyme and pepper wrapped in Bacon, served with a Cranberry scented Princess Glaze
Asiago and sun-dried tomato purse: hearts, Asiago cheese and sun-dried tomato blended with cream cheese baked in a puff pastry
Take a Seat and Savor the Moments
Prislipsky and Blonien put their personal touch on every part of their wedding, and the place settings were no exception. The best Milwaukee wedding catering companies love to integrate any ideas couples bring, so of course with great pride we placed their wonderful centerpieces and table numbers on the tables. We also set out individual linen-lined baskets filled with fresh-baked rolls as well as a trio of butters. What a warm and welcoming experience guests felt as they sat down to their dinner table at 7:00pm.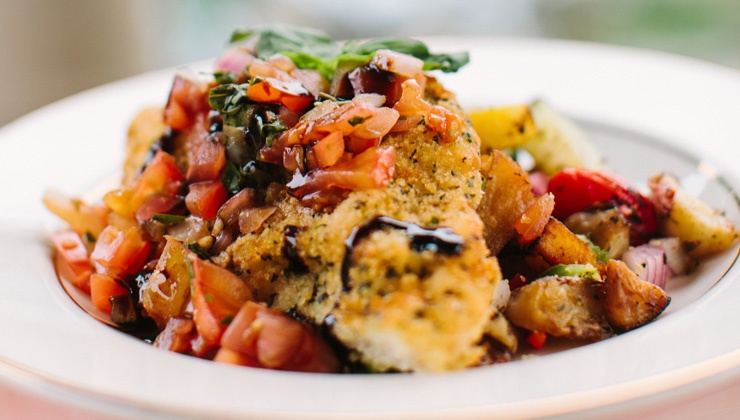 At 7:15pm, introductions began, followed by the cake cutting ceremony and prayer. Just looking at the Aggie's wedding cake must have had mouths watering—no wonder guests could not wait for their turn at the buffet! After the head table and parents' table were dismissed, our professional staff directed guests to this custom-designed wedding buffet:
Salmon: With blood orange balsamic glaze
Chicken bruschetta: Parmesan crusted chicken drizzled with balsamic vinaigrette and finished with a bruschetta topping
Pommes royale: Fresh whipped potatoes seasoned with horseradish, heavy cream and cheddar cheese. Piped out into a swirl then baked to a golden brown
North shore vegetables: Medley of fresh asparagus, squash, carrots and green beans lightly seasoned with herb butter
Simple greens salad: Mesclun mix with baby romaine, feta cheese and Craisins. Tossed with a cranberry vinaigrette
Fresh fruit: Seasonal cut fresh fruit such as watermelon, cantaloupe, honeydew and pineapple garnished with grapes and strawberries
Being among the Milwaukee catering companies known for a meticulous attention to detail, it's no surprise that we also had cucumber slices for water glasses. Although we noted that the bride did not want this special touch in her glass! Guests really enjoyed this refreshment while listening to speeches and toasts during dinner.
Enjoy Decadent Desserts
At 8:30pm, many guests were ready to enjoy a sweet treat and hot beverage. And while some people preferred their French roast coffee simple and traditional, everyone was up for an innovative dessert. So we set out demi spoons for guests to indulge in these creative miniature desserts:
S'mores cupcakes
Creme brulee
Raspberry cheesecake shooter
Chocolate mousse votives
Have Fun with Photos and Food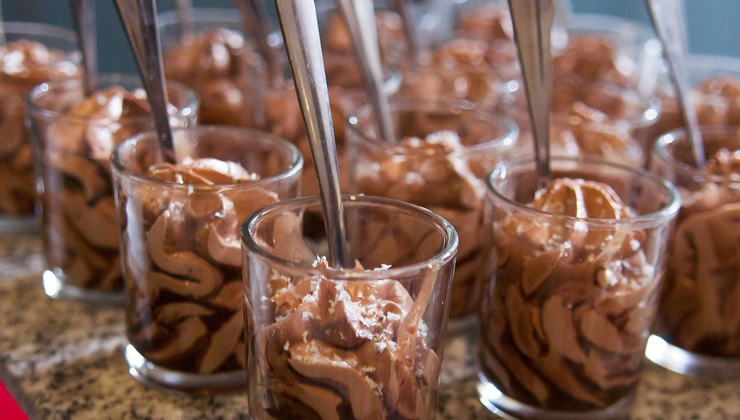 While the DJs kept the energy up and the atmosphere lively, Vital Image made sure guests had a great time with wedding entertainment that included a fun photo booth. And we had our part in keeping the party going too! When customizing their wedding menu, Prislipsky and Blonien decided to add in a late-night station so guests would be anything but hungry by the midnight closing.
At 10:30pm, we opened a micro burger station with 100% Black Angus burgers, guacamole, pickle chips, roma tomato slices, cheese, ketchup and mustard on dollar rolls. And, of course, we couldn't forget the house-made kettle chips that completed the package!
Our talented and experienced Milwaukee catering team would love to make your wedding dreams come true—just like we did for Prislipsky and Blonien! Find our creative and meticulous event planners online or give us a call at 262-547-9447.
More Articles You Might Like: