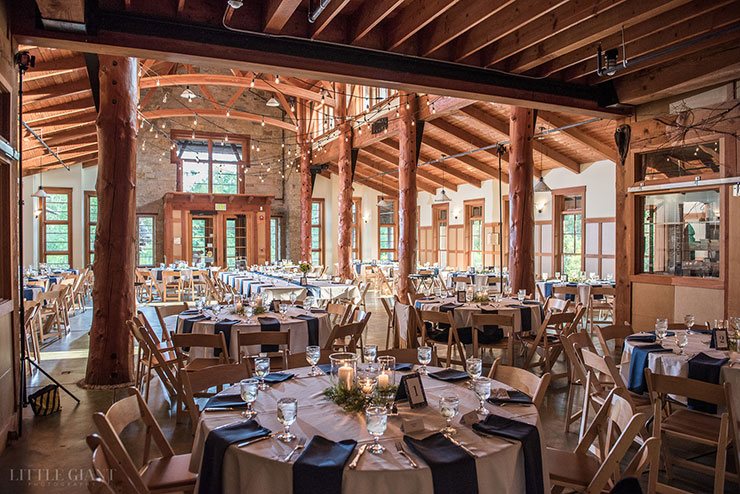 Congratulations on your engagement—we are thrilled to see you are eager to get on with the very exciting wedding planning process. Rest assured that with more than 50 years of experience guiding you through every step, it will be a completely joyous and stress-free journey. We always tell couples to first take a deep breath and let out a sigh of relief, because now is the time to let your wedding dreams flourish without a worry.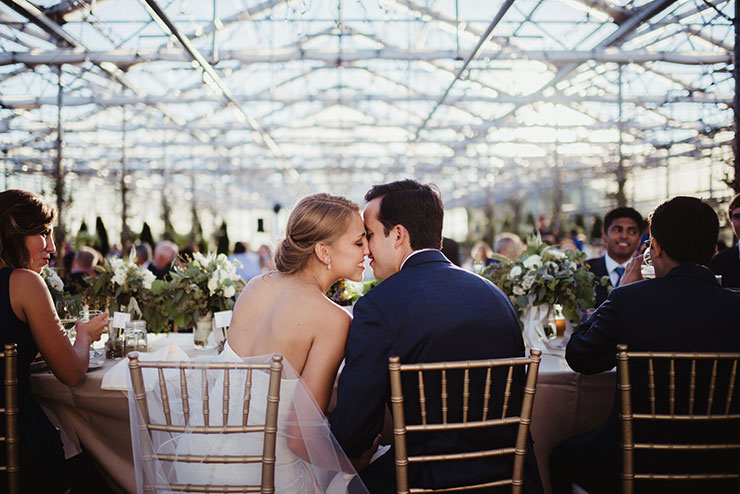 Because couples often express similar inquiries when they go down their wedding planning checklist, we can offer some immediate information to help you understand what to expect as your wedding vision comes to fruition.
Choosing Among Top Milwaukee Wedding Venues
Couples who find our Milwaukee venue finder often fall in love with numerous wedding spaces. They can see their vision come to life in the gardens, barns and mansions. They begin to wonder—how they will make the critical decision of where to host their ceremony and reception? Other couples find their dream wedding venue right away. They know it is the one in which they can realize their wedding dreams. But the specs of it don't quite match up with their plans. They begin to wonder if it is a realistic option.
Our meticulous wedding planners know the ins and outs of all the finest Milwaukee wedding venues and will help you customize the right one to match your wedding theme. Once they've helped you choose the right place, they will get to work right away designing floor charts that help you picture your day in it. They have even planned a whole safari-themed wedding for a couple during their tour of Boerner Botanical Gardens—now that was fun!

Designing Your Custom Wedding Menu
Together with our talented team, couples create custom menus that exemplify their tastes and styles. We encourage you to share your wedding budget at the very start of the wedding planning process. As soon as we know it, we can best assist you in choosing the style of food service that will give your guests the experience you imagine within your price range. Our professionals keep this in mind when presenting you with menu items to choose from, so you will not have to question whether your wedding menu fits into your budget. For example, Caitlin Van Lith let us know that she wanted her 140 guests to enjoy scrumptious food but she was on a tight budget. Not a problem for us—we set up an incredible buffet that matched her needs and later rolled out a fun late-night snack station to keep guests' energy high. On the other hand, Briana Placek wanted something elegant but stress-free, so we went with a tenderloin and salmon duet plate.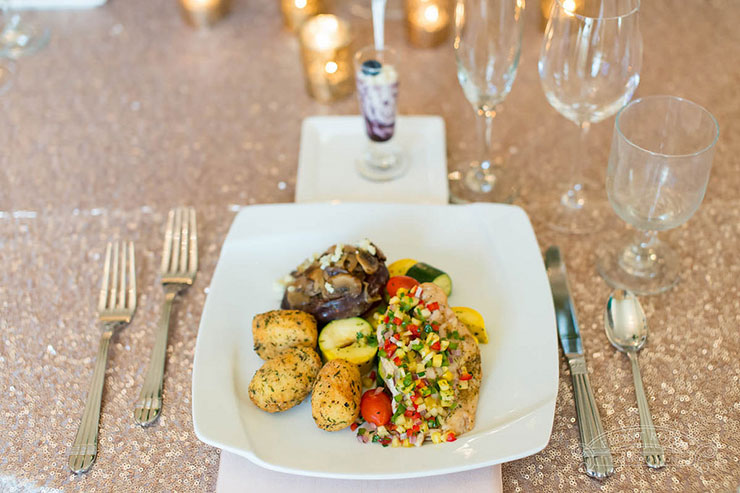 When it is time for their personal tasting, couples often begin to worry that their preferences and coinciding food choices may not align with those of their guests'. What if their favorite dishes don't resonate with others? To give you peace of mind, we invite you to bring up to four guests to your private tasting, compliments from us. After that, it is a mere $25 per guest, so feel free to bring in as many friends and family members as it takes to give you full confidence in your fresh custom wedding menu.
Personalizing Your Wedding Décor
Once you've chosen your wedding venue and designed a custom menu you love, small personal touches may begin to come to mind. As you add these into your wedding plans, slowly but surely transforming your wedding space, you may get nervous about whether it will all come together seamlessly. Will every detail flow together and complement each other to give guests a complete experience they never forget? Because we have an in-house floral division with expert designers, you do not have to worry about everything from table displays to bouquets matching and augmenting your wedding theme. Simply express your wedding vision and let our design team suggest creative ways to bring it to life.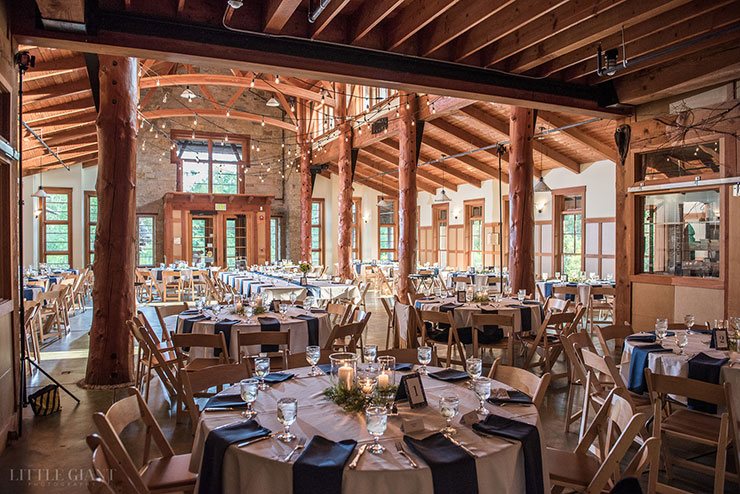 Showcasing and Honoring Your History
From Indian to Kosher menus, we are able to incorporate every cuisine and culture into your custom menu. We love to help couples share their history at their weddings by honoring their traditions and food. Because you have an experienced team facilitating all your wedding plans, you can rest assured that they will go off without a glitch—ensuring your story comes through exactly as it should. And remember to think outside the box when it comes to sharing your past and future with guests. For example, if you went to a ballgame and shared a pretzel, why not set up a late-night pretzels station? Guests will appreciate you openly sharing your journey together.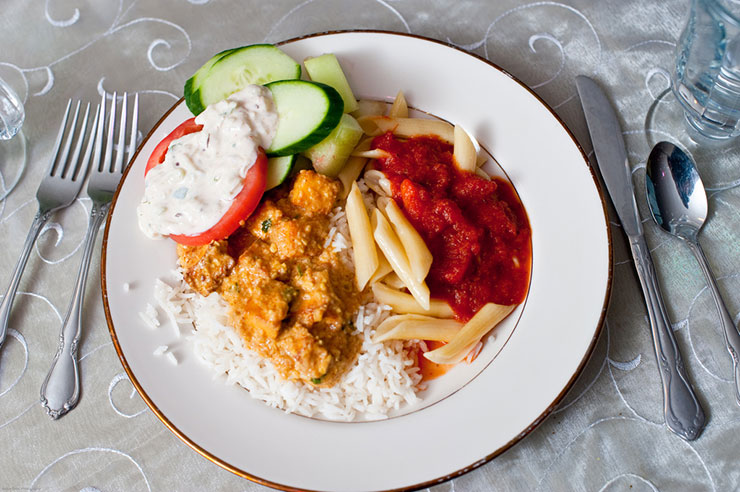 Taking Confidence in Your Wedding Plans
Ideally when your wedding day arrives, you will have had our experienced team by your side for 1.5 years and have full trust in it to deliver on all your wishes. But we also encourage you to listen to other couples who placed their wedding dreams in our hands. You'll hear from clients who have had all their guests, even event planners, voice compliments. You can also check out the real Milwaukee weddings and countless awards that fill our rich history.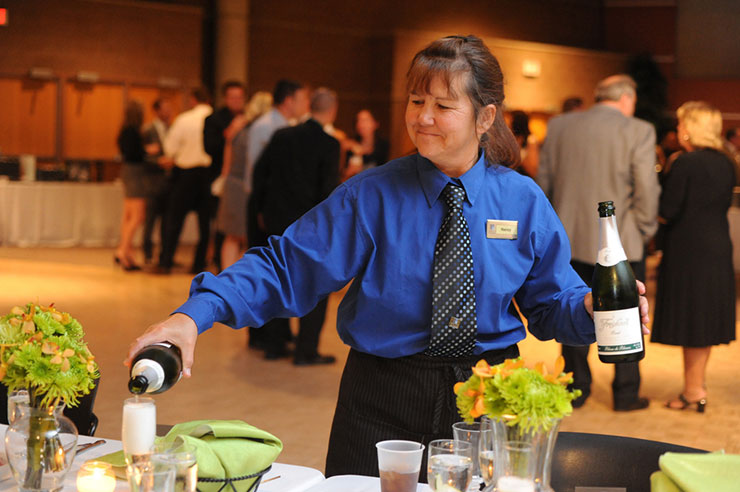 It is never too early or too late to bring experience, expertise and unrelenting support to your wedding planning process. Wherever you are in extrapolating your wedding dreams, now is the time to contact our creative and meticulous event planners online or give us a call at 262.547.9447.
Need Help Finding the Perfect Venue?
Feeling overwhelmed by the number of incredible Milwaukee venues to choose from? No worries! Our Milwaukee venue finder is here to help!