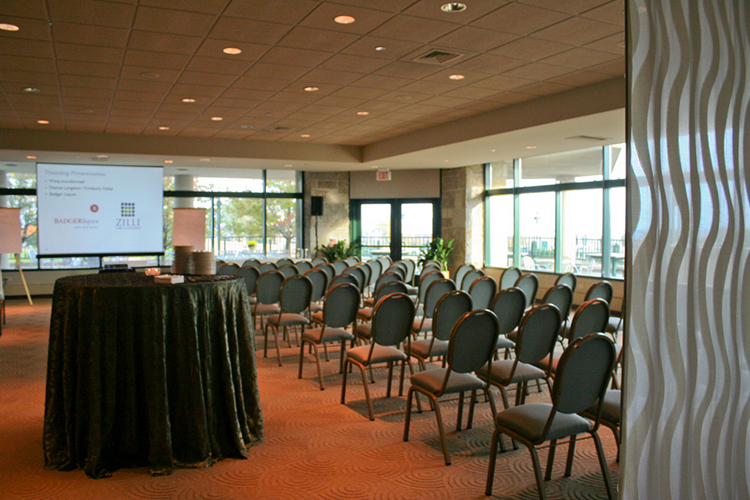 Milwaukee is one of those cities that truly embraces its locality. It's bursting at the seams from the sheer amount of vibrant restaurants, culturally diverse businesses and one-of-a-kind celebrations. Though this is a good thing, it can make finding a venue slightly overwhelming. It's not that there aren't enough venues to host a corporate event in this Midwest melting pot, it's that there are so many excellent ones to consider.
Luckily, an experienced event planner and avid Milwaukeean can walk you through some of the city's best spots to experience with your team or corporate guests. The type of event, room size and style, parking accommodations and price—these are all important factors we take into account in choosing the right venue for you. In this post, we offer seven different venues to consider for your next corporate event.
Miller Room
Reason #1: Location, location, location
The number one reason to host a corporate event at Miller Room is—you guessed it—the location. Business professionals depend on the convenience of this venue since it's in the bustling center of Milwaukee, just a short walk away from other downtown businesses.
Though the location is important, it's the inside of the Miller Room that counts, too. Floor-to-ceiling windows offer astounding views of the lakefront during any season. If you're going to be in a room filled with up to 250 of your esteemed colleagues all day, why not discuss important matters in a room built to inspire?
The outside terrace is perfect for breathers and breakout sessions, while the main room is ideal for meetings, conferences, luncheons and dinners. The Miller Room is also equipped with a modern sound system, multi-level lighting, a lectern and blackout capabilities.
Last but certainly not least—the parking is unbeatable. It's covered, and guests would never need to step foot into the possible inclement weather.
Explore Miller Room
Coast
Reason #1: Meetings on the lake
This venue is a tribute to Milwaukee's incredible lakefront, carefully crafted to make guests feel like they're not getting a good view—they're a part of it. People remember a good presentation, especially if the best of Milwaukee is in the backdrop. Provide your guests with a place where they can expand their minds.
Professionals also appreciate Coast for its breakout spaces for entertaining multi-faceted functions. These breakout areas accommodate small and/or large groups by separating each room into multiple spaces, OR by utilizing both rooms together!
Invite up to 400 guests for this coastal business experience and enjoy modern amenities like multi-level lighting, in-room music capabilities and Wi-Fi.
Explore Coast
BONUS REASON: Miller Room and Coast on-site catering kitchen
We would be remiss if we didn't mention Coast's and Miller Room's outstanding on-site culinary team, which provides fresh and unique catering options for all types of business events—breakfasts, luncheons, happy hours, casual dinners, formal dinners and all-day meetings. Hot food and cold food, made from scratch and delivered right to your guests.
North & South Gardens
Reason #1: Blank page spaces
Zilli's North & South Gardens offers multifaceted outdoor spaces where your corporate guests can really spread out and mingle. The North Gardens features a lush, green field with ample room for tables. The South Gardens boasts a common walkway with stage lights—perfect for any nighttime entertainment. Together the gardens serve as the ultimate canvas. Fill it with outdoor furniture, tents, tables and more.
Just like Miller and Coast, the North & South Gardens offers incredible views of Milwaukee, convenient parking and on-site catering.
Explore North & South Gardens
Boerner Botanical Garden
Reason #1: State-of-the-art meeting rooms
Professionals choose BBG for its phenomenal technology. Not only does it offer theater-style seating, but guests will also be impressed with every room's audiovisual capabilities, which include a 16-foot screen for presentations. Guests can move freely from room to room. Enjoy a cocktail in the garden room followed by dinner and a big company announcement in the ballroom.
Other important reasons to consider hosting your event at BBG include the stellar bar service, free on-site parking, outdoor spaces perfect for breaks or team-building exercises and its phenomenal in-house floral division.
Explore Boerner
Mitchell Park Domes
Reason #1: Surrounded by green
This architecturally stunning space will make you feel like you're in an outdoor meeting. It was designed with the sun in mind, with windows that allow streams of natural sunlight to beam down on hundreds of interesting plants and flora from regions around the world.
The Domes has three different themes: the Floral Shower Dome, Desert Dome and Tropical Dome. Each theme would make for an interesting backdrop for your next corporate holiday party. Provide your guests with the vivid memories of succulent landscapes underneath a gleaming glass ceiling.
Explore The Domes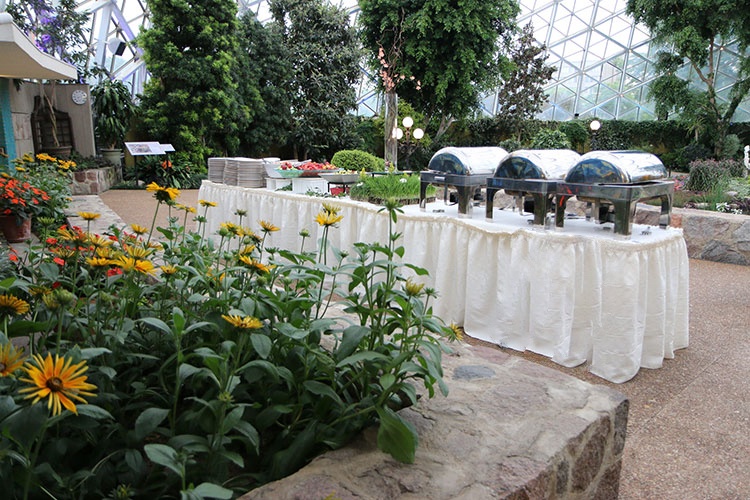 The Annex
#1 Reason: Where the Night Comes Alive
This bright "glass house" is surrounded by the historic Mitchell Park and is in close proximity to some of the hottest nightlife establishments and top hotels. The glass exterior makes you feel like you're outside, taking in all the prime Milwaukee views. It's also a great location to star gaze. Open environments invite open minds—let your guests network, dine, discuss, brainstorm and be inspired.
The spatial canvas offered makes hosting functions versatile and exciting, with the ability to house large conferences with ease and smaller meetings in multiple spaces. The projector and large projection screen will take your presentations to the next level. Treat your corporate guests to this lustrous experience!
Explore The Annex
If you need any more reasons why these venues or others would be a good fit for your business needs, we'd love to talk about it. Give us a call at (262) 533-0045 or contact us online!
MORE ARTICLES YOU MIGHT ENJOY:
• A Boerner Botanical Garden Meeting & Luncheon
• One of the Biggest Corporate Cocktail Parties in Milwaukee
• The Magical Process That Brought Holiday Party Dreams to Life