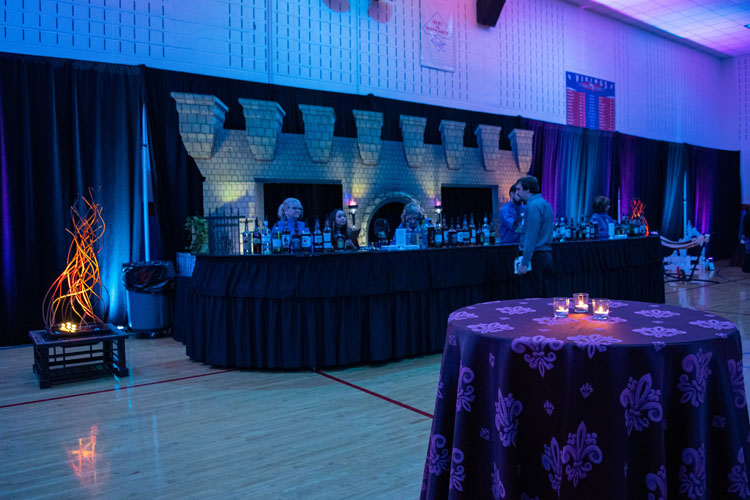 On a cool day in April, our team packed up and headed to Wisconsin Lutheran High School (WLHS) to set up for an event that's near and dear to many community members. The WLHS Foundation is an organization that ensures access to the high-quality education at WLHS. We were honored to be the caterer of choice for the foundation's annual fundraising gala with a mission that's critical to its success.
The evening kicked off at 5:00 p.m. with over 430 guests dressed to the nines starting to gather for an evening of comradery and giving. The school transformed their space into an upscale event venue with stunning accents like scarlet taffeta linens and burgundy fleur de is linens accented with gorgeous lighting and gold Chiavari chairs.
Mingling, delicious small bites and sweet auction items
Guests enjoyed refreshing drinks and small bites while mingling and perusing their extensive silent auction setup. We were happy to prepare the silent auction item for the event: a choice of a gourmet plated meal for up to 15 people, heavy hors d'oeuvres and mini desserts for up to 25, a summer picnic with BBQ baby back ribs and grilled salmon for 20, a family-style dinner with craft cocktails and flaming dessert for 14 or a Latin-inspired meal with handcrafted margaritas for up to 25.
Small bites were plentiful while guests perused, but some of the favorites were:
Tarragon Chicken Salad in an English Cucumber Cup: English cucumber cup, tarragon chicken salad garnished with micro greens
Cheese & Balsamic Apricot Bites
Blue Cheese Tater Tots: Covered in truffle oil
Short Rib Mini Roasted Potatoes: Mini roasted potatoes filled with braised short ribs topped with pommes royale and buttered
Duck Confit Crostini: Duck confit and pickled cherries, blood orange glaze on parmesan crostini
Bacon Wrapped Dates: Fresh dates wrapped in bacon and baked until crisp. Served with bourbon maple glaze.
A delightful dining experience
As the silent auction came to a close, guests started to be seated for the program. Announcements and welcomes took place during the first course—a Wisconsin Heritage Salad with dark tart cherries, crumbled blue cheese, green onion, sunflower seeds and candied walnuts.
Everyone thoroughly enjoyed the dinner, a duet-entrée. Service staff included volunteer high school students who would benefit from the event. Dinner featured the following mouthwatering options:
Tenderloin Filet Mignon: Grilled and laced with guest's choice of sauce
Chicken Thighs: Roasted chicken thighs with BBQ orange marmalade glaze
Cornmeal Crusted Tofu: Cornmeal dredged tofu pieces topped with a yellow corn and fava bean succotash
Sides included:
Rustic Green Beans: Whole green beans with fresh minced garlic and grated parmesan
Parmesan Risotto
Petite Yukon Gold Potatoes: One bite of Yukon gold potatoes, roasted and tossed with olive oil and sea salt
As the evening came to a close, an incredibly successful live auction took place. Guests enjoyed a delectable dessert trio while bidding to support the future of local students. The dessert trio included:
Classic Crème Brulee
Mousse Cone with White Chocolate Mousse
Lemon Curd Tartlette
Everyone sipped on their coffee and basked in the success of the evening before heading home, full and content. It was an honor to be a part of this evening, working with the team on the WLHS Foundation committee to ensure they met their goals for the evening. If you'd like help with your upcoming fundraising event, contact us today!
More articles you might enjoy: