A corporate event is never just a party. David Merrell, president of Los Angeles-based AOO Events, described it best: "Event design is the process of crafting environments and creating experiences to communicate an organization's business strategies." We have a few event design ideas that will create lasting memories for your employees and potential customers while achieving the goals of your corporate event. Incorporating thoughtful branding and inserting product placement at your event are just a few ways to achieve your company's objectives.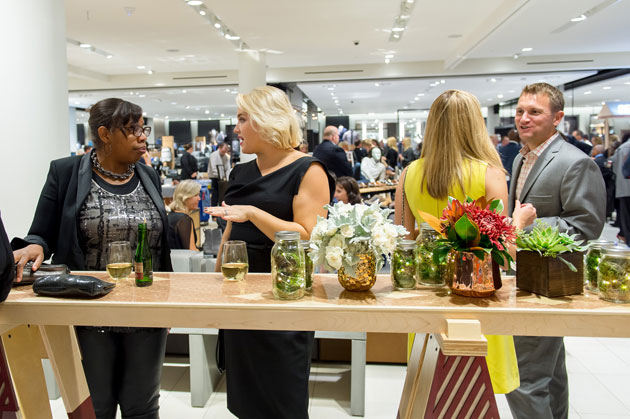 Branding That Builds Confidence in Your Milwaukee Company
Guests can be overwhelmed when walking into your event only to be bombarded by life-size posters printed with your company's name or logo. Now, designers employ subtle branding techniques or a large statement piece to relay a company's message.
Subtle Branding
Small logos strategically placed throughout the venue are clever and unassuming. For example, our pastry chefs can put the company logo on tiny desserts like cupcakes, tarts or chocolates. Our corporate partners can include your logo on cocktail napkins, dinnerware or within centerpieces. What we really love right now is having an artist create wall art that includes the company's logo or name.
Statement Pieces
For a large event, it's also wise to have one or two statement pieces. When your guests arrive, they are immersed into the event's culture. If your event is focused on having fun and networking, your statement piece may be a life-size object like this Breyer's ice cream carton. A large wall projection like "Hello, Milwaukee" was a friendly welcome at the grand opening gala at Nordstrom's.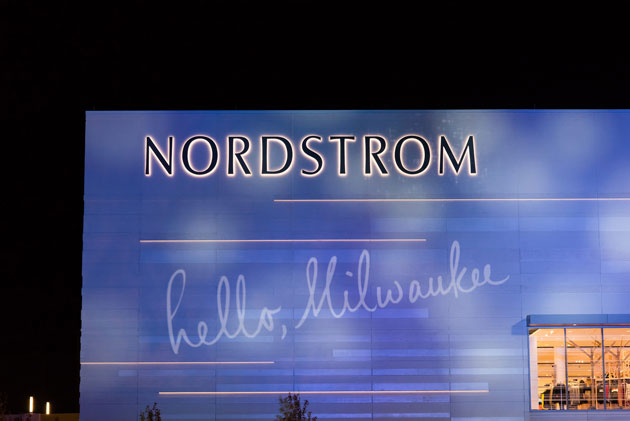 For a more elegant vibe, consider hanging custom art pieces on a large wall like those at the Historic Pritzlaff Building. The options are endless, but our event designers will always guide you toward current trends to keep your company looking fresh.
Add Some Gold Glam to Your Milwaukee Venue
Metallic colors and pastels aren't reserved just for weddings. Speak to the millennials in your industry by designing your event in the colors they love right now. Gold is ever popular alongside neutrals like gray, light pinks and blues. This color combo is modern and elegant and can transform your corporate event into a beautiful space where your employees, clients and guests can enjoy spending time.
Having your event at the Milwaukee County Historical Society makes it easy to create an upscale vibe because the venue itself is a work of art. With its chandeliers, columns and wide tile floors, touches of gold specific to your company's event design will fit right in! We love this original design idea at the Blaffer Art Museum's space-themed gala, where they used gold in one of their stunning statement pieces.
Mix Up the Seating
Clever seating helps the event flow according to your vision. If you aim to inspire guests to move around and mingle with new people, make the space open and add in high boys near the bar or food stations. On the other hand, creating small spaces with soft lighting and comfy couches encourages one-on-one conversations.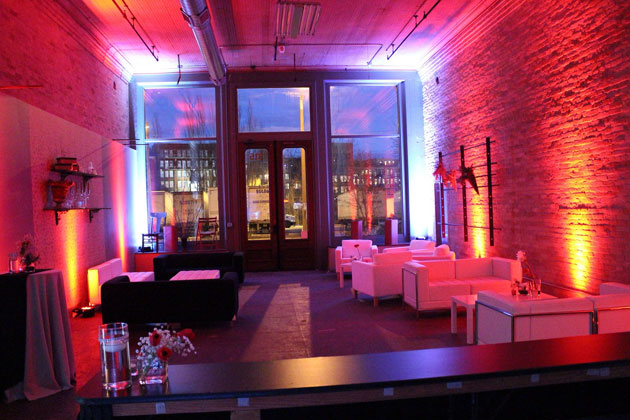 Incorporate Tech into the Design
Whether we like it or not, most businesses in Milwaukee have back-end technology that keeps them going. And your corporate event is no exception. We have a few tips to use smart technology to keep guests connected and engaged.
Charging stations: Include these throughout the venue, especially if you are hosting an all-day event. SOS charging solutions are self-powered, branded charging stations that can become a part of your event décor.
Video projections or digital content: You can include a photo stream of company memories, highlights from a movie that fits the event theme or a short, heartwarming film from one of your non-profit partners. Make sure you partner with an audiovisual team who understands your corporate goals and with a venue that has modern technology capabilities.
Lighting: An important component of the event mood. The Domes at Mitchell Park Conservatory is a great venue to explore different lighting options, as the verdant surroundings and your corporate décor can come alive with a little illumination.
Our venue partners can accommodate the technology needs of your business as long as they have time to arrange for it. Working with a professional event planner can ease this stress, no problem.
Food as a Tool for Accomplishing Corporate Event Goals
Interactive food stations have become popular items at weddings, social parties and now corporate events. Their way of entertaining sparks great conversations and positive energy among all guests. Imagine a potential client ready to sink his teeth into a fresh s'more hot off the open flame. That moment will leave a lasting impression and may lead to him speaking about the event for days to come.
The food at your event can also serve as a showcase for your products. At the Container Store preview night, we placed our German-inspired foods on, in and around multiple types of storage containers. Tri-colored German potato salad, Reuben tartlets, and mini franks in puff pastry drew in guests to explore the many uses of the Container Store's products.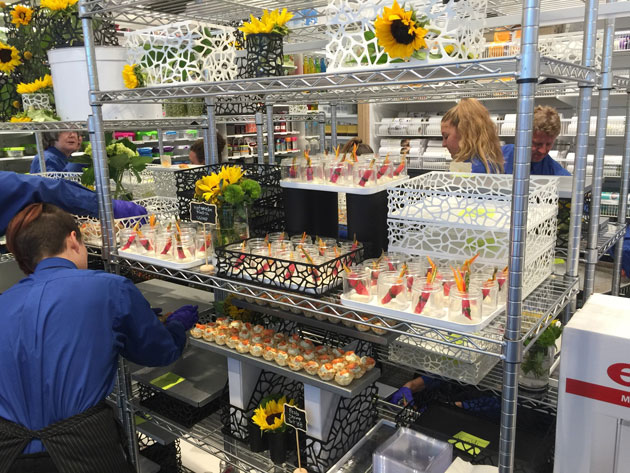 As you plan your upcoming corporate event, whether it is a product launch or fancy dinner celebration, choose design elements that encourage people to stay a while and network with each other. The branding, color schemes, seating, technology and menus work as a unit to achieve that goal.
Our full-service team handles everything from corporate furniture rentals and entertainment to décor and florals. We know you must have a million things on your event planning checklist. Let us do all the worrying for you! Please contact us on our website or call us at 262-547-9447.
MORE ARTICLES YOU MIGHT LIKE: