From the time Martha Stortz and Mark Peter came to us with a wedding vision filled with beautiful surprises, we could not wait for August 15. When their 137 guests began to arrive at the Milwaukee County Historical Society at 5:30 pm, we knew they were in for a very special experience.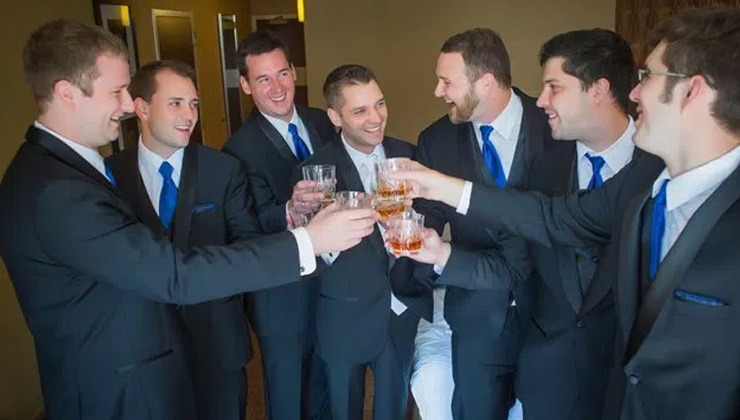 The genuine smiles and laughs among the couple and their guests of honor are confirmation that our wedding planners took care of every detail. A stress-free wedding allows everyone to immerse themselves in each special moment, forming bonds and memories that last a lifetime.
The Finer Details of an Exceptional Wedding Reception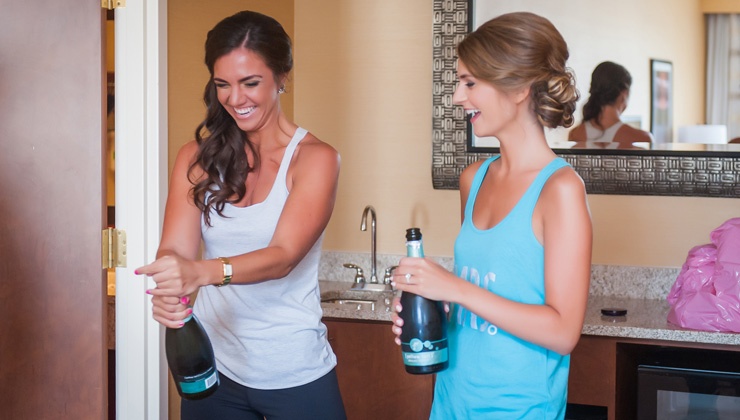 A Historic Wedding Venue
With soaring ceilings, beaming marble columns, tiled floors and a magnificent chandelier, the Milwaukee County Historical Society is one of our favorite wedding venues. Dating back to 1913, the building is filled with old-world charm and intricate decorations that captivate and impress. From gilded carvings to a vault door, it seems that around every corner and on each wall, guests find a unique display of beauty and class.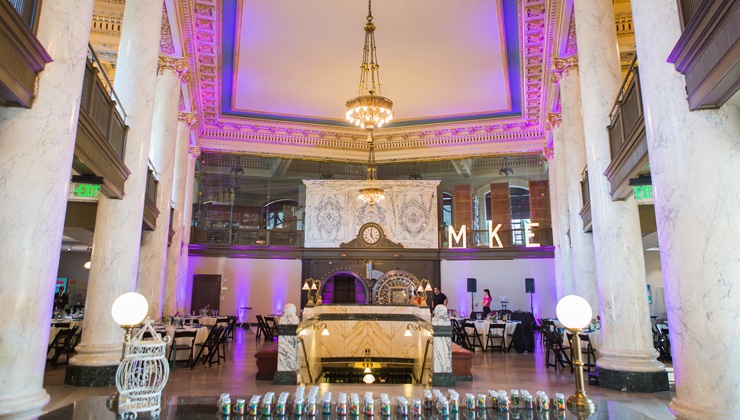 For an idea of the surreal atmosphere that historic Milwaukee wedding reception venues like this one create, check out the wonderful photos and moments captured by Reminisce Studio photographers.
A Tasty Welcome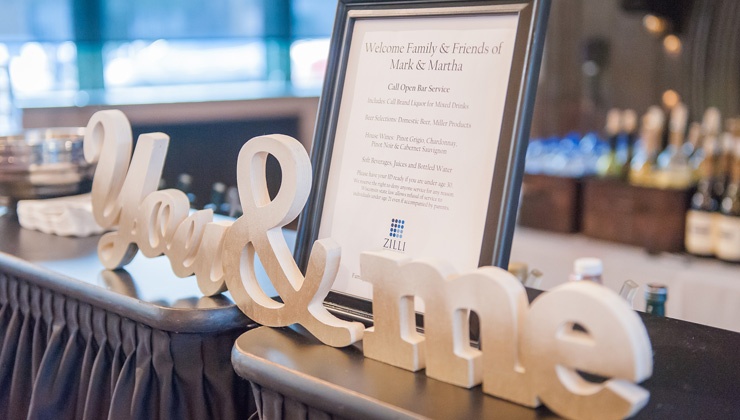 When guests arrived from the off-site ceremony, it was not long before the adorable "you & me" sign called them to the open bar. While sipping on their choice of house wines, Miller beers or other favorite drinks, guests enjoyed these innovative tray-passed hors d'oeuvres:
Market pita: Roasted red pepper hummus and an olive tapenade mixed with feta cheese atop a crisp pita chip.
Tomato, bocconcini and basil skewer: Cherry tomato, bocconcini and fresh basil laced with a balsamic glaze served on a skewer.
Bacon-wrapped chicken with princess glaze: Seared chicken breast seasoned with garlic, thyme and pepper wrapped in bacon and served with a cranberry-scented princess glaze.
Buffalo chicken tart: A flaky phyllo shell filled with spicy chicken, hot sauce and blue cheese with celery and scallions.
Artichoke, Asiago and sun-dried tomato purse: Artichoke hearts, Asiago cheese and sun-dried tomatoes blended with cream cheese baked in a puff pastry.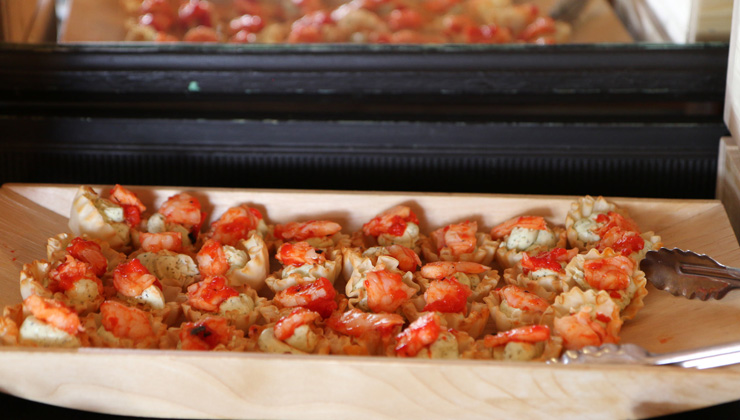 From the moment guests step into an event until doors close, we want them to find small bites that delight their taste buds. So of course, we were happy to provide such a wide array of small bites.
Delightful Décor
At 6:30 pm, 1st floor guests were seated at beautiful tables with ivory, floor-length linens and royal blue napkins that matched the ornate reception space. We love how they balanced the sophisticated ambiance with Bloom's unstructured, natural floral design. The casual addition of fresh cucumber slices to each water glass completed the welcoming table designs that let guests shift all their attention to the introductions, cake cutting ceremony and prayer.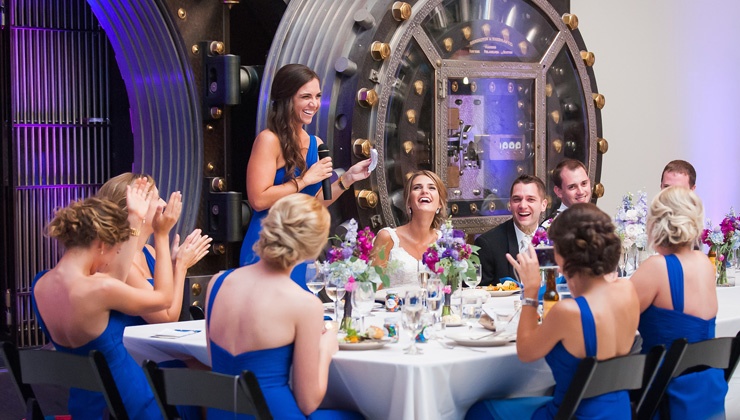 A Royal Wedding Menu
With joy in their hearts, our professional Milwaukee catering team directed guests to an extravagant buffet. Tempted by all the delicious options, guests brought their selection back to their table marked by an embellished gold table number—perfectly suited to the fine wedding menu. Guests' plates were filled with these phenomenal items: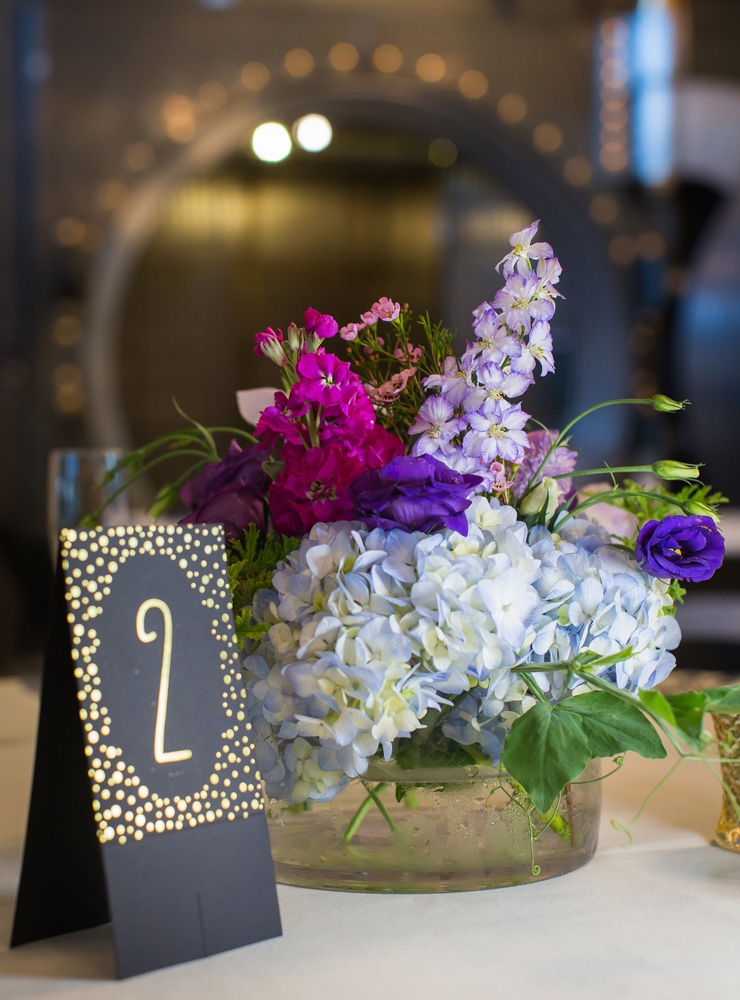 Chef carved beef tenderloin: Served with Jack Daniels au poivre sauce.
Pan seared chicken : A boneless, skinless breast of chicken sautéed and finished with our herb cream Vienna sauce blended with artichokes, mushrooms, sweet peppers and sun-dried tomatoes.
Pommes royale: Fresh whipped potatoes seasoned with horseradish, heavy cream and cheddar cheese. Piped out into a swirl then baked to a golden brown.
North shore vegetables: Medley of fresh asparagus, squash, carrots, green beans and baby corn lightly seasoned with herb butter.
Simple greens salad: Mesclun mix with baby romaine, feta cheese and craisins. Tossed with a cranberry vinaigrette and topped with sweet potato hay.
Fresh fruit: Seasonal cut fresh fruit such as watermelon, cantaloupe, honeydew and pineapple garnished with grapes and strawberries.
Celebration and Treats Until Midnight!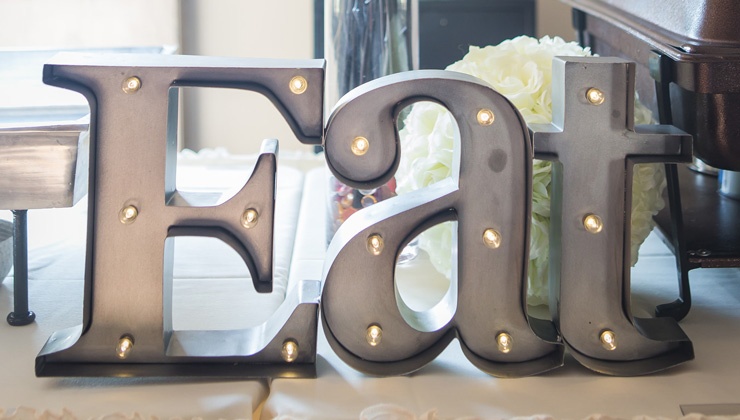 From toasts to dancing, the wedding party lasted all night long. Double Platinum DJ kept the dance floor lively while guests got an extra boost of energy from trips to the dessert and coffee stations. In addition to a slice of the elegant Aggie's wedding cake decorated with a blue and white color theme, guests had their choice of these miniature desserts: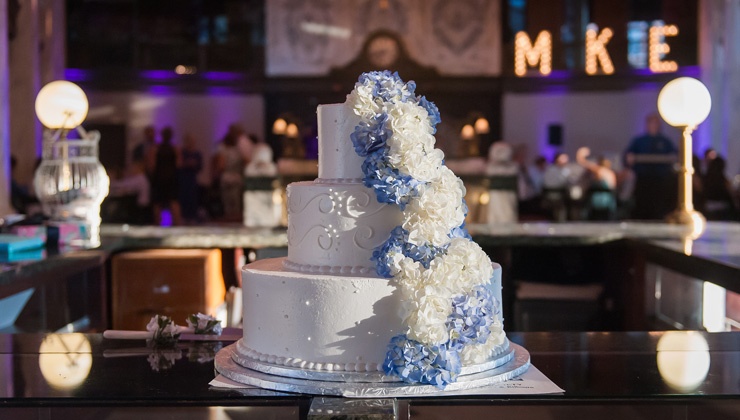 Chocolate mousse votives
Cheesecake shooters
Crème brulee
Chocolate-covered strawberries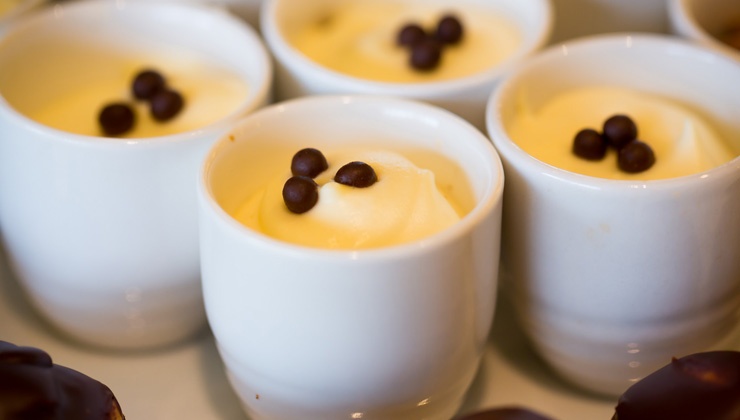 But, of course, exceptional Milwaukee area wedding caterers always have one more surprise in store. At 10:15 pm, we opened up our micro burger station complete with 100% black angus burgers, grilled chicken, guacamole, pickle chips, roma tomato slices, cheese, ketchup, lettuce, mustard and dollar rolls. Add on the sweet potato fries and some guests found a new favorite side at this late-night station!
Saving The Milwaukee Wedding Memories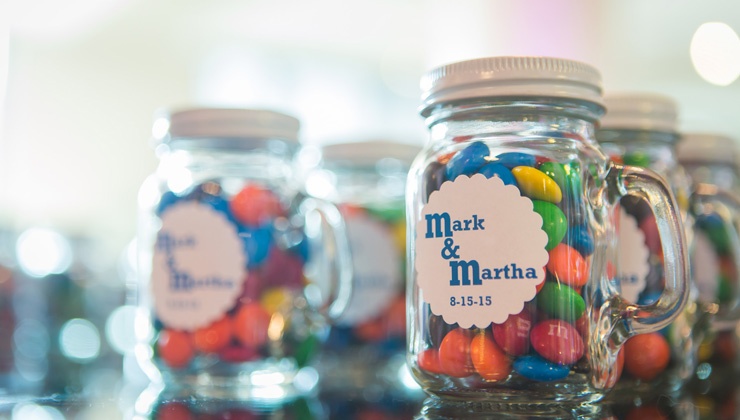 As a wedding favor, guests took home the cutest glass mugs filled with M&M's. They were a final reminder of the wedding that did not miss the mark. Martha will always remember the unforgettable moments—sliding into her heels and having a loved one adorn her with stunning jewelry—without ever having a single worry about the catering or production of her Milwaukee wedding.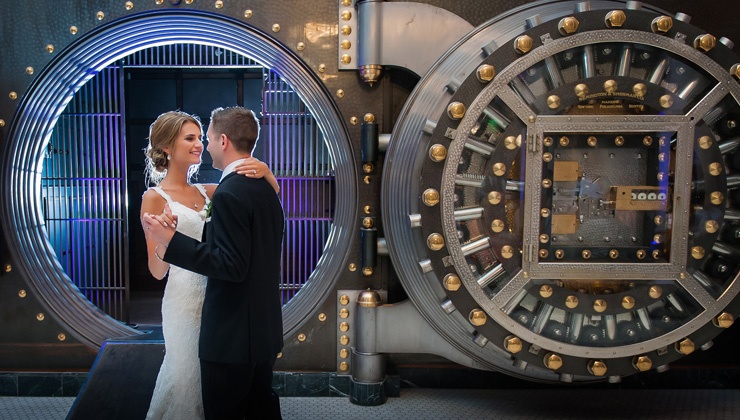 Talented Milwaukee caterers with more than 50 years of experience can make your wedding dreams come true. Find our creative and meticulous wedding planners online or give us a call at 262-547-9447.
More Articles You Might Like: