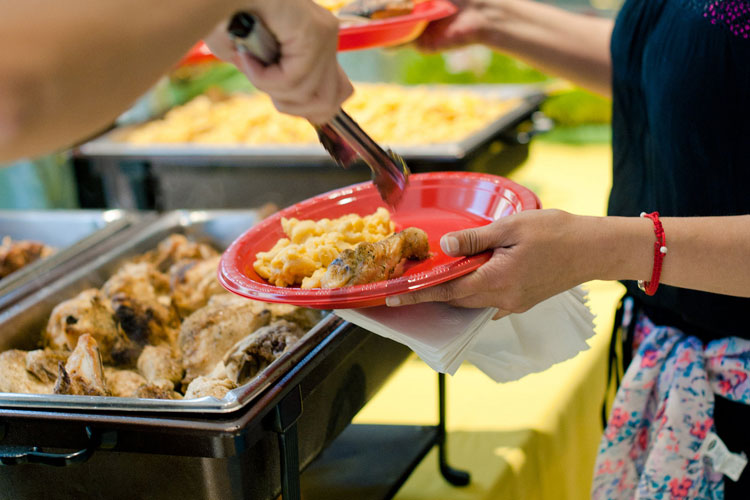 Illustrations Photography
Here's a fun fact: According to a study from Glassdoor and Office Suite Strategies, 80% of employees say they're motivated to work harder when shown appreciation. That represents a significant percentage of your workforce and productivity! When it comes to employee recognition, the reward largely repays the cost—and this is most definitely the case when you incorporate these valuable employee recognition picnic ideas. An annual employee recognition picnic is a chance for employees to step outside of their daily routine to enjoy their corporate relationships in a more relaxed atmosphere. To keep your picnic planning simple and ensure it delivers a big impact on guests, we boiled down your checklist to six must-haves.
Employee Recognition Picnic Essentials
1) Extended Guest List and Employee Support Network
Your employee recognition picnic is the perfect opportunity for your team to get to know each other's loved ones. Inviting families to your company picnic helps cultivate a sense of closeness and loyalty. Through the presentation of awards and accolades, it also gives families the opportunity to express pride in your team members. The sense of connection and genuine caring that a family presence at picnics creates is a valuable source of support and motivation for your employees.
2) Suspenseful Raffles
From paid time off to a new TV, anything that is highly coveted by employees makes a great company raffle item. Raffling off such prizes is sure to get your picnic attendees' blood pumping. Employees love the sense of suspense right before the winning ticket is drawn.
Raffles are one of the employee recognition picnic ideas that can provide a dual value. When the proceeds of tickets sold are donated to a cause within the community, then the raffle serves as both a fantastic philanthropic opportunity and exciting entertainment.
3) Engaging Employee Recognition Picnic Games
From a dunk tank with the boss to company kickball games, your employee recognition picnic should be a place of healthy competition. You can find plenty of great company picnic game ideas by doing a little research and referencing the size and scope of your team and guest count. Any activity that sparks a competitive spirit and gives everyone the chance to participate makes for a great company picnic game.
4) Cultural Mindfulness
Like America itself, at the essence of what makes your organization great is the plurality of viewpoints and backgrounds that your team members hold. So it's important that in the process of planning your employee recognition picnic, you consider your employees' ethnic, religious and cultural backgrounds. This goes for everything from menu planning to décor and entertainment. Ask questions and make a genuine, caring effort to get to know your team on a more personal and cultural level.
5) Thoughtful Speeches
Communication is vital to the growth and success of any organization. Employee recognition picnics are an ideal public forum for communicating your gratitude and acknowledgment of your hardworking and dedicated team members. Naturally, not everyone likes to be made the center of attention. But all employees enjoy having their hard work acknowledged by everyone on the team. After all, that feeling of togetherness is the essence of teamwork, and the best employee recognition picnic ideas will cultivate that in unforgettable ways.
6) Genuine Camaraderie
Speaking of the essence of teamwork, the ultimate goal of your employee recognition picnic should undoubtedly be strengthening the bonds that each employee shares in work and in life. In planning your employee recognition event, keep your focus on that sense of togetherness. Celebrate teamwork and unity. With that, your whole organization becomes greater than the sum of its parts.
There's no way around it: your business wouldn't be where it is today without the efforts and dedication of your team. So it's vital that you show them the love and recognition that they've earned. For most businesses, there is no more significant event for doing so than the annual employee recognition picnic.
If you would like to have 50 years of experience by your side as you start planning your company picnic, contact us online or give us a call at 262.547.9447.
More articles you might enjoy: