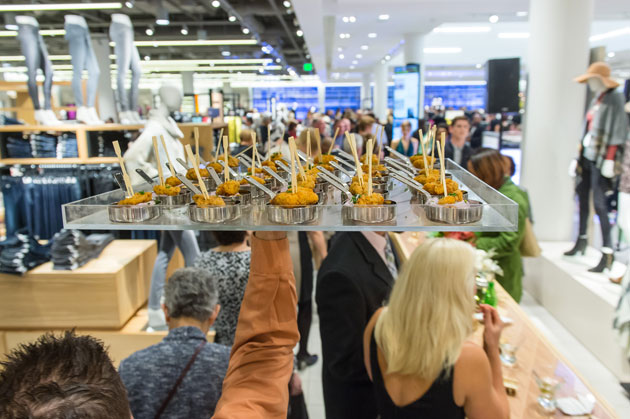 It has to be fancy, glamorous and lively. It can't be boring. And it must be better than last year.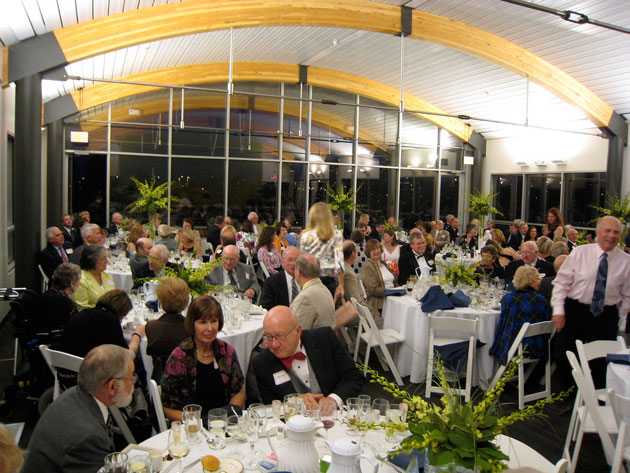 Galas are important events for your company. They show your team how confident your leadership is in the business. They recognize your employees for their hard work. They celebrate your company's success by giving everyone an evening to treat themselves in the lap of luxury. For these reasons, your gala needs to feel right to everyone in attendance. The best way to ensure that is with a creative corporate gala menu.
Galas are typically plated dinners. While the plated meal is important, you should try to go the extra mile. Use your menu to make a great (and lasting) impression. We've worked on corporate galas all over Milwaukee for years. Here's what we've learned makes them truly successful.
Scrumptious passed & trayed hors d'oeuvres.
Don't make your gala guests wait and go hungry until the first course is served. Use your caterer to keep a steady flow of passed and trayed hors d'oeuvres going throughout the evening.
Some delicious examples might be:
Blue cheese tater tots with truffle oil.
Ahi tuna wontons with wasabi cream.
Bacon wrapped chicken with strawberry merlot glaze seasoned with garlic and thyme.
Lobster macaroni and cheese.
Cucumber hummus cup.
Chicken and waffles with blueberry mousse and bourbon maple syrup.
Flank steak flatbread with roasted tomato, cilantro, roasted garlic and black cumin mayo.
Brat bites with sauerkraut, Dusseldorf mustard and a cornichon pickle.
Asian BBQ chicken cones with curly scallion and Thai basil puree.
Farro harrisa. Roasted carrots and parsnip, feta, parsley, mint, honey and lemon vinaigrette.
Interactive food stations.
While guests are busy mingling, you can use your menu to give them something to talk about. Food stations combine clever designs with chef-prepared cuisine to give guests a more personal and interactive feel with their meal. Your guests can flow through the space from station to station to enjoy great company and great chef-prepared food.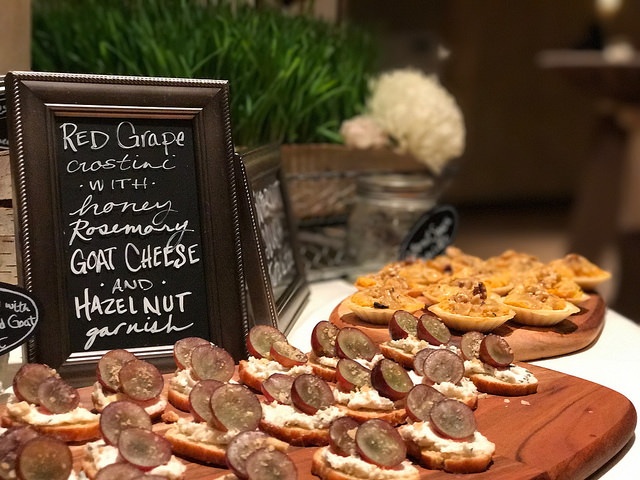 Some ideas include:
Pasta Station. Give your guests the chance to mix and match their favorite pasta varieties with fresh sauces and toppings. Choose from tortellini, cavatappi, penne and more. Top it off with some rich marinara or a creamy alfredo.
The Carvery Station. This meat lover's dream features succulent cuts of tenderloin beef with onion butter, horseradish cream, and a Jack Daniels au poivre sauce. You can also get chef-select vegetables prepared on the side so guests eat exactly as they prefer.
Cosmo Taco Station. It's a clever twist on a taco station with all the delicious ingredients prepared in a cosmopolitan glass. Fill it with tortilla strips, spanish rice, refried beans, pico de gallo, sour cream, cheddar cheese, diced tomatoes, onions and taco sauce.
Chilled Salad Bar. For something light and refreshing, you can never go wrong with a salad bar. But take it one step further by expanding the ingredients. Toss in some quinoa with your mixed greens or an assortment of dried fruits and nuts.
Flaming Donut Station. It's exactly what it sounds like—an American breakfast pastry favorite with some heat to bring out the sweet and the flavor. These donuts are custom made just the way your guests want them.
Custom cocktails.
For your corporate gala menu, you can use some creative drinks and spirits to lift the spirits of your guests. Custom cocktails are trendy and a surefire way to get people talking at your company gala.
Some intriguing examples might be:
Jammin' Old. A fall-style old-fashioned drink with aged bitters and Bourbon.
Raspberry Champagne Cocktail. Crisp and refreshing. It's a citrus vodka drink with muddled raspberries and lemon sugar.
Side by Sidecar. A pomegranate liqueur with cognac, triple sec, and accents of lemon-lime.
Lakefront IPA. A Milwaukee staple.
Decadent desserts.
Of course, you'll want to satisfy your corporate gala guests' collective sweet tooth. Just make sure it's something delicate and without powdered sugar so as not to show up on formal attire.
Here are a few items that would be the perfect fit:
Crème brûlée cup. A rich egg and vanilla bean custard baked in mini cups and torched to caramelize the tops with sugar.
Cheesecake shooters. Raspberry and grasshopper flavored.
Chocolate-covered strawberries. Dipped in dark chocolate and drizzled with imported white chocolate.
Dessert bars. Bite-sized dessert bars such as caramel pecan, blondie brownie, apple cinnamon or lemon.
A corporate gala will say a lot about your company. Making yours successful just requires you to think outside the box of tradition. Use your corporate gala catering menu to show how you're willing to go the extra mile. Spice things up and you're going to leave an amazing impression on anyone who walks through the door.
For more ideas on creating the perfect corporate gala menu—or more ideas on catering for other Milwaukee corporate events—give our team a call at 262.547.9447 or contact us online. Our team would be happy to help you plan an incredible event.
Need Help Finding the Perfect Venue?
There are many locations throughout Milwaukee that would make for a polished setting for your next business event. The hard part is narrowing the best ones down. That's why we created our complimentary corporate venue concierge program. It pairs you with an experienced Zilli coordinator, who will give you an in-person tour of every venue that matches your specific vision.
More articles you might enjoy: