You're engaged! Now the fun begins. One of the toughest yet most important decisions you'll make as an engaged couple is the place to say your I do's. Whether Milwaukee is coming home to family or a destination you may just be discovering, there are so many reasons it's the ultimate wedding location.
Why Milwaukee?
Culture
Brew City, Cream City, Miltown, City of Festivals. The list of fond nicknames goes on and on, as people bring their favorite parts about the city into the limelight. While Milwaukee is an expansive city with a gorgeous skyline that can't be beaten, what you may not see immediately is all the history. Historic mills and buildings stand among the modern city skyscrapers, and there are so many notable spots to uncover when visiting with your fiancée and/or loved ones. Milwaukee natives love showing off their "small town" city, which makes you feel like you're at home.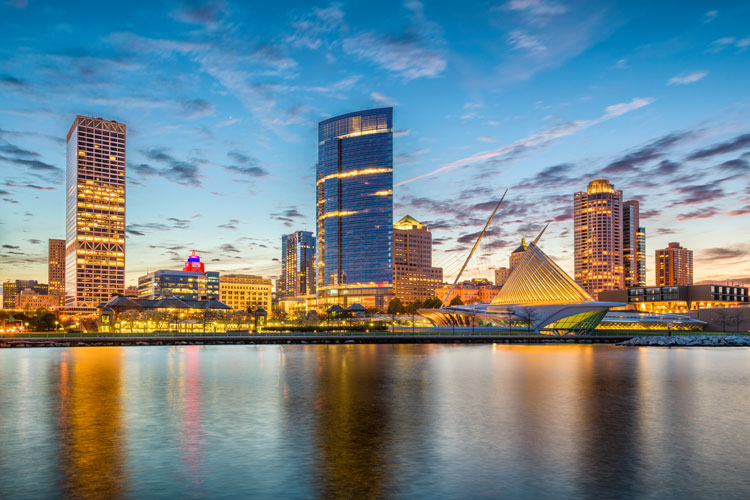 Accessibility
Milwaukee is in the middle of it all, quite literally! Conveniently located in the Midwest, it's a central location for your guests to meet from all parts of the country without crazy travel times. It's also less congested than many similar cities, which makes navigating easier and more enjoyable. Finally, it's a mere 1.5 hours away from Chicago, giving your guests the option to fly to O'Hare!
Things to Do
In Milwaukee, you and your guests will literally never be bored, as there is always something to do or see. During summer months, there are festivals nearly every week, hence its "City of Festivals" nickname. Perhaps the most popular is Summerfest, the world's largest music festival, along with others celebrating local cultures like Mexican Fiesta, Festa Italiana and Polish Fest, or local art like Lakefront Festival of Art and Locust Street Festival of Music and Art. The list goes on! You can also catch fun weekly events in the summer like Jazz in the Park, night markets, makers markets and more.
If you want to explore a little quicker than on foot, you can grab a Bublr Bike or Bird Scooter to fly through the city highlights. Make sure to stop at the Harley-Davidson Museum and the Milwaukee County Zoo or even get on the water for a boat tour. There are so many must-see attractions!
You could even put together a custom map for your guests highlighting your favorite spots that they should visit. Encourage guests to share pics on social using your wedding hashtag!
Cost
One of the top considerations when planning a wedding is the budget. Milwaukee is beautiful and bold but not nearly the same cost as doing a wedding in other cities across the U.S.
How to Find Your Perfect Venue
As with any new city, it's sometimes hard to know where to start, especially when it comes to selecting the ideal venue! We have a special service that even locals use to find the right venue called the Venue Concierge. It's a complimentary consultation with a local expert who will help you to narrow down your choices based on your preferences and priorities. Our concierge team members have years of experience in Milwaukee and intimately know each venue to help you make this important decision! Here are a few favorites:
For the outdoorsy couple
The Domes at Mitchell Park Conservatory – This spectacular venue has three separate domes that transport you to different worlds: the Floral Dome, the Desert Dome and the Tropical Dome. It's truly a one-of-a-kind experience!
For the water bugs
Coast – Sparkling waterfront views, elevated decor and an upscale seaside dining experience are a dream come true for many couples on the search for an elegant venue with unparalleled city views. Coast, located at Zilli Lake & Gardens, is surrounded by other incredible spaces like Miller Room and North & South Gardens, which can be rented separately or together, depending on the size of your wedding and your unique needs.
For the history lovers
Milwaukee County Historical Society – Not only is this spot housed in an old 1900s bank and filled with historical gems, it is absolutely stunning with ornate detail—perfect for photo ops.
Don't forget about hotel room blocks for your out-of-town guests as well! Once you select your venue, look at the surrounding area to see what may work best. There are so many options, from the historic Brewhouse Inn & Suites located in the old Pabst Brewery to sleek modern additions like the Kimpton Journeyman Hotel.
Keep It Local
Highlighting Milwaukee throughout the celebration is so fun! During your reception, bring out local craft beers and liquor from local distilleries, add creamy cheese curds to the cocktail hour spread, incorporate Klement's sausage into your apps or main course—the options are endless to give your guests a feel for the city during your celebration.
We could go on for days about the reasons why this unique city is right for your destination wedding. We want to show you everything we love about Milwaukee and help you craft your special experience here. Let's get started!